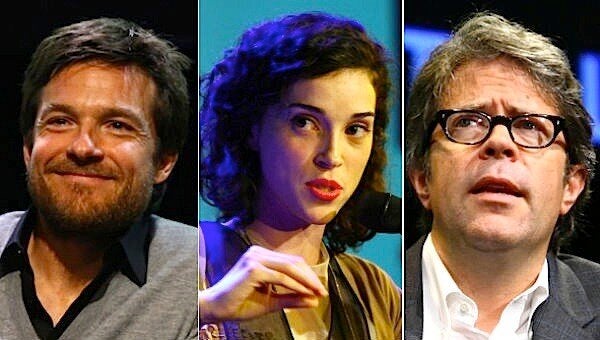 The New Yorker put cultural figures from across the spectrum in the hot seat this past weekend for their whirlwind festival, playing to intimate crowds from Friday through Sunday. Guests ranged from Steve Martin and Jonathan Franzen to St. Vincent and the "Arrested Development" cast reunion. The Huffington Post attended a smattering of events and compiled the tidbits that inspired us, and more frequently, made us laugh. Read on for the best moments from the festival.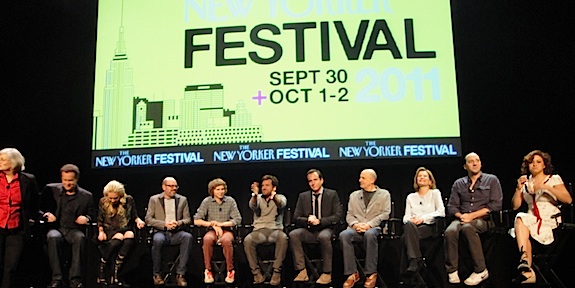 Gazelle Emami/The Huffington Post
The 'Arrested Development' Reunion
It's not surprising that "Arrested Development" was originally meant to be a heavily improvised show. The cast's sharp tongues began flying early into the talk, moderated by Nancy Franklin, TV critic for The New Yorker. The entire cast was present Sunday -- Will Arnett, Jason Bateman, Michael Cera, David Cross, Portia de Rossi, Tony Hale, Alia Shawkat, Jeffrey Tambor, Jessica Walter, creator Mitchell Hurwitz, and narrator Ron Howard by phone -- for their first reunion since the series wrap party in 2005.
The big news out of the talk was what fans had been waiting to hear... sort of. There will indeed be a movie, and better yet, another season of "Arrested Development" to set up the film. That is, if the business/studio end of things line up. In a way, we're still in the same place we were before, with business as the only obstacle to getting this done. But the news of a series run-up to the film is enough to make the biggest pessimist hopeful. Big news aside, the group spent the bulk of the evening reminiscing about their early days with the show.
Nancy Franklin on the audience not taking photos or using flash:"We will be doing it, for money, outside," Jeffrey Tambor deadpanned.
"And other kinds of flashing is OK," David Cross chimed in.
On The Movie:"We're 80 percent of the way to an answer. We don't completely own the property, there are business people involved and studios. But just creatively, I have been working on the screenplay for a long time." - Mitch Hurwitz
"We're trying to do a limited run series into the movie… A limited run TV series. We're hoping to do nine or 10 episodes, with one character per episode, where the first character would just be Buster." - HurwitzOn a possible scenario for Buster's episode:The scene opens with a group of scientists in lab coats waiting for somebody. Buster comes through the doors wearing a white lab coat, and they say, "well you don't get to wear the lab coat. We're experimenting on you." From there, we meet the people in Buster's life, including his therapist, Dr. Tobias Funke. By the end of the episode, we would reach a "point of peril" in Buster's life, and then jump over to say Maebe (Shawkat), who is living with Cornel West. - Hurwitz
On Jeffrey Tambor setting the tone for the show from the very first line he spoke:
"Jeffrey wasn't even a regular at that point," Hurwitz said.
"I had a bowel movement if that's what you mean," Tambor quipped.
On getting the first script:"There was a cover letter that came with the script that said… maybe it was just sent to me," de Rossi said. "That said, pretty much, no diva-type behavior, we're gonna not really have fancy trailers. I remember reading that and thinking, what am I getting myself into."
On Maebe's first kiss with George Michael:It was her real-life first kiss, too.
Buster's feelings on the element of surprise:"By the way, you know, a seal's gonna bite your hand," Hale said dryly. "By the way, Liza Minnelli is going to be your girlfriend."
On how much got cut:"I made it a mission to not cut scenes, but to cut lots of little things inside scenes. Like a phone never rings for more than half a ring and no one ever crosses a room." - Hurwitz
On Amy Poehler's guest-starring role:"There's a scene where my real wife came, and, played the wife of my character, and, she's no longer with us," Will Arnett said, with unintentionally morbid implications (which the crowd laughed at anyways).
"No!" he said quickly, realizing his mistake. "No, she's not in New York!"
He continued, saying that Poehler's part had ended before it resolved her role in the plot. So Arnett took it to the writers, and in an hour's time, they had written out an entire new scene for her on a napkin.
On rumors of Michael Cera being the holdout standing in the way of a movie:"I thought it would be funny [to put that out there]… but it really turned ugly. For those of you have been following this saga, Michael's been great and he's always been game." - Hurwitz
On why the show got cancelled:"This was in the advent of the DVR and everyone was able to pause stuff. This was before they started monitoring these views." - Jason Bateman
"It was also a year before they started counting college campuses." - Hurwitz
On Bateman as the "normal one":"If we had not had him to play off of -- we were the satellite around him -- it wouldn't have worked. With a lesser person it would not have worked." - Jessica Walker
On their models in comedy:"I love so many models." - Arnett
Final words:"This is the first time that we've all been together, and as we all stood there waiting to come out and we were all talking to each other [pause]. This means a lot to us, too, so thank you." - Arnett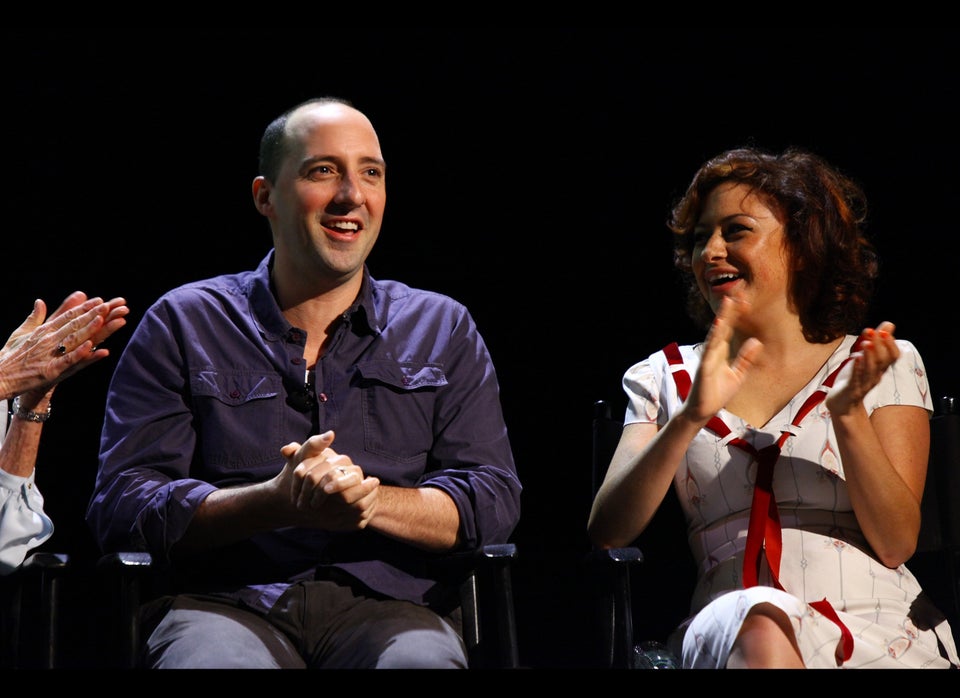 >Up Next: Jonathan Franzen, Jhumpa Lahiri and Nicole Krauss
Predictably, the fest drew some of the biggest names in literature. Our favorite authors became human in the hot seat, admitting to pedestrian hobbies like (gasp!) watching TV. Franzen claimed he watched too much of it in the nineties (his current favorite: "Breaking Bad"), dropped a little-known fact about David Foster Wallace's disregard for facts, and owned up to writing a "terrible" screenplay during a time of youthful desperation. He also confirmed that he is adapting "The Corrections" for HBO. Jhumpa Lahiri shut a fan down with her self-described "cold indifference" to her own writing, and novelist Nicole Krauss explained why good writing doesn't sell.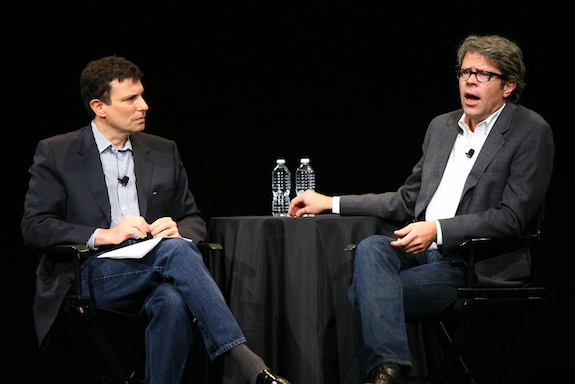 On "Black Leather Gloves," the "terrible" screenplay Franzen wrote before "The Corrections":"It was a get-rich-quick scheme. It was basically the plot of 'Fun With Dick And Jane,' a movie I had not seen or heard about."
On what changed after he gained a large readership: "I think it's made me a less angry person. I don't think I'm smarter than my characters anymore. I don't think I'm smarter than the world anymore."
On the "bad TV" he watched compulsively in the nineties:"I never missed 'Married With Children.' I came late to 'Cheers,' but I watched it in syndication every night of the week."
On the embellishments in David Foster Wallace's non-fiction:"You'll notice he never published non-fiction in your magazine [The New Yorker]. He would have fallen in front of the fact-checkers."
On the Wall Street occupation:"I'm all for attention being paid to, you know, the giant blood-sucking squid."
On reconciling with Oprah:"This time it actually worked out that I could go on her show and talk about it, after four segments on Michael Jackson's mystery family. We managed to have about eight minutes of conversation after those four compelling segments."
To a fan who asked which stories in Lahiri's "Unaccustomed Earth" are her favorite:"When I'm done with [writing a book], it dies. It's dead to me."
To the question of why "so much poor, ugly writing" is popular:"Writing that demands something of us -- which is all of the best writing -- is annoying to a lot of people."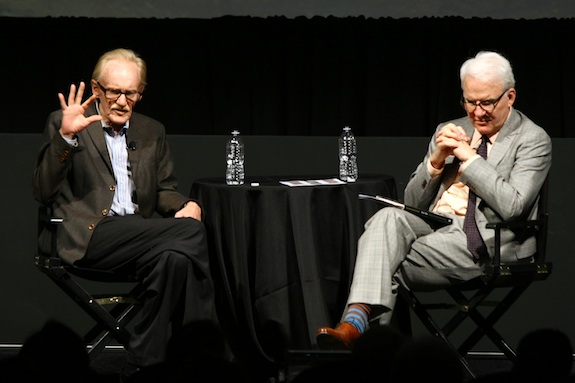 "I am pleased to be here interviewing Peter Schjeldahl [art critic for The New Yorker]," Steve Martin announced when the two men took their seats. The audience laughed, but that was what happened.
Schjeldahl on modern art:"The story of getting rid of story -- that's a good story."On Pollock:"Both a dog peeing on the wall and the music of the spheres."
On Warhol:"Think of a Barnett Newman with Elvis Presley on it."
On 'contemporary' art:"Contemporary art is all art that exists now -- whether it's 5,000 years or 5 years old. It's all art and it's all made my human beings and human beings haven't changed very much at all."
On great art and Cezanne:"A good artist gets in people's heads. A great artist gets in artist's heads."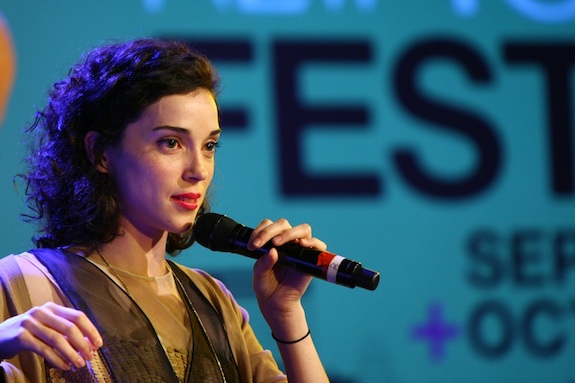 St. Vincent (aka Annie Clark) sat down with Sasha Frere-Jones, music critic for The New Yorker, on Friday night to discuss her influences, her go-to karaoke song and what she most wants to do on stage but can't. Much of the talk came from a previous, longer conversation between St. Vincent and Frere-Jones, which was condensed into little soundbites for the audience.
On Dallas, Texas, where Annie Clark grew up:"The plus side is, there are no crowds at shows. I got to see Sonic Youth and Soulex with no interference."
On Berklee School of Music as a school that gets ridiculed:"Rightly so… My feeling on Berklee is, hey, you have a dream? You should pay a lot of money for that dream."Frere-Jones: "So you went to school in America?"
A song Annie loves:"XTC's 'River of Orchids.' That song fucking freaks me out every time."
Most Mother Theresa-like moment?"Accidental first-class upgrade for substitute drummer."Crazy thing you would do on stage if you could:"Get laid."
TV she watches regularly:"I fall asleep to '30 Rock.'"
On guilty pleasures:"I don't try to have guilty pleasures. Pleasure's just pretty fucking good."
On influences:"I've quoted from Marilyn Monroe -- "best finest surgeon, Lee Strassberg, come cut me open" -- I totally stole the lyrics [for 'Surgeon'] from Marilyn Monroe's journal. I've stolen a line from The New Yorker. Janet Jackson, Arthur Russell, anything and everything is an influence.
On gender/creating an image for herself:"People have complicated feelings about women being all things. I think we're just one or two clicks from being this gender or that gender."
On selling yourself:"You feel filled with shame."
Go-to karaoke song:"I recently sang Sinead O'Connor's "Nothing Compares to You" at a friend's birthday. I bombed on a Taylor Swift song ['Love Story'] -- there are so many words!. I would stick to "Wuthering Heights" by Kate Bush. Novice level. Just go for it."
WATCH St. Vincent cover The Pop Group's "She Is Beyond Good and Evil" at the festival:
>Up Next: Junot Diaz, Jennifer Egan and Yiyun Lee
Junot Diaz, Jennifer Egan and Yiyun Lee
What does it mean to write about America? Authors Junot Diaz, Jennifer Egan and Yiyun Lee spoke with New Yorker editor Lee Ellis about the conflicting forces that influence their own writing when it gets down to the subject.
Jennifer Egan on the individuality of America:"You can be anyone that you want to be here, thought it doesn't always work out."
On re-watching "Pulp Fiction":Egan was struck by how much it influenced her book, "A Visit From the Goon Squad."Junot Diaz on the multi-national nation of America:"It is beyond counting how many simultaneous Americas exist. Your America might not correspond with somebody else's and that's okay. Where does America end if you belong to the great fraternity of countries the US has occupied?"
>Up Next: David Cronenberg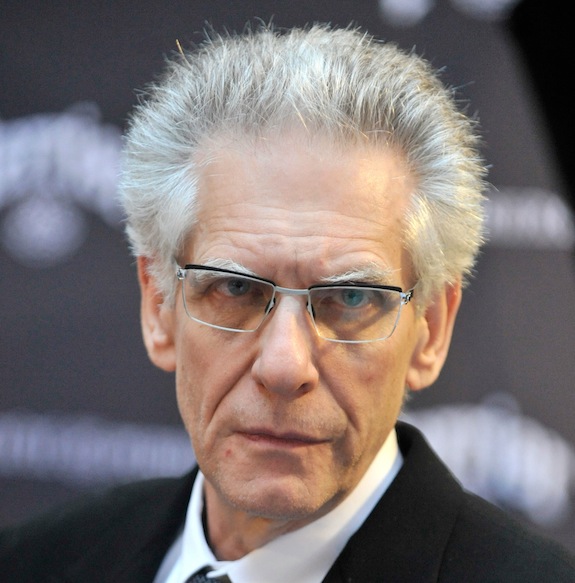 David Cronenberg, director of the upcoming film about Freud and Jung, "A Dangerous Method," sat down with New Yorker film critic David Denby to talk a little about his films, and what makes Cronenberg Cronenberg.
Despite Cronenberg's back catalogue of horrifying films, his newest is a historical:"I've had people say that this isn't a Cronenberg film. I have no idea what a Cronenberg film is, so this baffles me, but I think they meant that there aren't body parts falling off."
Though he's been offered horror films, he says he's only been offered remakes of his own films -- which he's not interested in. Cronenberg also revealed that he had major difficulties casting "The Fly" and "Dead Ringers" -- the first because no actor wanted to act with the makeup required, the second because of the inherent challenge of playing a set of twins.
His films are filled with monstrous characters, but Cronenberg does not look to the religious or supernatural for inspiration.
"There are not too many people that think they're bad or evil. When I'm writing that character, I have to accept that reality."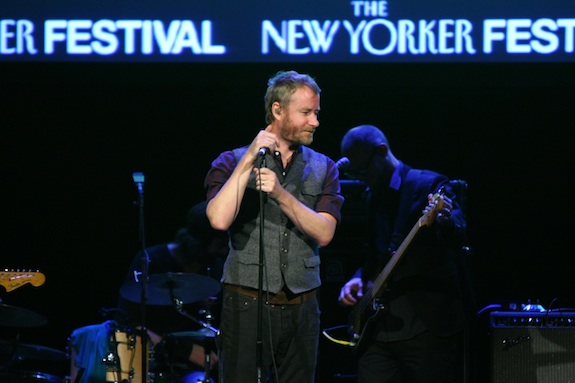 The National sat down with New Yorker staff writer/surgeon Atul Gawande, who himself is a fan of the band and plays their music in the operating room. The band -- Matt Berninger, Aaron Dessner, Bryce Dessner, Bryan Devendorf and Scott Devendorf -- spoke about their lack of confidence and having more women in the audience than Radiohead.
On their early days:
"We played a show at a mall in Orange County where no one came. So the bartender said, 'We'll still pay you if you just don't play. And that wasn't
long ago."
- Matt
"I didn't have a job [so it wasn't a risk to start a band]. Matt had a great job, so he paid for us." - Bryce
"Being a gigolo, that's a job." - MattOn the first praise they received:"Our first album came out around the time of The Strokes, and we got one good review out of Buffalo, NY, in a zine. It was a really good review. That kept us believing. It didn't take much to make us believe. There was a significant mental shift when someone we'd never met said so many awesome things about this record." - Matt
"I think he called it "a bildungsroman hemmed in smoke." - Bryan
On whether it's hard to sing depressing lyrics when you're in a good mood:"It's a really good feeling, it's warm. It's like when you're watching 'Kramer v. Kramer' and you're crying during that movie -- it feels so cathartic. But I mean, I don't cry on stage." - Matt
On their audience:"I saw Radiohead the other night, and I stood in the audience waiting for three hours for them to come on and I was impressed that we have a lot more women in the audience than they do." - Bryce
On their success:"We have a huge fear of making fools of ourselves. Somehow we got into a thing where people expect a record from us." - Matt
On choosing songs to include on the record:"The ones that we can stand make it on the record. We just try to avoid making a bad song." - Aaron
On their next record:"We'll be making a record as soon as we get our confidence to make it." - Matt
On their fascination with '29 years':There is no fascination. "I stole those lyrics from an older song. I ran out of stuff, so I stole old stuff." - MattOn being sentimental:"We embraced the idea that songs can be sentimental. Sappy was never something we were afraid to walk up against." - Matt
->Up Next: Dennis Muren, Joe Letteri, Tim Burke, and Dan Schrecker
Dennis Muren, Joe Letteri, Tim Burke, and Dan Schrecker
Jurassic Park. The Lord of the Rings. Avatar. Harry Potter. Star Wars. Black Swan.
The men responsible for the visual special effects you saw in all of these movies sat down with New Yorker editor Daniel Zalewski to talk a little bit about their craft.
On Alan Rickman's Snape in "Harry Potter":
According to Tim Burke, the technology used to make Snape look 30 years younger was done by the same guys who developed the 'Benjamin Button' technology.
On how in "Avatar," the blue skin of creatures had to replicate some of the warmth of real human skin:
"You always have to go back to what's real." - Joe Letteri
"The biggest thing people look for subconsciously is the way the eyes move." - Joe Letteri
On Gollum:Gollum was originally supposed to have green skin. - Letteri
Letteri was also inspired by accidentally coming upon the prop for Boromir's dead body in a dark room -- which is what he thought Gollum should look like.
Muren on actors who do 'digital performances' (a la Andy Serkis):"What Andy or any of these guys do is the performances... and we match it shot by shot."
Muren on George Lucas and Star Wars editions:"Knowing George, he's going to keep on doing it."
Related
Popular in the Community