If you're looking for a way to beef up your bicycle with gadgets that make each journey more enjoyable, keep reading. Manufacturers are regularly developing and producing devices that cater both to cyclists who only ride occasionally and to those who jump on their bikes every day.
Below are just a few of the newest cycling gadgets that avid cyclists are sure to love.
These bike grips don't just keep your fingers slip-free on the handlebars. They also give location information and navigation data without requiring you to remove or change the position of your hands. There's an accompanying app that can tell you how far away you are from your bike. That may be helpful if you've parked it in a large space, such as somewhere on a college campus.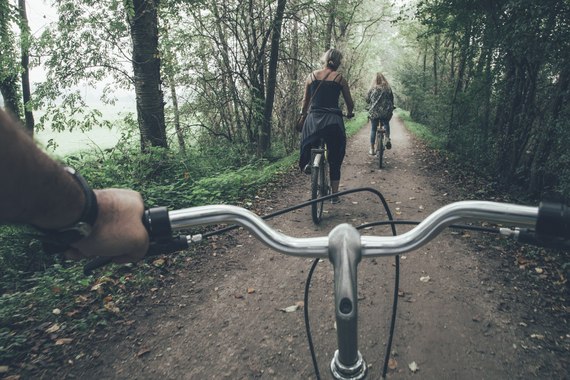 The Cyclee Sign Projector
For now, Cyclee is just a concept project that's still in development. However, there is a Behance page set up for it where you can give a thumbs-up to the idea, or contact the designer.
Basically, Cyclee works similarly to a turn signal indicator on a motorized vehicle. The designer plans to have the device work in a way that allows you to alter the types of projected signage with the help of a connected app. Besides offering directional information, the device can project signs that indicate a rider will soon be stopping. Also, the Cyclee can be mounted to several different types of bike models. That's helpful if you switch between different kinds depending on needs.
The Backtracker Bike Radar
The great thing about the Backtracker is it gives a rider information about how far away vehicles are that are behind him or her, plus the speed at which the vehicles are approaching. The data is collected courtesy of a rear-facing radar module. That component doubles as a flashing caution light that could keep riders safer by increasing visibility.
The product was originally part of a crowdfunding campaign, but it didn't reach its goal. Not to worry, though, because Garmin acquired both the device itself and the manufacturing company earlier this year.
Connected Cycle Bike Tracking Device
This gadget lets you know where your bike is at all times, thanks to specially-equipped pedals. One of the pedals has a built-in cellular chip with an unlimited SIM card. That means, after you have downloaded the associated app, you'll always get data about your bike, wherever you are. It's not even necessary to be within range of a Wi-Fi or Bluetooth signal. Even better, this gadget is powered by your pedaling.
In addition to helping you locate your bike, this accessory can give information about your journey, such as how far you've traveled and the speed at which you're moving. In the event that the device is removed from the bike, such as if it gets stolen, there's still a small amount of backup power in the Connected Cycle so you can find out necessary details.
As you can see, there are several ingenious extras for bikes, and they add brilliance without the bulk.
What other gadgets do you use to enhance your bike ride? Tell me in the comments section below!
Related
Popular in the Community