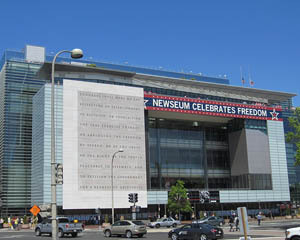 On a visit to Washington D.C. in December I made a most astonishing discovery. I found, eight years after it opened its new building, one of the finest modern museums I have ever experienced, the Newseum. Situated on Pennsylvania Avenue and overlooking the National Mall, it commands a special place in the capitol's pantheon of great museums and it also boasts fantastic views of the City from its fifth floor terrace. The Newseum was established in 1997 and its first home was in Arlington, Virginia, a little out of the limelight and the tourist trail. The new building was opened in 2008 at a cost of over $450 million and was designed by James Polshek. It extends over five floors and contains 15 theatres, extensive galleries, and two broadcast studios. The design is contemporary, full of glass with the opportunity for passersby to get an impression of what's on offer. The exterior ground floor is dedicated to today's front pages of every newspaper you can imagine and the building's colors are sort of grey and then blue, at least to my eye.
Admission is not free, in fact it's expensive at over $20, because it's not part of the Smithsonian. But my word, it's worth it. The museum states that it celebrates the five freedoms enshrined in the First Amendment but having spent two days walking around and experiencing the many exhibitions and attractions, many of them interactive, I believe it goes even further than that. For me it's a monument to the amazing courage and commitment of investigative journalists, photographers and cameramen the world over. And it's really their story in chronicling our times that is told in gracious style, from Walter Cronkite announcing Kennedy's death in 1963 to the unfolding catastrophe of 9/11. As newspaper columnist Rod Dreher wrote of the courageous responders that day: "There are three kinds of people who run toward disaster, not away: cops, firemen and reporters."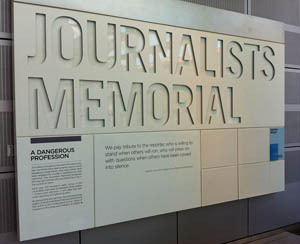 Investigative journalists are the people dedicated to finding and establishing the truth often at immense danger to their own lives. The museum includes a Journalists Memorial to 2,291 who were killed while on duty around the world. These writers and photographers inform and promote the civic discourse about the state of our society. We all need to hold their work as sacred because it is truly the basis of freedom. We might sometimes loathe such journalists for what could be described as their intrusiveness and at other times we must praise their tenacity and sheer stubbornness in digging up the truth. I hope that we shall never live without them even in this technological age.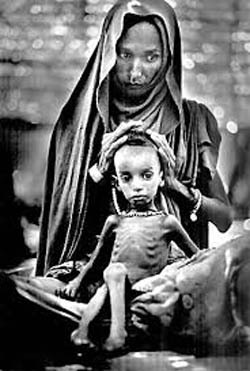 The exhibition that most moved and frankly shocked me was the very first I devoted time and thought to. This was on the first floor and featured Pulitzer Prize-winning news photography. There were many photographers such as Damon Winter, Kevin Carter, Don Bartlett, Barbara Davidson, Carol Guzy, Stan Grossfeld, and Jessica Rinaldi, and their work was all dedicated to astonishing news coverage. Their subjects were as varied as you can imagine, sometimes in color, and other times black and white, capturing scenes of joy, war, cruelty, destruction, love, and disaster. All the photographs create a deep emotional connection with the subject. I have no idea how they can do that but virtually each photograph stops you in your tracks, forces a sharp intake of breath and focuses the mind. There are hundreds of photographs to study and several that still haunt me - Stan Grossfeld's image of a starving mother and her child in Ethiopia staring at the camera with such dignity as though posing for a C20 version of Michelangelo's Pieta (in photo right); the happiness of a family reunion with a father returning from war; the horror and mindlessness of a lynching in Bangkok.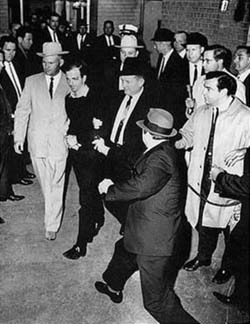 These are pictures of our world captured in a single moment of vivid truth. The photographers talk about having front seats to history and none could tell that story more eloquently than the picture of the very moment Jack Ruby shot Lee Harvey Oswald (the alleged assassin of Kennedy), or the terror of an anonymous figure falling from the burning Twin Towers. The photographs have a transcendence that speaks to what we care about deep down in our very souls and it is perhaps this realization that creates this intense emotional feeling and connection. I believe you can find in these frozen images the depths of our humanness as much as in any great work of art. I lingered for a long time with these images and was speechless and moved as a result.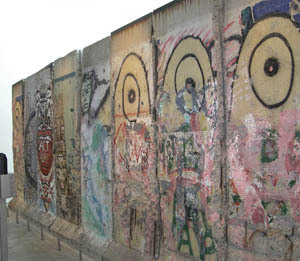 Then there are all the other exhibitions. In the basement there is a display devoted to the Berlin Wall. In fact there is a huge section of the Wall covered in graffiti and overlooked by a complete East German watchtower from Check Point Charlie. The Wall must be 12 feet or more high and the tower is a good three stories tall, from which aerie the East German guards could shoot at anything that moved. The whole exhibit looked like the ossified remains of the Soviet Tyrannosaurus Rex. Then there are two enormous glass elevators that I mistakenly walked into thinking they were rooms! These take you to the fifth floor, which is where they advise you to start your long journey to the ground floor. There is the FBI exhibition containing tommy guns from the gangster era, one of the Unabomber's cabins, and the car belonging to one of the 9/11 hijackers. There is the famous video screen stretching across a long room where you can absorb basically whatever is in your sight-line. Then there are the front pages of all those newspapers reaching back into the depths of time announcing the major events of our world history such as the execution of Charles I at the end of the British Civil War in 1649, the Fire of London in 1666, the assassination of Lincoln in 1865 and the Nazi invasion of Poland in 1939. They were all terrifying and fascinating glimpses into our past that tell a salutary tale about what we might expect our future to be.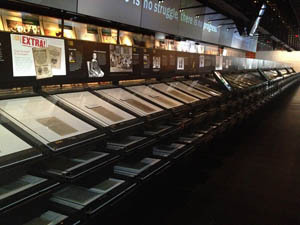 As I came to know the museum better I wanted to see more about their education programs. You might say that the entire building is dedicated to education and that is correct in many ways. A quick look at the Newseum's Education website pages revealed a variety of resources, classes and events for students, teachers and professionals. There is also a ten-year partnership with the School of Communication at American University that includes internships as well as the highly successful Reel Journalism series, a film series hosted by the Newseum in their Annenberg Theater and moderated by jointly appointed distinguished journalist-in-residence, Nick Clooney.
Leaving the building after my second visit I stopped to admire its design. It presents such a beautiful use of glass. And then I thought that this was really what they want us to understand. It's all about transparency, giving our politics and politicians, our actions, our great achievements, our thundering disasters, their shining place in plain view, allowing for analysis, discussion, criticism or celebration. The Founding Fathers got it right in terms of providing the foundation for democracy with the First Amendment. They identified what is important to polity: freedom of assembly, the right to petition, freedom of religion, and of course the place of the press to hold up a mirror to society and the world and reveal the truth about exactly what is happening. In this post-truth era there can be nothing more important for us to cherish and maintain than these most simple and potent values.


REAL LIFE. REAL NEWS. REAL VOICES.
Help us tell more of the stories that matter from voices that too often remain unheard.