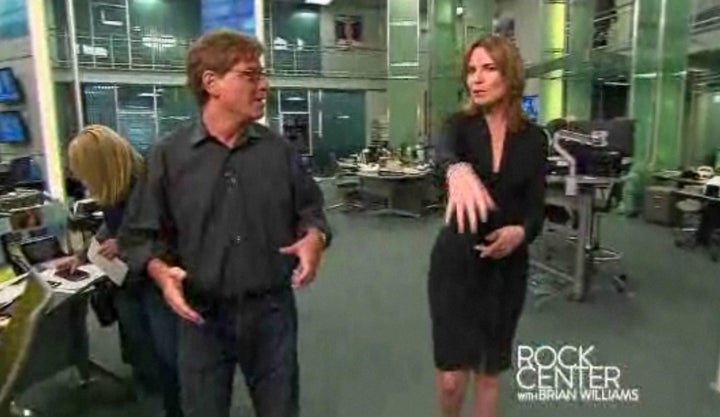 "The Newsroom" creator Aaron Sorkin, known for his "walk and talk" dialogue, appropriately walked and talked with Savannah Guthrie on "Rock Center With Brian Williams" (Thursdays at 10 p.m. ET on NBC) about his signature writing style.
Sorkin broke down how the "walk and talk" is correctly executed. "It would be this fast. You'd be walking like that...I'd take that...I would look at it. That's not important, I'd put it down...thanks very much. You can put that there," Sorkin quickly says in the exclusive clip below as he and Guthrie moved across the room.
As for where he got his talk-heavy style, Sorkin pointed to his experiences growing up. "At the dinner table anybody who used one word when they could have used 10 just wasn't trying hard enough," Sorkin said.
Although Sorkin dismissed that his soon-to-premiere HBO cable news drama is a statement of how news should be done, he said, "[I]n a romantic comedy, love works in the way we wish it would work and here the news works in the way we wish it would work."
Check out the exclusive sneak peek of Sorkin's "Rock Center" interview below.

"The Newsroom" premieres June 24 at 10 p.m. ET on HBO.
Calling all HuffPost superfans!
Sign up for membership to become a founding member and help shape HuffPost's next chapter