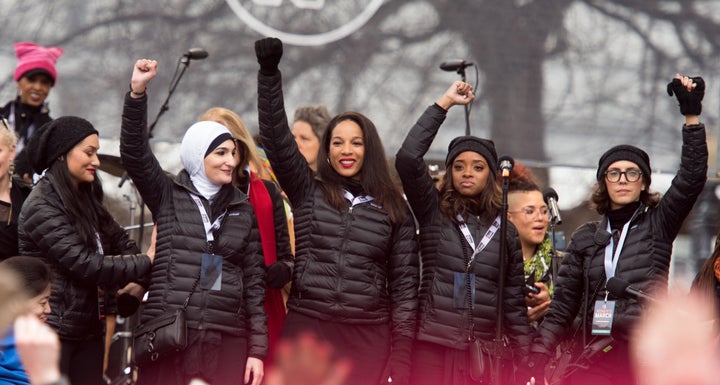 The Women's March organizers are back ― this time in Michigan.
The convention will tap into "the power of women in leadership as the fundamental, grassroots force for change," the website reads, adding that "participants will leave inspired and motivated, with new connections, skills and strategies for working towards collective liberation for women of all races, ethnicities, ages, abilities, sexual identities, gender expressions, immigration statuses, religious faiths, and economic statuses."
Bob Bland, co-organizer of the Women's March, told HuffPost that the convention will be open to anyone who would like to attend, not just people who identify as women.
"The Women's Convention is literally a one-stop shop for any organizer or any leader or anyone who has aspirations to lead in their communities to come and learn from all of our different partners," Bland told HuffPost.
The attendance fee will be $295 per person ― an amount that the Women's March deemed "necessary to help us cover the expense of holding a conference." Bland was quick to point out that the organization is hard at work raising money to sponsor women who can't pay their own way.
"In order to effectively harness the power of women from all backgrounds, the Women's Convention must be accessible to women and allies regardless of economic barriers," the website reads. (Head here to sponsor an attendee or donate.)
Bland said that the main goal for The Women's Convention is for activists and organizers to leave with more skills and more contacts so that they can bring the movement back to their hometowns.
"How do we bring all of these intersectional issues and all of these people together and then truly build lasting power and transformational change over time?" Bland said. "It can't just be about mass mobilization, it can't just be about rapid action."
That's where the workshops will come in. Although the details of sessions have not yet been publicized, Bland said there will be workshops for everyone from first-time activists to seasoned organizers.
"We want everyone to be able to come together and connect, even on issues that they're not necessarily comfortable with and to have discussions about that and learn how to have more of those discussions within your communities," Bland said.
"It's about what America stands for: Does it stand for hate and fear and bigotry or does it stand for love and diversity and inclusion and tolerance?"
"A lot of us are just waking up to how horrible it is for the rest of the country, and that it really is unbearable for us to continue benefitting from a system that oppresses everybody else," Bland said. "We can't let this happen and we can't continue. We need to build an America that we can be proud of. And I know with women in leadership we can do that."
In order to continue the movement, Bland said that women must set the agenda going forward in the U.S.
"We've had such a stark reality check of what a Trump presidency has brought us to at this point. It goes so far beyond politics," she said. "It's about what America stands for: Does it stand for hate and fear and bigotry or does it stand for love and diversity and inclusion and tolerance? That's something that women need to band together again on ― the way we did on Jan. 21 ― and then craft a policy agenda and continue building not just in the streets but also building political power in the halls of Congress and in our local communities."