The startup world has been rocked by a series of entrepreneurs that have left big companies to make their own way. When entrepreneurs from one giant company end up dominating other fields, they're referred to as mafias. The most famous of which, the PayPal Mafia, has dominated Silicon Valley for more than a decade.
PayPal isn't the only "mafia" in the entrepreneurial world, however. Entrepreneurs from other companies like Google have gone on to form successful businesses, but PayPal remains the dominate force. But recently, a challenger has emerged.
The Skype Mafia is still in it's infancy, but already massive. Companies ranging from ecommerce to robotics to fintech all share a common thread through Skype.
Between the two groups of companies, there are some striking similarities. On the surface, both ended up being acquired by monstrously big and successful buyers. Both have a loose geographical center, one Silicon Valley, the other Estonia (but quickly growing to all of Europe). The two parent companies of the mafias were both revolutionary in their field, PayPal, being the first popularizer of sending money over the web, and Skype for taking video chat out of science fiction and placing it firmly in the real world.
But the similarities between the mafias runs deeper than those of the parent companies. Both mafias have spurred multitudes of entrepreneurs that have gone on to disrupt a myriad of industries. We all can think of Youtube, Tesla, and SpaceX, as examples from PayPal, but the Skype Mafia disrupters may be not as obvious yet.
Both mafias have "stars" that have emerged. In PayPal's case, the obvious answer is Elon Musk. For Skype, as of now, that title belongs to Taavet Hinrikus and Kristo Käärmann, the founders of TransferWise, one of the Skype Mafia's earliest unicorns.
TransferWise, like either of Musk's companies, is changing a massive part of life; sending money around the world. But because of the youthful nature of the Skype Mafia, Hinrikus and Käärmann can't be too comfortable on their throne.
The age and competitiveness of the Skype Mafia may be one of the most significant differences between it's longer established PayPal counterpart. More extraordinary than the similarities between the two mafias are the differences.
The Skype Mafia has more variety in its members. With the exception of Elon Musk's private space program and Tesla, almost all of the PayPal companies live on the internet. This is stark contrast with some bricks and mortar companies in the Skype Mafia like Chilango, a Mexican restaurant with several locations in London founded by former Skype foodies, or Piacha, a tea store that exists in the real world and online.
The actual tangible gadgets the Skype Mafia is building may even be more innovative than many of the online services the PayPal Mafia has put out to date. Ahti Heinla and Janus Friis, the co-founders of Skype, and two who are indirectly responsible for the entire Skype Mafia, have launched a new company called Starship, which makes six wheeled robots for short distance deliveries. The deliveries are free for the consumer, and would do to local delivery what Skype did to video communication.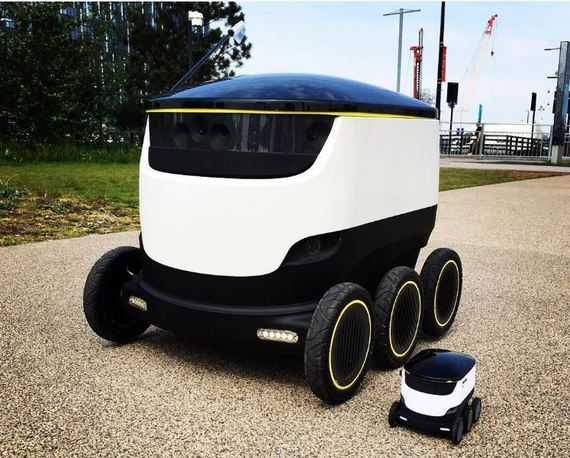 Source: Startship Instagram
Another reality rather than virtual based company from the Skype Mafia is Blossom, which has taken an activity that formerly required a bucket and water, and injected tech into the process to bring into the 21st century. By connecting sprinkler systems to devices, Blossom lets people water their plants from anywhere in the world, and adjusts to weather forecasts and other intangibles to help the environment.
Another obvious difference between the PayPal and Skype Mafias is their respective ages, just a look at when the parent companies launched can give you an idea of the timescale differences. PayPal launched in 1998, and Skype in 2003.
Though this age difference has allowed PayPal Mafia companies a few more years to mature, it also lends itself to some Skype Mafia companies to enhance and improve on more recent innovations. Jobs Today, for example, uses a the Tinder strategy, quickly rifling through as many matches as possible, and extends that to job seekers and employers.
Skype Mafia companies also seem to be a bit more daring in the industries they're willing to go after. Like Fleep, a company that's trying to take over electronic mail, that is, disrupt email, and fundamentally change the way people interact on the internet, sort of like Skype did. Or CityFALCON, a financial news service that has the gall to give average people the chance to learn more about the world of investing for free, which is often unthinkable in that sector.
The Skype Mafia still has an uphill climb before it will reach a level of prestige like those that have come before it. But time, further investment, and more and more entrepreneurs coming out of the Skype everyday will lead to more and more companies breaking into the mainstream.
Another advantage the Skype Mafia has over its adversaries is a concentrated effort to organize. Ruzbeh Bacha (founder and CEO of CityFALCON) has started an initiative to give start-ups under the Skype Mafia banner an arena for mentorship, support, and even hold events to help foster the already flourishing entrepreneurship coming out of Skype.
It's only a matter of time before much of the world runs on Skype Mafia companies, similarly to how much of the world runs on companies from the PayPal Mafia today.