I'm going to let you in on a secret that is sure to go viral in the coming months: Snapchat has become the latest marketing trend since the release of its "on-demand geofilter for businesses" feature.

Snapchat's on-demand geofilter is fairly new (it was released in February of this year) and not many people are aware of the amazing benefits that it offers to businesses.

First, it's important to understand the meaning of a "geofilter". Geofilter is the same as "geofencing," which essentially means drawing a virtual fence around an area that you wish to highlight or promote.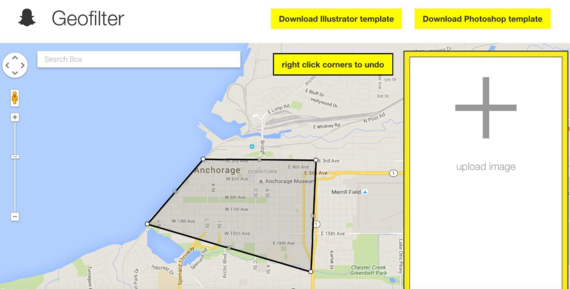 Through Snapchat's on-demand geofilters, Snapchatters have the option to create their own geofilters for specific business events and occasions. This allows other users in that designated area to see or use your filter (a graphic overlay for an image or video) when they send a Snapchat- pretty cool, huh?

Getting Down to Business with Snapchat

Bobby Mukherjee, CEO of the app development company, Loka, recognizes the value that Snapchat's on-demand geofilters can bring to businesses. The majority of Bobby's clients are businesses looking for new ways to increase their digital presence. As a result, Loka now offers a service that helps clients create customized Snapchat on-demand geofilters.

"Social media apps are now bigger than ever before and Snapchat continues to increase in popularity, with 150 million users each day. Snapchat allows businesses to innovatively market to millennials with on-demand geofilters and we're excited to make this process easy for our clients," said Bobby.
Many of you may still be wondering exactly how Snapchat's on-demand geofilters are helping businesses build their brands and raise awareness.

Consider this - millennials (18-34 year olds) make up the largest generation of America's workforce. Coincidentally, almost three-quarters of Snapchat's 150 million daily users are millennials.
Specifically, millennials in particular are leveraging Snapchat for marketing purposes to help businesses create brand engagement and grow a digital presence. On-demand geofilters are an excellent way for businesses to use Snapchat as their own marketing channel. Beyond that, users will likely send more snaps if they have access to more filters.

Plus, businesses that want a sponsorship on Snapchat typical have to invest at least 6-figures. Thanks to on-demand geofilters that start at $5 per 20k square feet an hour, digital marketers now have the option to build custom filters featuring relevant business images like logos, slogans and mascots. These filters can be accessed and seen by all users within a specified location. Pretty clever (and affordable)!

When To Use Snapchat's Geofilters?
There are many instances where custom geofilters can be applied to promote a business or brand. If a company's CEO is speaking at an event, for example, marketers can raise awareness by creating a custom filter that will go out to thousands of Snapchat users during the course of the conference.
Businesses are also applying company-wide geofilters at the office to promote a happy company culture and work environment. Blue Fountain Media did just this and had a successful experience.

The website design company bought a 4-hour block on a Friday for about $30, created a Snapchat geofilter for their Madison Ave. business and generated about 4,000 impressions. Not only is this impressive, it's also a lot more affordable than investing thousands of dollars on paid advertising (growth hacking at its finest!).
"These are deep impressions: people are actually consuming them unlike banner ads and other digital assets. These filters appear directly in the app, directly in front of the consumer."
Getting Creative with Snapchat

While businesses can use a service such as Loka to create customized geofilters, Snapchat users also have the option to create their own geofilters themselves.

Here are 5 things Snapchatters should consider when creating a geofilter:

#1) Start by creating the graphic overlay. Snapchat favors portrait orientation so your image will be higher than it is wide. In this case, the graphic needs to be 1080 x 1920 pixels.
#2) Make sure you test your filter before you make it available. If you'll be offering it in a well-lit area, for example, you might notice that some of your white lettering disappears.
#3) The images in your filter shouldn't take up more than one third of screen space. Snapchatters also need space to show their photos and videos.
#4) Once you're set with your graphic, upload it to Snapchat so that it will be available to other users. You'll also have to specify the timeframe and target area. It's best to set your target area a little wider than what you want because geo-targeting isn't always precise.
#5) Keep in mind that your filter won't be available immediately. You should upload it 2 days in advance before making it available to users.
Social media has allowed businesses to build their brands in new ways that are more affordable, engaging and fun to use. Snapchat on-demand geofilters happen to be one of the best examples of how businesses can use social media to build their brand and increase their digital presence.
The next time your company hosts an event, attends a conference or just wants to promote a fun workplace, be sure to include a Snapchat geofilter. This will add an extra marketing push, at a low cost, and is sure to help draw attention to your company's brand (and provide Snapchatters an extra incentive to snap!).
Related
Popular in the Community