 David Bowie with his wife, Iman, New York City, April 28, 2011.
How can I, that girl standing there,
My attention fix
On Roman or on Russian
Or on Spanish politics?
Yet here's a travelled man that knows
What he talks about,
And there's a politician
That has read and thought,
And maybe what they say is true
Of war and war's alarms,
But O that I were young again
And held her in my arms!
The substance is as alarming as it is amusing. Yeats was in his early 70s when he wrote this, and it's gross to imagine him leering at some unsuspecting young woman. It's even more upsetting to learn that one's libido never does grow up, ever after one has lost the capacity to act on it.
Nevertheless, there is something about this poem that gives me hope about the aging process. The younger Yeats would have been too timid to say something so awful in so few words, but that's not all. There are certain truths that don't make themselves known to us when we are young, beautiful and relevant.
At 66, David Bowie is about eight years younger than Yeats was when he wrote "Politics." If Bowie's not old yet, he's getting there, and "The Next Day" is his first album in 10 years. We're told he made it because "today he definitely has something to say." Since Bowie claims he will never give another interview, it's up to us to ask, What is he trying to say? How well is he saying it? Are we obliged to care?
To answer those questions, we can compare "old Bowie" to the "young Bowie" who burst onto the scene with the hit single "Space Oddity," in 1969, and went on to create the defining album of 1970s rock, "The Rise and Fall of Ziggy Stardust and the Spiders from Mars." But we may also wish to compare "old Bowie" to his fellow aging legends -- "old Dylan," "old Cash," "old McCartney," "old Jagger."
"The Next Day," after all, is filled with references to Bowie's catalogue -- there are sonic and lyrical echoes of everything from "Life on Mars" to "Heroes," to "Let's Dance" -- but it also contains a song about celebrities and a Dylan tribute (one that's arguably better than 1971's "Song For Bob Dylan") alongside the expected meditations on mortality and the follies of youth.
Let's start with the first thing you'll notice: Bowie's voice isn't what it used to be. It's been decades since he's been able to produce the giddy elastic yelp of "Hunky Dory" or "Ziggy Stardust," but even the sexy growl familiar from "Let's Dance" has crumbled a bit. At times, Bowie sounds ageless; other times, he sounds like what he is: a sexagenarian who hasn't really toured since having a heart attack nine years ago.
Does it matter? Not really. Unlike the two Pauls (McCartney and Simon), Bowie cannot claim vocal immortality, but he's got about as much left as Mick Jagger, whose throaty lower register disappeared somewhere along the way. "Old Bowie" isn't afraid to reach for a high note, and he does a lot of shout-y belting, but he's most successful when he settles into a comfortable range and lets the years show.
So what is he saying? For one thing, that he still lives in the same world as the rest of us. This isn't Neil Young emerging from the cellar with a jar of moonshine or Bob Dylan visiting from some wagon train in the 1800s. Bowie is keenly aware of his own celebrity, but it's not some foreign, alienating imposition: he worked hard to be this notorious.
In "Where Are We Now?," he sings, over "Life on Mars"-y piano chords, "Had to get the train / from Potsdamer Platz / You never knew that I could do that / Just walk in the day." Add the sight of Bowie tooling around Berlin on foot to his existing gallery of enduring images -- the astronaut so awed by the beauty of Earth that he decides not to return ("Space Oddity"), the city dwellers struggling to digest the news of impending armageddon ("Five Years"), the kids listening to alien transmissions over the radio ("Starman").
Notice anything about those indelible visions? They're all sci-fi fantasies involving celestial bodies, aliens and the great beyond, and Bowie continues the tradition on "The Next Day." "Dancing Out in Space" is a meaningless but bouncy number that would have sounded great between Blur and Pulp singles on a dance floor in 1997, and "The Stars Are Out Tonight" is a joke that's funnier if you know how orbitally obsessed Bowie has always been: at first, you think the names he recites -- "Brigitte, Jack and Kate and Brad" -- must belong to little kids looking at the stars, until it becomes clear they are the stars, the celebrities, who "burn you with their radiant stares and trap you with their beautiful eyes."
Bowie isn't just taking the train with us; he's ogling celebrities with us, too, never mind that he is -- or was -- one of the biggest around. On the title track, Bowie sings, "First they give you everything that you want / Then they take back everything you had." Has Bowie had his A-list all-access pass revoked? Not likely, but after all these years of reclusiveness, it's possible the invitations have begun to dry up.
You get the sense, from the music but also from this video with Tilda Swinton, that Bowie has ambivalent feelings about his distance from the cultural tide. There was a time when he defined it, followed by a long period when he tried but perhaps failed to steer it in more esoteric directions; now all he can do is remind us how much he did to shape it -- and impart a few lessons to those traveling in his wake.
On "Love Is Lost," which begins like an old Squeeze song before veering into darker terrain, he addresses what sounds like a 22-year-old fashion model suffering through her first heartbreak: "Your maid is new and your accent too, but your fear is as old as the world." Listen to Bowie, kid -- he's been there! And on "I'd Rather Be High," a poppy ode to youthful indifference that doubles as a sly anti-war anthem, he puts himself in the shoes of a truant soldier and sings, "I stumble to the graveyard / and I lay down by my parents / whisper, 'Just remember, duckies, / everybody gets got.'"
Like so many aging artists before him, it seems, Bowie has learned the Big Lesson: no matter how much money you make, how many sex partners you corral, or even how many masterpieces you produce, we're all riding a one-way conveyor belt into the furnace of oblivion. Does that mean everything we've done is meaningless? Not really, Bowie seems to suggest on "Where Are We Now?," "as long as there's sun / as long as there's rain / as long as there's fire / as long as there's me / as long as there's you."
In 1994, Johnny Cash and Rick Rubin made "American Recordings." Its message? Cash's genius was a whole lot bigger than the Country Western genre that has encased it for too long. In 1997, Dylan made the Grammy-winning album "Time Out of Mind." His message? I may sing like a dying toad, but my journey is far from over. In 2008, the Rolling Stones made the concert film "Shine a Light." Their message? We may be old, but we can rock as hard as anybody, anywhere.
Now it's 2013, and David Bowie has just released "The Next Day," and I think I know what he's trying to say: he's still here, and he hasn't given up on us yet. Or, to quote the seventh song on the album, "If you can see me, I can see you."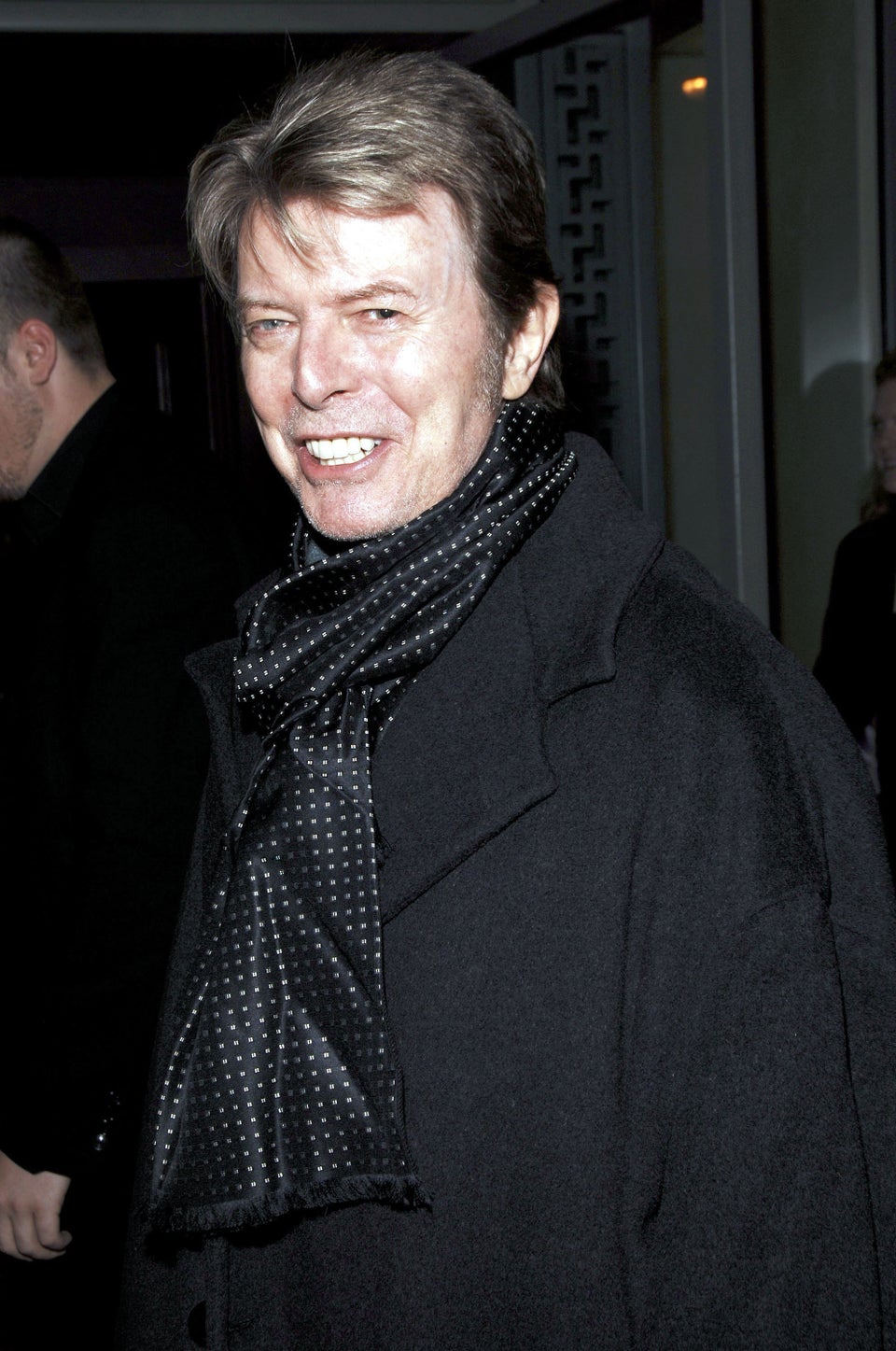 David Bowie Through The Years
Popular in the Community