"Imagination is more important than knowledge. Knowledge is limited. Imagination encircles the world." -- Albert Einstein
The entire planet of people and things are connecting to the Internet, with projections that point to 6 billion active smartphones and 50 billion connected things by 2020. As a result, marketers are hyper-focused on bridging the gap between marketing, sales and customer service by taking all of the data generated from this new level of connectivity and creating a single view of the customer to deliver personalized experiences across all interactions.

In fact, according to our 2016 State of Marketing report, more than half of high-performing marketing teams surveyed say they're already driving customer experience initiatives across the business.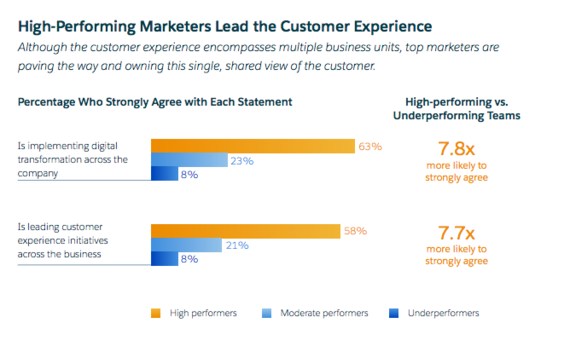 However, relevance is the currency of the digital economy, so it's no longer just enough to deliver personalized customer experiences -- those experiences need to be smarter, faster and in the right context. Artificial intelligence (AI) will be crucial in delivering these next-gen personalized experiences for customers, and as the conductor of the customer experience, marketers need to embrace it in order to succeed.

Smarter CRM, Smarter Marketing
I've said time and again that the customer experience is more than just marketing -- it is building the most personalized customer journey across sales, service, community, apps and IoT. But the next-gen customer experience requires a next-gen CRM - a smart CRM platform that is powered by AI.
For example, a smart CRM platform with highly integrated sales, marketing, services and communities capabilities can analyze customer engagement, determine positive, negative or neutral customer sentiment and automatically adapt customer journeys. The same logic could apply to marketing lead scoring and management. Customer service insights like customer satisfaction or net promoter scores (NPS) can determine lead scoring algorithms. Social listening, analysis and reporting logic powered by AI can recommend adjustments to marketing campaigns, the outreach program for inside sales, and publishing calendar and content makeup based on customer personas and industry needs. A smart CRM platform will significantly optimize the role of community managers, marketing automation specialists, social media content publishers, customer service front line staff and more.
A recent Harvard Business Review Analytics Services survey of global marketing and sales leadership identified a range of challenges that marketing leaders face today, including technology complexity, integration complexity of existing systems, shortage of analytics skills, and the need for automation as well as systematic and scalable methods of sharing insights between departments. In fact, only 15% of survey respondents have widespread use of advanced tools, analytics, and practices to better leverage data in their marketing and sales efforts.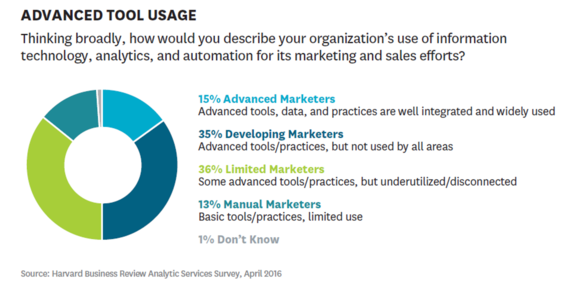 For marketers, AI is a shift from relying on backward-looking analytics and stale data to leveraging all of the disruptive technology forces that preceded it--cloud, social, mobile and IoT--and harnessing them to recognize patterns, recommend next best actions, predict outcomes and automate processes to become smarter about their customers, their communities and the journeys they're on. It also empowers them to apply automation and data science in place of instinct using the Highest Paid Person's Opinion (HIPPO) decision and manual processes. Finally, it enables them to be proactive in their engagement with each customer on their terms and at every touch point along the journey.

Room & Board is a great example of the power of AI in marketing. The company--which offers modern furniture and accessories--sought to further differentiate its customer experience by making its ecommerce site interactions more like its in-store experience. The company leveraged artificial intelligence capabilities within Salesforce to enhance its digital marketing by taking advantage of customer traffic data and predictive analytics to suggest additional purchases in near-real time. Room & Board discovered that customers who engaged with its recommendations placed web orders with 40% higher average values than those who didn't. Additionally, when customers viewed those recommendations before coming into the store, the average order value shot up 60%.
We are in the age of the customer, and marketers who embrace AI technologies will have a significant advantage in delivering the next generation customer experience.
Related
Popular in the Community