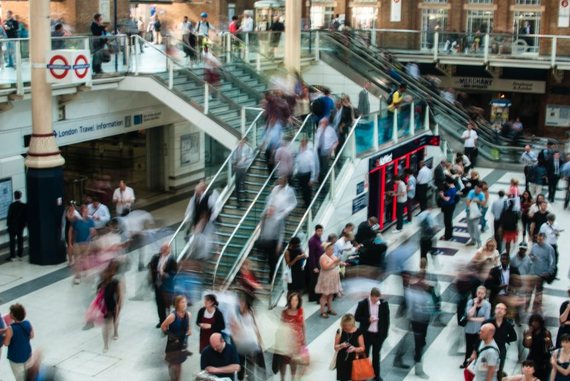 Photo Credit: UnSplash - Anna Dziubinska
Imagine, mobile takes over retail... completely. Customers research, compare and even purchase while they are standing at the merchandise rack in the store. Registers become a thing of the past. Hello uber-connected, mobile customer shopping on steroids. Goodbye traditional retail merchandising, cash registers and business model. Wow. Are we really in for a sweeping change in how retail mobile consumer purchasing happens? Hmm...
Here's My Vision Of Mobile Consumer Engagement
As I stroll through the front doors of my favorite retailer, within steps of being inside my smartphone is pinged as a reminder to launch the retailer's "point-of-sale" app. Before I get to the men's section, I am already browsing today's deals on my phone for men's shoes. The first pair of shoes I pick up instantly alert me on my smartphone. Now I can watch a video about how they are made, look at customer reviews, and see why they are so popular - then I instantly get a coupon within seconds that allows me to purchase directly from my phone without getting in line at the register. Shoes bought - now on to the men's athletic wear section. I maneuver my way across specific merchandise sections of the store; I am reminded right on my phone of the merchandise and coupons available to me while I am walking between certain sections. I then click on the "gear icon" in the "point-of-sale" app and opt-out of the merchandise I do not want to be notified about... Kids toys, women's apparel, bedding and jewelry... you get the idea. I briefly select the merchandise areas I am most interested in and quickly move on.
This scenario could become the retail norm for all of us mobile carrying customers in the not too distant future.
Dozens of "merchandise zones", are available, all with the ability to alert customers like me who are in the store. I am now in the athletic wear section and before I find a pair of workout shorts and a top, the app sends me a message, photo, video and purchase link all at once. The store will probably know what I am about to purchase even before I get to it on the shelf -whoa. The only thing I can't see happening is the app actually trying on the clothes for me. Hmm... now that would be interesting. This may sound like the next futuristic movie scene, but I assure you it's not.
It won't be long before waiting in line at registers are a thing of the past and smartphones are performing multiple transactions per day per person. Shopping bags may not be seen at registers any longer, they may be hung in the stores so that when customers make a mobile purchase with their phone at the merchandise rack, they are able to put the merchandise inside their bag and keep shopping.
"Mobile has become the personal shopping assistant for all retail customers as well as the amazing connectivity platform for retailers to market, communicate and sell products right from the shelf and into the customer's hands without a register."
- Margie Kupfer, VP Marketing & Retail Practice, 3Cinteractive

"In Stores, 82% of smartphone users turn to their devices to help them make a product decision" - ThinkwithGoogle
Shoppers that use mobile devices nowadays have proven to be more than just a customer. They are constantly on multiple devices throughout the day. Retailers need to understand that the customer path is no longer an external advertisement driving them to the brick-and-mortar store. Customers are in a hyper-multi-channel mode and their path to purchase is the one that meets and greets them where they are so they can conduct their shopping the way they want. The next generation retail mobile consumer is here and all of us must take a good look at how we play a role as the marketer, the retailer and as the consumer.
Calling all HuffPost superfans!
Sign up for membership to become a founding member and help shape HuffPost's next chapter