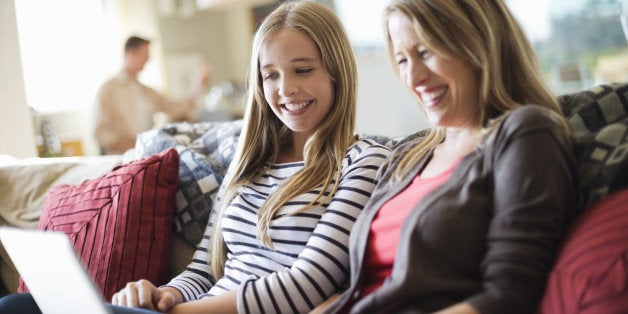 Generation Z is not a population we hear a lot about in the realm of real estate, particularly during a time when understanding the mindset, values and attitudes of millennials are of fascination and focus to today's marketers and analysts. It's also a generation rarely discussed when it comes to home buying -- after all, they still live with mom and dad and have much more on their minds such as keeping up with the latest style trends, upping their Instagram following and mastering the newest mobile game. Right? Well, recent findings released by Better Homes and Gardens Real Estate of Gen Z teens (ages 13-17) have uncovered that these teens are much more aware, realistic and surprisingly traditional in regard to their predictions for the future and their feelings toward homeownership. And they've made it clear -- it's time we start taking notice.

Home is a place of safety, togetherness and stability for people, and teens are no exception. Better Homes and Gardens Real Estate surveyed Gen Z teens at a time when home is the center of their lives and a refuge from the pressures of being a teenager in today's world. They are entering a transitional period where they are leaving childhood behind and are being conditioned to think about their future. Gen Z teens were 7-11 years old when the recession hit, which was a very impressionable age and time in their lives. It could have given them an impetus -- either through witnessing their own family's lifestyle shift or a friend's -- to appreciate home as a place for togetherness and security. It's these types of experience that perhaps fuel this generation's overwhelming desire to own a home. Findings show that 97 percent of those surveyed believe they will own a home in the future and homeownership is the top factor this generation considers to be reflective of the American Dream.

Some may question, and have; can we take this generation seriously? Absolutely. In fact, this was a question we asked ourselves prior to embarking on the research. This generation is the first to know no world other than that of instant access to and infinite amounts of information. A by-product of information access is the effective processing of that information. In comparison to generations prior, these teens are ahead of their time. From their responses, it's clear that they've synthesized what they've lived and what they've learned into a very conservative and favorable view of homeownership and understand the value of a home -- literally. Of those who believe they will own their own home, respondents estimate paying on average $274,323 to purchase their first home. According to the latest U.S. Census data, the median cost of a home today is $273,500, so they are right on track and already well-informed.

Even if the recession didn't impact them directly, at that age children tend to equate home with stability in which preservation is an inborn motivation for people. Today's teens also place a high premium on stability in their lives as they progress on the path to homeownership. They aim to own their first home by age 28 -- three years earlier than the median age of first-time homeowners, according to the National Association of Realtors. Additionally, they expect to achieve certain traditional milestones before they purchase their first home like earning an advanced college degree (60 percent) getting married (59 percent) owning a pet (58 percent) and having children (21 percent). Seventy-six percent believe they are most likely to live with their significant other when purchasing a home versus living alone (15 percent) or living with a friend (eight percent).

Interestingly enough, while today's teens are being absorbed into the abundance of entertainment content as well as traditional and social media outlets, they are not living in a digital cloud void of human interaction. We discovered that 51 percent of Gen Z teens believe they know more about saving money compared to their parents at the same age. Of that group, 65 percent attribute this belief to discussions they've had with their parents about saving and 41 percent give credit to learning about the economic recession in school -- parents, they are listening! This generation may be getting more than just advice from their parents. Fifty-seven percent believe their mom and dad are likely to help them buy their first home.

When it comes to securing their ideal home in the future, this generation also understands what it means to make sacrifices and is willing to do so now if presented the opportunity. Fifty-three percent surveyed would be willing to give up social media for a year (tied with doing twice as much homework every night), 42 percent would go to school seven days a week and 39 percent would take their mom or dad to prom.

Gen Z is a generation that knows no limits to online commerce. And while they can purchase nearly anything online and have it delivered to their door 24 hours later, they already understand the magnitude of purchasing a home warrants a more sophisticated, customized and personal approach that transcends technology. While not surprisingly, 95 percent of these Gen Z future homeowners believe they will take key steps in the home buying process online, a 59 percent majority believe they will undertake the search process for their future home with help from a real estate agent. A mere 19 percent believe they'd purchase a home online, while 81 percent believe they are likely to use a more traditional method, such as working with a real estate agent, for the actual transaction.

Although Gen Z has several years ahead of them before they speak to a mortgage broker or real estate agent, these years are shaping the path that will take them into the next phase of their lives. Their dreams are rooted in knowledge, and they are primed better than many previous generations to achieve their goals, positioning them, for what I we believe, to be called the next great generation.
Related