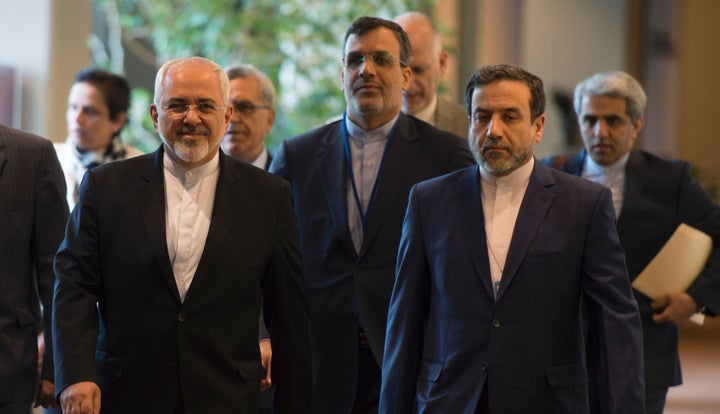 Over the course of the presidential campaign, Donald Trump and Hillary Clinton have taken starkly different positions on the landmark 2015 nuclear deal between six world powers and Iran -‑ an agreement that verifiably blocked Tehran's path to nuclear weapons for well over a decade and eliminated a major international security threat to the United States and our allies in the region ― but neither has explained how they would work with our allies to strengthen the agreement over the course of their term in office.
Trump has suggested that he would renegotiate the deal, but fails to explain how he will get Washington's partners (China, France, Germany, Russia, and the United Kingdom) to go along with such a risky gambit, let alone Iran.
In reality, any attempt to renegotiate the deal known as the Joint Comprehensive Plan of Action would unravel the combination of restrictions and intrusive monitoring that has blocked Iran's ability to produce weapons-grade nuclear material. The United States would be isolated from its European partners and a renewed crisis over Iran's nuclear ambitions would almost certainly reemerge.
Clinton's position is more pragmatic. She has praised the 2015 agreement, which she helped to set the stage for during her time as Secretary of State, and says she will "vigorously enforce" the deal and confront Iran's "negative actions" in the region. The Democratic Party platform – which pledges to "… continue the work of this administration to ensure that Iran never acquires a nuclear weapon and will not hesitate to take military action if Iran violates the agreement" – provides no meaningful answer on how to oversee implementation of the agreement and strengthen its provisions.
Both presidential candidates have a responsibility to spell out how they plan to oversee the implementation of the nuclear agreement with Iran and strengthen it during their term in office. The latter could include extending key restrictions on Iran beyond the initial timeframe of the key nuclear restrictions mandated by the agreement.
Clinton and Trump should also explain whether and how they will support the difficult work being done by the International Atomic Energy Agency to carry out innovative and intensive monitoring and verification measures on Iran's program, and how they may seek to strengthen nonproliferation norms globally.
International Atomic Energy Agency (IAEA) Director General Yukiya Amano commented last August that the provisions under the Iran deal "are a special arrangement and do not set a precedent." But maybe some of these innovative elements of the deal should become precedent. The IAEA has learned from past violators and strengthened its safeguards and it might be time to do that again.
After the covert nuclear programs in North Korea and Iraq were uncovered in the 1990s, the international community took steps to increase access for IAEA inspectors at nuclear sites and allow them to visit non-nuclear sites if there was evidence that material was being diverted for illicit purposes. While these more intrusive arrangements, known as additional protocols, are voluntary, they have entered into force in 127 countries.
The additional protocol is part of the nuclear deal with Iran, but the agreement builds in even more layers of monitoring and verification. Under the deal, Iran's uranium enrichment levels are constantly monitored, and key portions of its fuel supply chain–from centrifuge workshops to uranium mines–are under continual surveillance. Institutionalizing these measures elsewhere as a global norm would help provide assurance that countries with enrichment technology or uranium reserves are not diverting materials for military purposes. Tehran has often said it does not want to be subject to measures beyond what is required of 'normal' members of the IAEA. If continual surveillance becomes the "new normal" it would lock in the benefits on Iran even beyond the agreement's timeframe.
Additionally, under the nuclear agreement, if the IAEA has a concern about illicit nuclear activities at any site in Iran, including military bases, the deal builds in a timeframe for allowing agency inspectors to access suspect sites. "Normalizing" a time bound process in global nonproliferation efforts would prevent future scenarios where would-be proliferators in other states block inspector access and try and buy time to continue illicit activities.
Many of these innovative measures in the nuclear agreement with Iran will phase out within 10-25 years. A lot can happen in that timeframe: Iran may choose to forgo a costly enrichment program and rely on countries like Russia to supply fuel for its nuclear power reactors. Regional confidence building could create a security landscape in which an Iranian nuclear weapon is viewed as unnecessary. The next U.S. president should take steps that encourage these paths.
But positive change is not inevitable. The reverse is also possible–when limits set by the deal expire, Tehran could decide its national security interests necessitate a nuclear weapons program, or position itself to be just weeks away from being able to produce the fissile material for a nuclear weapon. The international community would then find itself in the same position as it was in 2013.
The continued, successful implementation of the deal removes an existential threat of an Iranian nuclear weapon and enhances international security. The nuclear agreement has the potential to block Iran's pathways to nuclear weapons for well over a decade. To extend that timeline out even further, the next U.S. president and the international community need to be looking forward to build upon and strengthen the historic Iran nuclear deal rather than looking backwards to renegotiating it.
Kelsey Davenport is the director for nonproliferation policy at the Arms Control Association. Follow her on Twitter at @KelseyDav
Calling all HuffPost superfans!
Sign up for membership to become a founding member and help shape HuffPost's next chapter