It was one year ago when I received my diagnosis. I recently had turned 60 and was exercising daily, busy at my public relations career, and I had just published a book.
All of a sudden I noticed the whites of my eyes were yellow. I had a sonogram and then a CAT scan, which showed a tumor in my pancreas.
Next step was to see a surgeon, a middle-aged man with slicked back hair, impeccably dressed, with an expensive watch around his wrist. He looked up at my daughter, son, brother, partner and me from behind his desk and asked, "How much do you know?"
Then he turned his placid face to me and spoke in a way that I will never forget. He could have told me anything with his dry tone: "I am eating at a great restaurant tonight," or "It is unseasonably warm today."
Instead he said, "I have devastating news. You have stage IV pancreatic cancer and about a year to live."
We were silent. All we heard was the sound of my daughter dropping all her questions on the floor in a heap of despair.

He continued, "You have two choices of treatment: One treatment is tough to endure; the other is even tougher. The tougher treatment will extend your life by two months or so."
His clipped answer was, "Live a day at a time."
I did not listen to his advice.
We need a powerful public outcry about the dismal state of treatment for pancreatic cancer. The same number of people die from pancreatic cancer as breast cancer every year. Yet we have such meager choices for treatments.
It is increasingly up to us -- patients and families -- to advocate aggressively for better treatments and ensure that we are getting the right treatment for ourselves.
So as other families grapple with the astounding lack of treatments for pancreatic cancer, I hope they can benefit by my approach.
It is well known that after you receive bad news, the five stages of grief often emerge: Denial, Anger, Bargaining, Depression, and Acceptance.
I have experienced all these stages, but I have harnessed them in an unconventional way. I use these feelings to penetrate the resigned reaction that appears whenever my diagnosis is mentioned.
I used denial to help identify the best pancreatic cancer doctors and science. Denial became my research partner. It helped me stay objective when the data is devastating.
These facts made me furious.
Anger drove me to find the best and most innovative doctors possible, not just those who were geographically convenient.
I was angry to learn that basically there are only three "approved" first line treatments for pancreatic cancer. These guidelines for treating pancreatic cancer, written by the National Comprehensive Cancer Network (NCCN) are used by the majority of oncologists, and it's my opinion that none of these treatments work very well over a long period of time, and no one discusses that.
I was angry. Why had there been no public outcry about the lack of progress and advances in treatments and early detection. Why are our options so limited?
I wanted to shout at anybody I encountered: "We can't wait!! We have the worst mortality rate of any cancer! We must find new treatments."
But instead of spending my days shouting, my family and I channeled the anger into researching the best pancreatic cancer doctors in the country.
We talked to local oncologists and radiologists for their opinion as well. And after doing an intensive three-week research, we found doctors who have outstanding experience, and importantly, were willing to take new creative approaches to treating my cancer.
I work with Dr. William Isacoff in Los Angeles and Dr. Allyson Ocean in New York at Weill Cornell Medical College. We first traveled to Los Angeles to meet Dr. Isacoff, a well known, highly-regarded pancreatic cancer expert and a brilliant pioneer in developing slow-dosing protocols for pancreatic cancer patients.
As soon as we were ushered into his office we knew that we were going to have a very different experience. His boundless dedication to help pancreatic patients extend their lives engulfs the room.
I asked, "What treatment do you think will be right for me?"
And what stood out in his answer was his honesty.
He answered that he was angry about the dismal state of progress in treatment in the past 40 years and told us that little had been accomplished -- only two successful clinical trials for protocols that still did not extend life by much.
Yet within his candid response there was a steady message of optimism from someone who does not accept the status quo. He has worked years to develop a distinctive treatment protocol with a combinations of drugs that could potentially extend my life.
We decided to go forward with his innovative approach after I met patients in his waiting room who have been seeing Dr. Isacoff for pancreatic cancer treatment for many years and were full of praise for his treatment.
Dr. Isacoff also has a comprehensive website that provides data and a description of his metronomic dosing. My family and I moved to Los Angeles for four weeks to begin treatment with Dr. Isacoff on his protocol.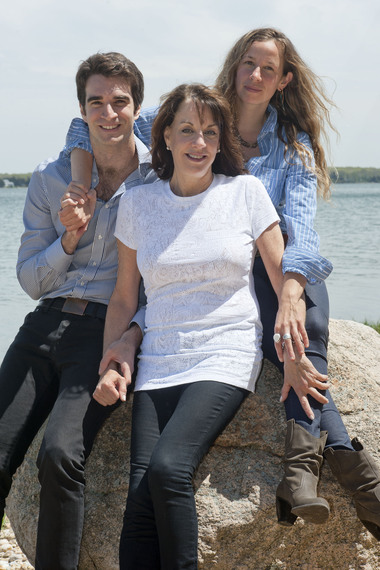 More to come on how the treatment works in my next post.