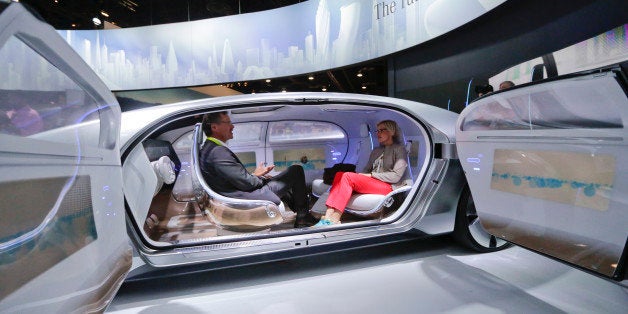 A young wife had grown tired of waiting on her husband. She had promised to take their children to visit their grandmother. Her patience had finally worn thin. So, she packed up the kids and took off in the family car on the 50-mile drive without him.
This may sound like a typical marital dispute over a family visit. However, on this occasion it wasn't just any husband and wife. And it wasn't just any car. The year was 1888. The couple was Carl and Bertha Benz. And the car was the car -- the world's very first -- making its inaugural long-distance drive without its inventor at the controls (although in tribute to Bertha's ingenuity she fixed a clogged fuel line with her hat pin along the way.)
When I think of how the past relates to the future of the automobile I first think of this story. It is a wonderfully human illustration of how, beginning in the late 19th Century, the car provided a life-changing luxury: the ability to go where you want when you want. As the car became more affordable, that luxury became indispensable. By providing individual mobility it has gone on to enable economic and social mobility for generations of people.
For that same reason the global auto industry is very much a growth industry today. As the standard of living rises around the world, more and more of us get where we need to go, when we want to go. The world auto market is expected to climb by about 30 percent to sales of almost 100 million passenger cars per year by 2025. That nets out to 270,000 new cars each and every day. Luxury vehicles, such as those from our Mercedes-Benz brand, provide more affluent and discerning customers with the things we typically associate with high-end products. Mercedes' definition of those core attributes includes leading safety and comfort, efficient power, advanced technology, high-level service, superior quality and a premium "look and feel." We consider these to be a ticket of entry for today's premium buyers. The wants and needs of today's luxury car buyers are building from there.
Along with generally rising customer expectations, a main driver of change in our industry is the global trend of urbanization. Every day more than 200,000 people across the world move to already densely populated cities or huge suburbs. So, it's only getting more crowded in our metropolitan areas and on our roads. In response, among the most precious luxury goods of the 21st century are private space and quality time. And the automobile is well positioned to deliver both.
Over the coming decade we see luxury cars turning into exclusive "cocoons on wheels" that enable people to do exactly what they want or need to do -- sleep, work, browse the web, make conversation, or simply enjoy some rare solitude -- as they get where they need to go. The key enabling technologies here are those that support autonomous driving.
This is not an entirely new field. Mercedes first started working on self-driving cars almost 30 years ago. We proved back then that the technology could work, but at the time concluded it was both too big and expensive for commercialization. Vast improvements in sensor technology and computing capabilities, coupled with a dramatic drop in cost, have since changed the value equation.
Over the past several years we have been introducing components in our cars, in the form of driver assistance systems, which will ultimately enable fully autonomous driving. Our current C-, E- and S-Classes, for example, are equipped with more than 20 assistance systems built around integrated software, cameras, radars and sensors. They allow the car to take over a growing number of functions such as emergency braking, assisted parking and driving in stop-and-go traffic. As our customers experience these new self-driving capabilities they gain confidence in them. And we are convinced: Their confidence will rapidly turn into fascination -- as the remaining legal and technological challenges are resolved.
We recently built a prototype of our vision of the car of the future, dubbed the "F015 Luxury in Motion." We introduced it at this year's Consumer Electronics Show (CES) in Las Vegas. It embodies our thinking of redesigning the car from scratch in order to maximize those new luxuries of private space and quality time. You'll see most if not all of this technology in the not- too-distant future.
In a nutshell, the concept is about designing the entire car around the advantages of autonomous driving, while making use of the added room available in an electric car absent conventional engine and transmission technology.
The outer appearance of the F015 has a clear and clean shape. We moved the wheels to the very edges of the car to maximize a luxurious living space that is precious, private and highly personalized. It builds on the idea of providing a "third place" where people will want to spend their valuable time -- in addition to their homes and offices.
The F015 has no buttons as controllers. The digital and the physical world seamlessly blend as its windows serve as screens. When the car is not in self-driving mode any of its passengers can take over that function with a free-floating control unit. All relevant driving information, surrounding traffic and points of interest can be viewed on the big dashboard screen or heads-up display. Key functions are controlled by eye-tracking. Once activated, choices are made solely by gestures.
The car also actively communicates with its outside world. For example, LED lights in the front follow pedestrians' movements and reassure them it "sees" them, while lights in the back alert the upcoming traffic that there is a person ahead. The car also communicates with other vehicles and traffic infrastructure to maximize safety and minimize drive times and traffic congestion.
The list of F015's features and capabilities goes on and on. Ultimately, they combine to serve a single purpose: Redefining luxury. That definition, by the way, may no longer include exclusive ownership. We also see tremendous potential for car-sharing with autonomous vehicles. Imagine using an app on your smartphone to execute the micro rental of a luxury vehicle and the vehicle drives itself to pick you up. That adds a whole new dimension to "going where you want when you want."
Neither Bertha nor Carl Benz could have imagined the automotive technologies and capabilities that are just around the corner today. For example, two years ago, a Mercedes-Benz S-Class drove the historic route of Bertha Benz again -- but this time fully autonomously. So, when I look at the next 10 years of automotive luxury, one thing is for sure: They will definitely be very exciting. The best is yet to come.
This post is part of a series commemorating The Huffington Post's 10 Year Anniversary through expert opinions looking forward to the next decade in their respective fields. To see all of the posts in the series, read here.
REAL LIFE. REAL NEWS. REAL VOICES.
Help us tell more of the stories that matter from voices that too often remain unheard.