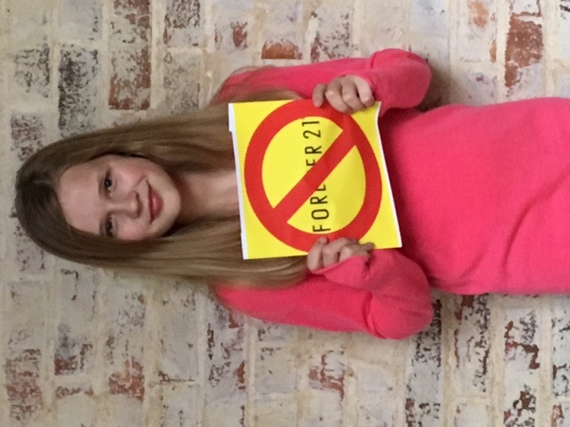 The Global economy experienced sluggish growth in 2015 with large retailers like Fossil, Michael Kors, and Macy's experiencing dips in their revenue earning the unsavory distinction as some of the worst performing retailers in 2015 alongside Kate Spade, Ralph Lauren and Gap.
The face of retail is changing from brick and mortar to online portals, from sweatshop produced to ethically sourced. Leading the way are investors like Mark Cuban, who recently scouted the next big thing - the Red Dress Boutique, an online store launched by a Diana Harbour, a Georgia-area mother. Consumers also drive change. Take for example, Ashley, a 12 year old from Dallas, one of the members of "Gen Z" who burned all of her Forever21 clothes after hearing me speak on the human right woes of the fast fashion giant. Not content to have a pile of cinders for a wardrobe, she researched other retailers which have forced or child labor in their supply chain, and shared the findings with her community. In the day of social media, no form of PR beats word of mouth and the voices of young shoppers like Ashley, vocal and forceful, carry much weight. When they tell their friends something, their friends tell their friends.
Who could blame them? The world does not seem to be getting better.
The world bank forecasts slow growth this year - just 2.9%. Kaushik Basu, the Bank's chief economist says that there is a greater divergence between emerging economies and major emerging economies and this development could pose a threat to hard-won gains for raising people out of poverty. Retailers that operate in these countries already have opportunities to align their business strategy with CSR initiatives to tackle this issue instead of the traditional window dressing lip service.
Empty gestures won't fool consumers any longer. No longer can retailers apply band-aid solutions to the grave wounds of economic inequality and cyclical poverty. Gap just launched their PACE Program with the aim of empowering factory workers. It's a good start. But this initiative fails to answer the following questions:
1. Has the brand traced all suppliers at the raw material level?
2. Does the brand monitor at least 75% of its inputs suppliers annually?
3. Does the brand invest in suppliers compliance implementation through training or other financial support?
4. Does the brand guarantee that workers make a living wage?
5. Does the brand have a functioning grievance mechanism?
These are basic questions. Human trafficking is a $150 billion industry that is dizzying in scope. It ranges from the factory worker in Bangladesh to the Uzbek child picking cotton. This lucrative industry has only yielded $124 million in government appropriations. Consider the significance between 150 billions and a mere 124 million. Corporate giants have the reach and capacity to address this inhumanity and injustice in a way that few other entities can. Even effecting change in a small segment of the supply chain can cause a significant ripple effect.
Millennial philanthropist and activists from groups like the Nexus Youth Summit seek measurable impact. What good does it do to render a few meals to starving children when their parents toil away in sub-human conditions for below subsistence pay?
The next wave of retail will focus on the supply chain, and the ethics of the industry. This is what shoppers like Ashley and groups like Nexus care about. Sign this petition to support a bill that holds company accountable to any child and forced labor in their supply chain. Click to sign here.
Related