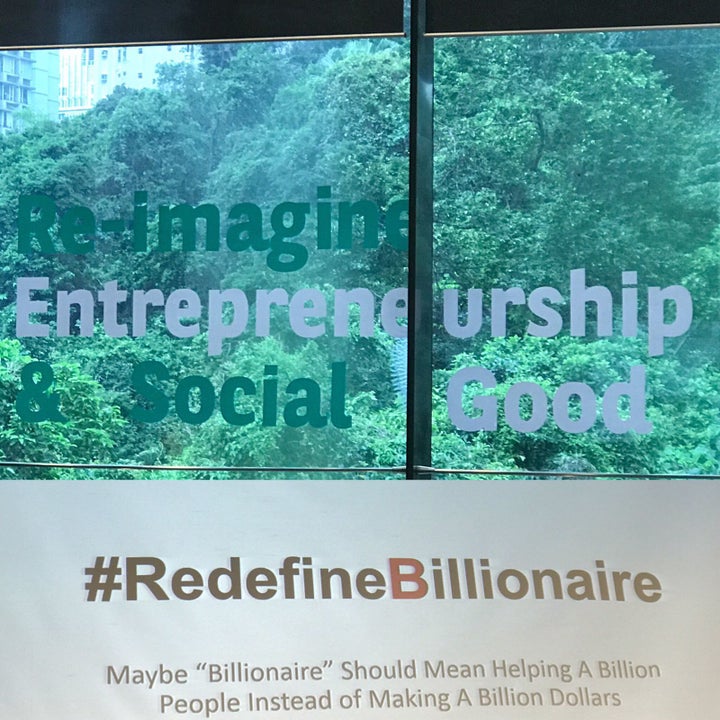 Impact is a word that can be defined in many ways but few of these definitions are as important to the world as the one that millennials and entrepreneurs use.
But how do we measure impact ? What does it even mean when we are trying to cover the broad spectrum of outcomes involving human lives? More than that, how can we apply capital market solutions to make 2 + 2 = 5? What is the greatest force multiplier possible in generating impact ?
I flew to Hong Kong last week – passing through peaceful Japan and straight into a typhoon that was rocking this vibrant, hyper-wealthy and increasingly philanthropic city – to consider these very questions with some of the most dynamic nextgen philanthropists and thinkers in Asia today. A whole slew of young entrepreneurs, a billionaire or two and even a few "millennipreneurs" (more on them here) gathered at the BNP Paribas Wealth Management's Next Generation Programme, a conference beautifully put together by Helene Li, Anton Wong and their team.
My connection Helene Li started online, as most of these things do nowadays. We connected on Twitter and found common ground in our shared passion for millennials, wealth management, a sense of purpose, the need for impact, the importance of entrepreneurship and more. As she notes on this Tweet, maybe 'billionaire' should mean helping a billion people instead of making a billion dollars."
We met in-person(offline?) for the first time in January, when I was in Hong Kong for Asian Financial Forum and she eventually invited me to participate and speak at the NextGen event last week.
The conference is one of three global programs in Europe, Asia (Hong Kong) and Silicon Valley/San Francisco that the bank organizes and localizes for each region. The European event was held in conjunction with the French Open. The San Francisco event in September will be held under the Bank of the West.
High-net-worth individuals around the world had wealth estimated at close to US$60 trillion in 2015, with Asia Pacific constituting US$17.4 trillion of that amount.
A fair bit of that wealth is being channeled into philanthropy, with the average lifetime giving among ultra high net worth individuals (UHNWIs) in Asia Pacific placed at 10 percent. This puts it just behind North America's 12 percent and ahead of the 9 percent in Europe, the Middle East and Africa.
Clearly, the potential for social impact is huge given the large number of wealthy millennials and the big amount of dollars involved, especially in Asia.
The stories and insights in Hong Kong were amazing and moved forward the discussion on what impact really is.
Among the speakers was Dr. Parag Khanna (here), the managing partner of Hybrid Reality and a former adviser to the US national Intelligence Council's Global Trends 2030 program. Dr. Khanna is the author of some best-selling books on global policy and served in the foreign policy advisory group to the Barack Obama for President campaign.
Also present was Annie Chen, Chair of RS Group, and the third generation of a Hong Kong-based billionaire family. Annie and her team manages the assets of the family foundation, taking an investment approach that bridges the not-for-profit and for-profit worlds by generating both financial and 'extra-financial' returns through social and environmental benefits.
Mark Wightman of Ernst and Young, Naima Batra of ASPN and next gen entrepreneurs like Bangkok-based Lebanese billionaire Fred Mouawad all shared their insights.
For me, the biggest takeaway was that philanthropists of all shapes and sizes don't have to pull a Bruce Wayne (#batman) to make an outsized impact. On the contrary, these nextgen philanthropists and entrepreneurs have all the tools, drive and motivation to change the world.
When socially good investments are funded by the wealthy or the driven, there is great potential for change. Social entrepreneurship means that every business has an impact and every business will have purpose.
A single millennipreneur can have true impact, and that seems to be the mantra of the all these truly impressive people I met in Hong Kong.
Enterprises can and should focus on how they can improve lives, not just drive profits. This is the type of impact that can mean so much more to humanity. And we all stand to benefit when that energy can be harnessed and galvanized by mentors, role models, training and community.
So how does the next generation of the wealthy "learn the ropes" of social entrepreneurship and impact when there are no school or internship programs for that? How do they navigate away from the business that their families have turned into global empires or leverage them for social good?
Organizations such as the Asian Venture Philanthropy Network (AVPN) or the Family Business Network of Asia have emerged as resources to do just that. Even banks are beginning to offer investment vehicles, educational events, and next gen programs such as this event to nurture this emerging trend.
This event in Hong Kong inspired current and future billionaires, the next generation of entrepreneurs, to really get the ball rolling on creating social good while inspiring others in the process.
And I was inspired myself by this generation who believes that all enterprises can and should be socially driven. As the mother of two driven millennials, I'm excited to see great promise in this generation and the values that they hold.