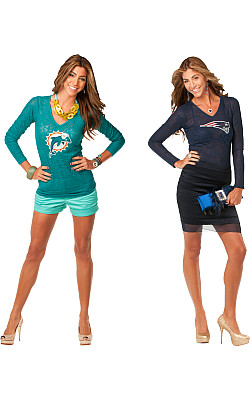 In case you didn't know it lady fans, we're not your average chicks! All of us, (oh yeah, you too!) make up a growing legion of football lovin' females who are getting the NFL to sit up and take notice of a major shift in its fan demographics. In fact, the league is going all out this season to open its arms and embrace the nearly 60 million women who "just love them some pigskin" by launching a major expansion of its women's apparel line.
Each week, you'll also find new style ideas for fans of rival teams on nfl.com/women. Among some of the featured "rival" models were two gorgeous blondes who had the brilliant idea of designing team inspired snow boots. The Cuce Sisters, Kathleeen and Kristina (pictured above), kicked off the campaign by modeling sexy styles for Patriots and Dolphins fans. (It's a good thing Tom Brady didn't see these gals in their daisy dukes or he may have never had the focus to break that record Monday night.)
You can check out one of the "Rivalry Weekend" promos below.
So, what do you think about the league's efforts to reach out to female fans?
Related
Popular in the Community