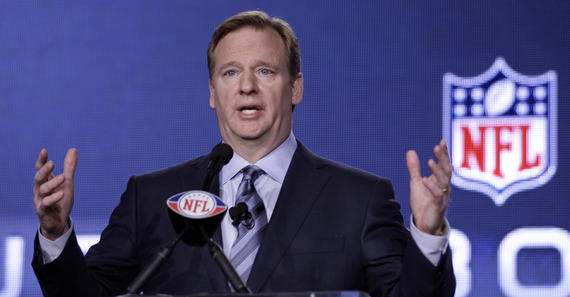 Earlier this week it was announced that the NFL entered into a new deal with Bruin Sports Capital and Red Bird Capital Partners, issuing a license to a venture that will market and sell exclusive NFL access and experiences to the league's marquee events. Although the deal represents a mere drop in the league's 2015 revenue projection of more than $12 billion, its significance should not be underestimated. The deal marks the first time the NFL has licensed experiences associated with its events, further signaling that the league will continue to aggressively pursue Commissioner Goodell's ambitious goal of reaching $25 billion in revenue by 2027.
The league has thrived off of its progressive approach to its business model; consistently seeking to innovate the way the sport is consumed and experienced. The long standing "experience provider" NFL on Location, a unit of the NFL, presented unique limitations in its expansion possibilities due to the construction of the collective bargaining agreement. CBA restrictions are placed on the diversion of revenue for investment due to its profit-sharing model and thus the NFL on Location growth potential was relatively flat.
Circumventing this restriction, the NFL will not only derive revenue from its licensing fee but it will also co-own the venture with the capital groups, providing it with a consistent revenue stream and unlimited growth potential in this area. This creative deal structure approach, particularly for a private equity venture, can and will drive revenue expansion opportunities for the league. The deal also signifies a willingness to forfeit some brand control. Although the league will undoubtedly maintain a close eye on how its brand is being perceived through the experiences, it has generally preserved a closed-door policy when it came to protecting "the shield." This growth over protection approach may signal more change to come.
Take for example, the recent announcement for the upcoming season that the league will offer its first ever digitally only live broadcast. The league has been pegged as relatively hesitant with its digital rights as it slow played its strategy, just recently entering into a deal with YouTube. However, that hesitancy should be seen as nothing more than a cerebral approach to its media strategy with the divvying up of its rights providing additional leverage for future rights negotiations and new growth opportunities. Although the odds of a Week 7 game between Buffalo and Jacksonville being a pivotal event are slim, (sorry Bills and Jags fans but it's true) the NFL has once again tipped its hat in favor of innovation.
The league's recent monumental growth can be credited to its progressive roots, structuring its product to be more television friendly than any other major sport product by a landslide. The league has placed significant investment in improving the viewer experience, consistently taking sports production value to new heights. Its media presence is felt all year long with polarizing story lines. Its marquee events have been structured to increase viewership and by extension its media value. The first round of the 2014 NFL draft drew 32 million viewers. On digital media platforms it drew more than 14 million views, representing an increase of 54 percent from the previous year. An NFL product that had nothing to do with watching an actual game turned in higher ratings than a number of MLB and NBA playoff games. The NFL has made itself so relevant in main-stream media that regardless of what time of year it is, every sports media outlet will be featuring an NFL related story. It has become a soap opera with a few games mixed in, and it has thrived as a result.
As the league continues to progress in its ability to drive revenue, other leagues should take note and follow suit. The NFL is expecting an increase of approximately $1 billion in revenue from 2014 to 2015. Its DirecTV renewal this past October saw the league demand an increase of 50 percent up to $1.5 billion per year for its rights. This is a staggering figure even amongst the other impressive numbers the league has recently garnered for the right to display its product. Its presence on television and in all media will continue to grow at an incredible rate and the $25 billion projection now seems all too accessible.
Is the NFL experience deal a game changer? Absolutely not. However, it is another example of the league's progressive and dedicated approach to its growth. It will continue to explore the endless possibilities in licensing, its sponsorship inventory will substantially grow in value, its media presence will continue to expand across all platforms and its presence internationally is just seeing the tip of the iceberg. There's also that small thing known as fantasy football. Any takers on whether the league will eventually launch an aggressive pursuit of this market? There is no stopping this train.
Calling all HuffPost superfans!
Sign up for membership to become a founding member and help shape HuffPost's next chapter