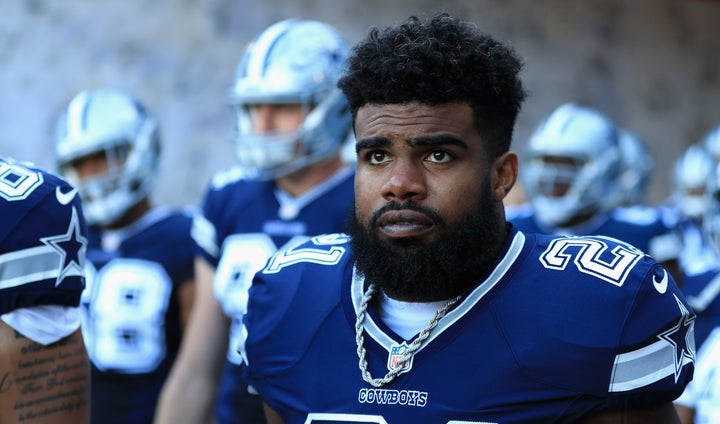 According to the police report obtained by TMZ, Thompson called the police but Elliott was not arrested the night of the alleged attack due to conflicting reports from witnesses.
Although Elliott was never arrested or charged with domestic violence, the NFL launched its own investigation of Elliott's alleged violation of the league's personal conduct policy. After a year-long inquiry into Elliott, the NFL announced on Aug. 11 that the Cowboys running back would be suspended from the first six games of the 2017 football season due to "substantial and persuasive evidence" that he attacked Thompson.
The NFLPA allegedly leaked series of documents to Yahoo Sports that revealed a 2016 text exchange between Thompson and a friend discussing the possibility of blackmailing Elliott using sex tapes.
The NFL was not having any of the NFLPA's victim shaming tactics.
In an Aug. 16 statement, the NFL condemned the NFLPA writing that the union was "spreading derogatory information" to news outlets in order to discredit Thompson. The football league called the NFLPA's victim blaming tactics "shameful."
Head of PR for the NFL, Brian McCarthy, released the league's statement on Twitter on Wednesday.
"It's a common tactic to attempt to prove the innocence of the accused by discrediting the victim ― in this case Ms. Thompson ― when coming forward to report such abuse," the NFL statement reads. "Common or not, these tactics are shameful. Efforts to shame and blame victims are often what prevent people from coming forward to report violence and/or seek help in the first place."
"The public statement issued on behalf of every NFL owner is a lie," the NFLPA's statement read. "The NFLPA categorically denies the accusations made in this statement. We know the League office has a history of being exposed for its lack of credibility. This is another example of the NFL's hypocrisy on display and an attempt to create a sideshow to distract from their own failings in dealing with such serious issues. They should be ashamed for stooping to new lows."
Popular in the Community