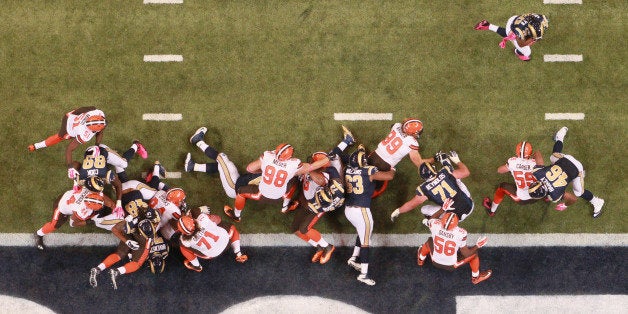 Have you ever watched Phil Jackson walk? Or maybe noticed how Kenny Smith's legs are shaped when he waddles up to the diagram during Inside The NBA on TNT? Have you ever noticed Bill Walton's movements or Wes Unseld's or countless other former NBA players -- many of whom have to have complete knee replacement surgeries or hip procedures in their 40s?
Well, take that and multiply it by 1,000 and that just may be enough to describe the condition of some former NFL players. Players who can't hold a fork or a spoon. Players who have trouble brushing their teeth every morning. Players who have to be helped down or up a flight of stairs, whose bodies are so dependent on painkillers that they have it mixed in with their morning oatmeal or pancakes, but yet are still fighting to have a portion of the monumental health coverage for their former players that even remotely resembles the plan the NBPA just passed.
The National Basketball Players Association recently announced that the union voted unanimously to fund health insurance for all retired NBA players. The only requirement was that the player have completed a minimum of three years of service. By contrast, the NFL is still scrambling to improve a system both the NFL players and the NFL Players Association agree needs to be greatly improved.
This has lead to high praise from former NBA players from around the league.
When I asked their opinions on the matter, Jamal Mashburn (a 2003 All-Star who played in the NBA from 1993-2004) said: "Congratulations to the NBPA leadership for having the vision, infrastructure and courage to execute a Health Coverage Fund of this magnitude. Health care and coverage is often taken for granted except in a time of need. The NBPA is truly flexing its progressive organization."
Jerome Williams (who played from 1996-2005) said: "All NBA alumni salute the NBPA, Roger Mason and all the players for executing ground-breaking healthcare. As current and former players continue supporting each other, the game as a whole will benefit."
Kenny Anderson (a 1994 All-Star who played from 1991-2005) said: "It's great for the league to do this. Especially for the athletes before us. Guys that made the league to get it to where it is now should be rewarded in some form or fashion and the health issues are very important."
Keyon Dooling (who played from 2000-2013) said: "The recent decision by the union to give all former players who qualify healthcare service is life-changing. So many of our guys are still plagued with injuries and need surgeries in order to improve their quality of life and this program does the job. Big shout out to the current players for being their brother's keeper. I'm very proud and happy for our guys."
Corey Maggette (who played from 1993-2013) said: "As a former NBA player, I'm just happy to see our union growing stronger. As you can see, read or have heard, we have lost a lot of former players way too soon. Our medical health is so important now and when we are done playing. Hopefully we can help guys that need it."
Meanwhile, the NFL is under the impression that providing high-option, family insurance to players for five years after they have retired is more than adequate and generous. The NFL has refused to take into consideration the fact that life-altering (and often times crippling) physical ailments have left far too many former NFL players completely depressed and hopeless. They also fail to realize that those injuries directly caused from playing football may have just begun to materialize five years after they're done playing.
In addition, the NFL seems to remain unfazed to the fact that many players are haunted by the ever-growing number of former players -- like Pittsburgh Steelers star Mike Webster and former Oakland Raiders quarterback Ken Stabler -- who have died way too early. Not to mention the grim list of former players whose undiagnosed Chronic Traumatic Encephalopathy was only discovered after a posthumous analysis of their brains. The names on that list include former Kansas City Chiefs linebacker Jovan Belcher, former New York Giants safety Tyler Sash, former New York Giants running back (and broadcaster) Frank Gifford, former Atlanta Falcons star Ray Easterling, Pro Football Hall of Famer and former San Diego Chargers linebacker Junior Seau and many, many more stories of tragedies.
When I asked former NFL running back Clinton Portis to examine the health care coverage he and other fellow players have, he said via text:
"It's just unfortunate that guys' insurance runs out after 5 years. That's normally how long it takes you to accept or admit that you have an issue! By that time it's something financial or career changing that's happened and most guys can't afford it!"
It's a tragedy that many of the players who built the NFL are currently struggling not only physically, but mentally, emotionally and financially because they aren't properly being taken care of after their playing days are over. This was the main reason the NBPA to put its deal into place as evidenced by the statements NBPA president Chris Paul made after the deal was announced.
"It's important that we take care of our entire extended NBA family, and I'm proud of my fellow players for taking this unprecedented step to ensure the health and well-being of our predecessors."
However in the NFL, many players who helped build, establish and elevate the NFL into what it is today are almost being treated like a prized race horse who is no longer physically able to race. Many past NFL players have no pensions and no medical benefits and lack adequate disability, rehabilitation, therapy and mental health treatment as well as formal diagnosis of PTSD or CTE. It is a tragedy that many former NFL players, who have sacrificed everything for the game of football, have to now be relegated to a life of embarrassment of their physical situation, desperation, abandonment, pain and suffering as some of them mentally and physically rot in isolation.
There is a group called The Gridiron Greats Assistance Fund, a 501(c)(3) that provides "financial grants and 'pro bono' medical assistance to retired NFL players in dire need. The organization focuses on the humanitarian side of post-football related issues, which include coordination of social services to retired players who are in need due to a variety of reasons including inadequate disability and/or pensions."
This is a great organization that appears to be helping many former players, but of course they can't help everyone and they shouldn't have to. The NFLPA should ensure that the NFL takes care of their former players the way the NBPA has made sure the NBA takes care of theirs.
Etan Thomas played 11 NBA seasons from 2000-2011, mostly for the Washington Wizards.
This article was originally posted on NBA.com
Related
Popular in the Community