The NFL will implement a new hiring rule aimed at increasing the number of women serving in executive roles across the league, Commissioner Roger Goodell announced Thursday.
The rule will be modeled after the "Rooney Rule," a 2003 standard the league adopted that requires teams and the league to interview minority candidates for coaching and executive vacancies.
"We have something called the Rooney Rule which requires us to make sure that when we have an opening ... that we are going to interview a diverse slate of candidates," Goodell announced in San Francisco at the first-ever NFL Women's Summit ahead of Super Bowl 50. "We are going to formalize that we as a league are going to do that for women as well in all of our executive positions."
Women broke several barriers in the NFL during the 2015 season. Referee Sarah Thomas became the league's first full-time female official when she took the field at the start of the season. Jen Welter, meanwhile, became the first woman to serve in a coaching role when the Arizona Cardinals hired her as an assistant coaching intern during the preseason.
The establishment of the rule will ensure that the league "keeps making progress," Goodell said. 
He said the new rule will apply to executive positions throughout the league rather than to coaching positions. The rule has not yet been finalized and there remain details to iron out, a league spokesperson said.
"It's a very positive step," said Nancy Hogshead-Makar, a former Olympic champion and civil rights lawyer who now runs Champion Women, a nonprofit organization that advocates for increased opportunities for girls and women in sports.
"If the NFL can be the leader, surely other leagues and NCAA member schools can follow suit," she said, adding that she hopes the rule will one day apply to coaching positions as well.
Women held 22 percent of the league's senior administration positions, which include jobs like legal counsel and director of community relations, and 32 percent of professional administrative positions, including jobs like assistant directors, video coordinators and some supervisory positions, in 2014, according to the report.
The NFL has never had a female general manager, though Amy Trask served as the CEO of Oakland Raiders for 16 years before stepping down in 2013.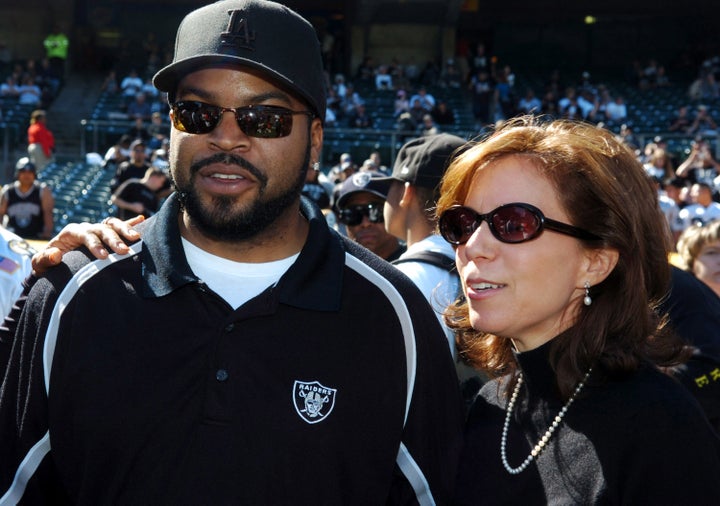 The report gave the NFL a C+ grade for its gender-hiring practices across the league during the 2014 season, an improvement over past seasons.
The Rooney Rule -- named after Dan Rooney, who was the chairman of the league's diversity committee -- has been widely credited with increasing the number of minority coaches across the NFL since its implementation more than a decade ago.
African-Americans held seven general manager or chief personnel positions at the start of the 2015 season. There were 19 African-Americans serving as head coaches or top coordinators when the season began, including five head coaches (Ron Rivera, who will coach the Carolina Panthers in Super Bowl 50 on Sunday, is the league's only Hispanic head coach). Those are all improvements from 2003, when the rule was adopted.
Recent studies, however, have painted a bleaker picture of the rule's effectiveness at breaking down the barriers facing minority coaching and executive candidates.
White assistant coaches, for instance, are still twice as likely to get promoted as their black counterparts, according to a recent study from researchers at Georgetown, George Washington University, Emory College and Iowa State, often because white coaches still receive the types of assistant coaching jobs that are likeliest to lead to promotions. Other studies have made similar points about minority coaches' access to key assistant positions.
That has sparked calls for a re-evaluation of -- and potential reforms to -- the rule. Still, advocates like Hogshead-Makar see benefits in a similar rule for women, especially given that they have had few opportunities to break into male-dominated sports leagues and positions in the past.
"It is a mixed picture, but at least you're having people interview that are not just the same people recycled over and over," Hogshead-Makar said. "There's just no way, when faced with someone who's highly qualified, to still hold that stereotype that this is not a place for women."
"Think of all those kids who have aspirations for a career in sports, for them to know that this is not an all-male purview," she continued. "You're opening up the world. For 50 percent of the population to know that there's a place for them in the sports world is huge."
Calling all HuffPost superfans!
Sign up for membership to become a founding member and help shape HuffPost's next chapter