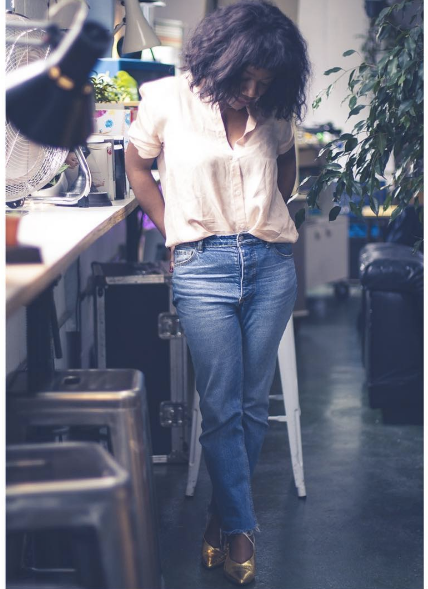 The first time I saw a Nicholle Kobi illustration, my jaw dropped. It's as if she took everything that encompasses black women and cultivates it in such a vibrant way. It was as they we were so magical we could lift off the paper in to real life.
'La rêveuse' the caption reads in French. The dreamer. It was me. I was amazed by her level of detail as it demonstrated black women being mothers, indulging in self-care, falling in love, empowering one another, and so many other instances of melanin beauty. These drawings were my sisters, friends, and role models.
Raised in Paris, France, you can kind of tell that Kobi has always been creative when it comes to the art of women. She shared with me how at a very young age, she discovered her magic and never looked back.
"When I was 8 or 9 years old I used to spend my time drawing and changing the face of women in magazines. I loved the idea of changing the colors of lips of these women and changing their clothes. Now I realize this was also the same age my schoolteacher asked us to draw my friends. When we finished my teacher came to see me and told me I really have a gift! I didn't realize what it did mean at this time but now I know," she starts."
Adult Kobi initially designed t-shirts and other apparel, growing a strong fan base. Years ago, her craft took a turn once a fan encouraged her to do more canvas and photo illustrations.
She was making art that reflected her self then added pieces she felt followers could resonate with. The mother of three steered her focus towards the black woman due to the lack of black history of three attributed to black women in Europe.
"The big difference between black women from the US and the European black woman is they grow up in a black community that has history and references of black American women who've fought for them like Harriet Tubman, Rosa Parks, Angela Davis and more. Afro Europeans have so much to learn in order to have rights respected."
The Black Parisian, a moniker she gave herself early on as a quick identifier, doesn't mean that black women in the U.S. have it easy but she does believe that the black history and admiration here is much richer.
She pulls her inspiration from our everyday black girl and our favorite celebrities: depicting everything from life on the couch, to being in the mirror, to making a wish and girl power. Her own wavy hair and comfy chic has always been a good place to start. "My products represent the beauty of all black girls, all shades, all shapes. There is power in my black girls products. I just capture the real black women daily. We are clever and strong. We love our friends and we love sisterhoods. We support each other. That's who I am."
The Nicholle Kobi Shop is taking this black girl magic on the road. This fall in the Sprung Art Series, she is visiting North America and Africa to exhibit the best in black fashion and sisterhood illustrations. This tour is an amazing opportunity for us to show support and really tap into all the magic put into our story as black women.
She's seen how other communities step up to economical impact their people. She wants the black community worldwide to do the same, especially with her upbringing not reflecting many black women.
"I learn a lot in observing others community. In Harlem there is the gentrification of this beautiful area. Some white people came there, bought apartments and stores, then built coffee places, yoga places, food places and restaurants. When you watch well in this new place you will see a majority of white people even though we are in a black neighborhood. All this to build in the future a strong white community in Harlem. It's very important to support small black brands because we need to see ourselves and build strong black communities for the future."
Nicholle Kobi's work can be seen on TV, in black college life, and in the Black Lives Matter movement. She doesn't want it to stop there. She wants to use her skill to spread the magic of black women everywhere because we have so much to offer.
"My magic is a gift from God to show the beauty of black girls in a simple draw. Black girl magic is the real essence of black girls. It means we are beautiful, wonderful, and intelligent. No matter what we endure, we must never forget our magic is our essence."

The #SellingBlackGirlMagic is an independent series profiling black female owned businesses. Each business carries product or offers a service that compliments the magic of the everyday black woman.
Popular in the Community