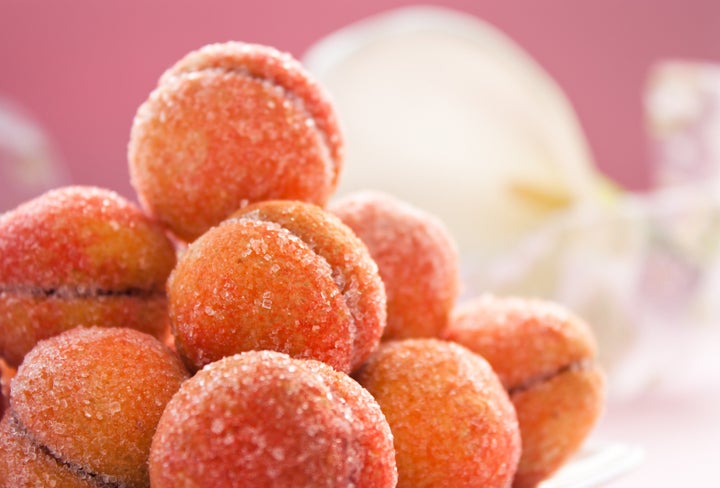 When we received our invitations to work with Erin Morgenstern on her amazing event on July 3rd in Boston, our imaginations began running wild. What would we eat? What would we see? What would become of those of us that couldn't make it up there? And to that final question, the folks at Random House eased our worried souls by provided us with a few tips we keep with us. Yes, they are tips on throwing our very own midnight dinner desserts, including those sweet little chocolate mice.
Need a refresher before diving in? Reread "The Night Circus" chapter "Associates and Conspirators" (page 69 of the paperback edition, 55 of the hardcover) for the full story of the midnight dinners. And if you need further inspiration, we're peppering this post with delightful confections from "Night Circus" fans' Pinterest boards.
Bake and decorate your cookie mice the day before your dinner. The icing on the mice ideally needs to dry overnight. In a pinch, you can dry them in an oven at 200 degrees (takes 10-15 min), but that can also dry your cookie out, too. You will need a mouse cookie cutter.
Use your favorite sugar cookie recipes to make one batch of plain sugar cookie mice and one batch of chocolate sugar cookie mice. If you don't already have a favorite, King Arthur has several great roll-out sugar cookie recipes in both plain and chocolate.
Make two batches of Royal Icing using powdered egg whites (to avoid bacterial contamination, plus we find powdered egg whites are easier). One batch will be chocolate, one will be 'plain' and plain Royal Icing dries bright white. To save any left-over Royal Icing, press plastic wrap down onto the surface of the left-over icing making sure to make contact with the entire surface. Refrigerate. It keeps for several days.
1 lb powdered sugar
1/3 cup cocoa (Hershey's Special Dark Cocoa powder works great, as does the regular kind)
7 tablespoons warm water
3 tablespoons powdered egg whites (meringue powder)
Mix powdered sugar, cocoa and egg whites. Add water slowly until the icing is the consistency of semi-thick but easily spreadable frosting. You may not need all 7 tablespoons.
To make chocolate Royal Icing black add 2-5 small drops of black paste or gel icing. How much you will need to add depends on the brand used. Just add a tiny amount at a time, stirring, until you get a true black. We use Wilton's Meringue Powder and Wilton's Concentrated Gel Tints.
Ice the chocolate cookie mice black and the plain cookie mice white. If you'd like to coat the white mice with white edible glitter and/or the black mice with black edible glitter or black sanding sugar (available at Wilton), now is the time to do so—while the icing is wet. You may also want to set eyes in now—silver or pearl dragees are perfect. Let the iced cookies dry overnight. It dries hard to the touch.
This recipe is adapted from "Goulish Goodies" by Sharon Bowers. It makes about 12 mice.
1 cup of semi-sweet chocolate chips (6oz package)
¼ cup sour cream (not low fat or fat free)
12 chocolate wafer cookies, crushed into fine crumbs in a food processor
Black gel or paste food coloring
Butter for greasing your hands
Black sanding sugar – Wilton's has this. I usually buy 3 containers.
Black string licorice
Optional -- Black royal icing – only a small amount is needed
Sliced almonds (available in supermarket backing section—get sliced NOT slivered)
Silver dragees or red hots candies
Line baking sheet with parchment. Melt the chocolate chips. Put the melted chocolate into medium sized bowl. Stir in a few drops of black paste or gel food coloring to make the chocolate very dark or black.
Stir in sour cream and cookie crumbs. Add more black paste if necessary, but don't worry about trying to make this base a deep, dark true black. The sanding sugar will mostly cover it. Refrigerate mixture until firm, no more than 15 to 20 minutes or it will become too hard to work with. I check it at 15.
Place the black sanding sugar in a small bowl – a cereal bowl works well.
Butter your hands and roll the chocolate mixture into 12 ovals, tapered to a point at one end and rounded at the other (mice bodies!). Set the chocolate shapes on the prepared cookie sheet.
Roll the mice individually in the sanding sugar, pressing very slightly into the sugar so it sticks.
Add the ears. Here you can get crazy and have dipped the almond slices into the black Royal Icing the night before so you have 12 sets of little black ears ready for you. Or you can just use the almonds as is: both look fantastic.
Add the eyes—silver dragees are very elegant but often hard to find. You can use red hots cinnamon candies instead, but I think they look a little demonic that way.
Add the tails—poke a 2 to 3 inch length of licorice into the rounded end for a tail.
Refrigerate until ready to serve! Use them for a garnish on the desserts described above or serve them on little plates lined with white or silver paper doilies. If necessary, the mice keep refrigerated in an airtight container up to 1 week.
Related
Popular in the Community