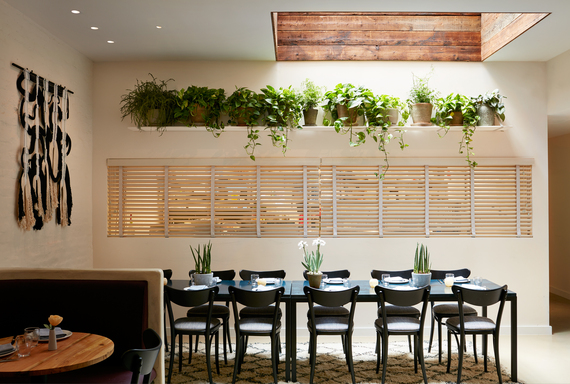 On the way back from my volunteer trip to The Orkeewska School in Africa, someone had abandoned a copy of the New York Times and left it on my seat on the airplane. If you've been a reader of my blog, you already know that I prefer a plant-based diet and am always on the search for gourmet vegetarian food when I travel. My life is all about looking for the next green treasure. I simply look for the signs to lead me to where I need to go. In this case, it turned out to be in the Wednesday dining section restaurant reviews.
That particular issue featured Nix, a vegetarian restaurant that had opened in the West Village this past February with an unusual name derived from an 1893 Supreme Court decision declaring tomatoes to be a vegetable and not a fruit. It also just happened to be within walking distance of where I often stay when in town. The review had my mouth watering and ready to try these innovative vegetable dishes the reviewer had described the next time I was in New York.
A few weeks later when I was back in the city, I called up some good friends and suggested we all go and give Nix a try. They agreed. As often happens with hot New York restaurants the only reservation I could get for the night I wanted was at 9:45 PM. I took it with a request to move it up if anything were to open earlier. Miraculously I got a call later that they could move it up to 8:15 PM. When we arrived and checked in we were fortunate to run into one of the owners, James Truman, the former editorial director of Condé Nast.
It's very rare that one can find a vegetarian restaurant that is not only innovative and creative in its approach to the food served but also offered in a stylish setting. But as soon as we were escorted to a cozy corner table I was transfixed by the decor. The walls had been painted a careful clean white with simple but elegantly carved stone booths, covered with comfortable neutral cushions. This allowed the focus to be on the beautiful Joshua tree wooden lamps, which were strategically placed at regular intervals on a narrow ledge that runs behind the wall booths. That gave the whole restaurant the feeling of a being in the middle of an organic art installation from the 70s, chicly curated from a 21st-century culture master. I already felt I had been transported and had yet to taste John Fraser's food.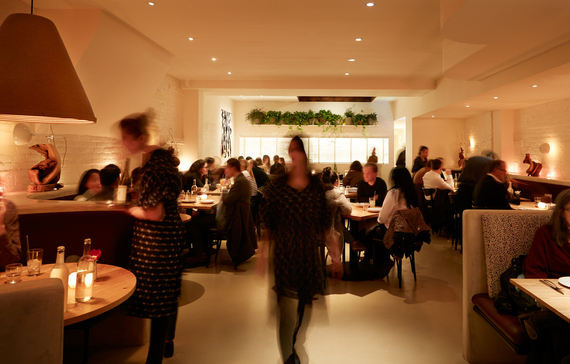 John Fraser is not only a partner in the restaurant and the genius behind Dovetail and Narcissa, but he is also a Michelin-starred chef with a personal passion for cooking with vegetables. He is doing at Nix what I long for more chefs to do - taking vegetables seriously and making even the carnivores in the room feel sated and happy.
With a delicious glass of biodynamic chilled white wine in hand, we started our feast with a yummy warm tandoor bread with two dips: house hummus and spiced eggplant with pine nuts followed by the ribbons of jicama with Fresno chili and blood oranges and baby carrots en papillote, cracked bulgar, almonds, spices. The carrots were my favorite - so far.
Even though we each ordered our own entree, it was hard not to want to share so we enjoyed the whole meal family style. Cauliflower tempura with steamed buns and house pickles, artichoke and broccoli rabe sauté with preserved tomatoes as well as the brown rice stir-fry, ramps, chanterelles and farm eggs.
For someone who doesn't eat sugar, the dénouement was the dessert. We ordered the cantaloupe sorbet with mezcal and lime and the tandoor roasted pineapple with tamarind glaze. They were a delicious duo, but it was the roasted macadamia nuts and toasted coconut flakes with whipped aquafaba, seared with vinegar that will keep me coming back to Nix every time I am in New York. I had never experienced aquafaba before, but one mouthful and I was hooked!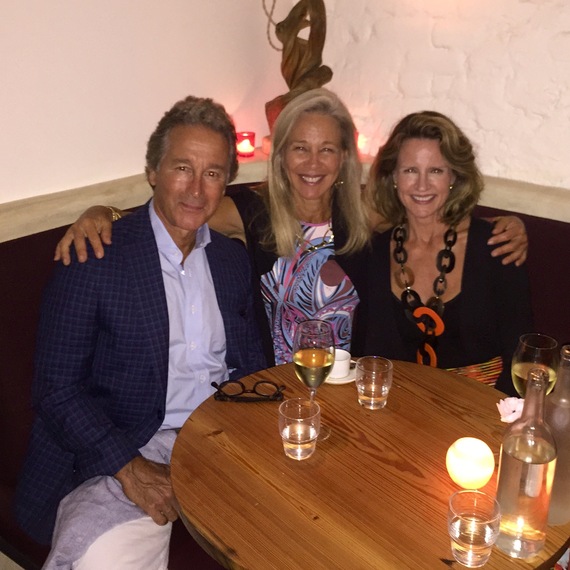 If you have not heard of this delight, it's become a new wonder ingredient in vegan cooking for creating meringues and creams without any eggs. The liquid from legumes such as chickpeas can be reduced, thickened and whipped into a froth. The result at Nix was more delicious and more decadent than any meringue or whipped cream I have ever had!


For me personal environmental health is more than simply ridding my body of toxins, it's about nourishing my soul. It's about attention and artistry in my surroundings, savoring creatively prepared healthy foods and experiencing that with the people that are important to me. What James Truman and John Fraser have done with Nix is a miracle in Manhattan. With great friends and great food, the stars aligned for a most memorable evening.
REAL LIFE. REAL NEWS. REAL VOICES.
Help us tell more of the stories that matter from voices that too often remain unheard.