If you only had time to watch one new show this summer and you picked HBO's The Night Of, you made the right call.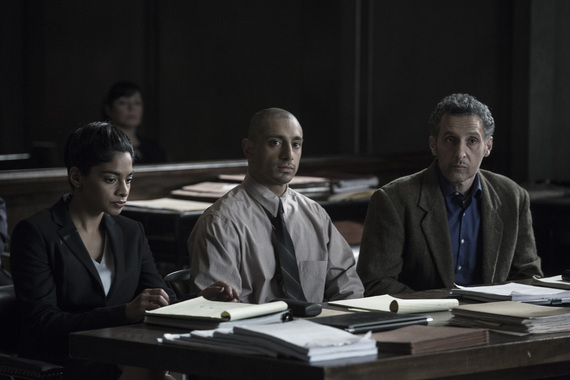 This dark murder mystery wraps up Sunday, 9-10:35 p.m. ET, and it evokes the two thoughts that all producers long to hear:
One, can't wait to see how it's resolved. Two, sorry it's going to be over.
Set in New York, the story through the first seven episodes - spoiler alert! - started with Pakistani-American college student Nasir Khan (Riz Ahmad) being arrested for the grisly murder of young rich Andrea Cornish (Sofia Black D'Elia).
He was driving his family's taxicab to a party when he picked her up and let her lead him back to her place, where he thought he'd hit the lottery with drugs and sex games.
Except the next morning he woke up to find her bloody, butchered and dead.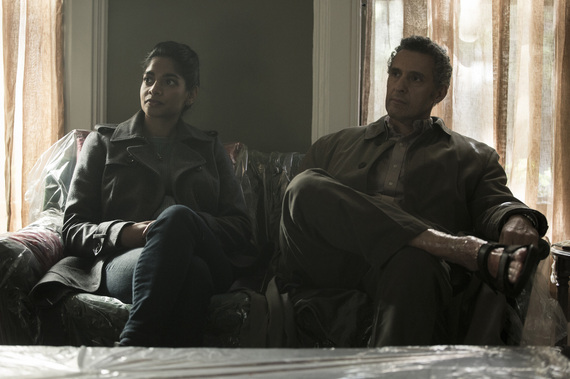 He's now on trial, represented by low-rent hustler attorney John Stone (John Turturro) and a newcomer who seems to have issues of her own, Chandra Kapoor (Amara Karan) (above).
The physical evidence, largely gathered by unsympathetic Detective Dennis Box (Bill Camp), seems overwhelming, and the District Attorney's office is under pressure to be sure someone is brought to justice. So the hammer is cocked for Nas.
But while that's the core plotline, it's only part of what the show has been about, and thus only part of the reason it has earned a gratifying level of buzz.
Working from a British series called Criminal Justice that ran four hours, writers Richard Price and Steve Zailian have expanded The Night Of to eight, by adding gritty and often uncomfortable detail.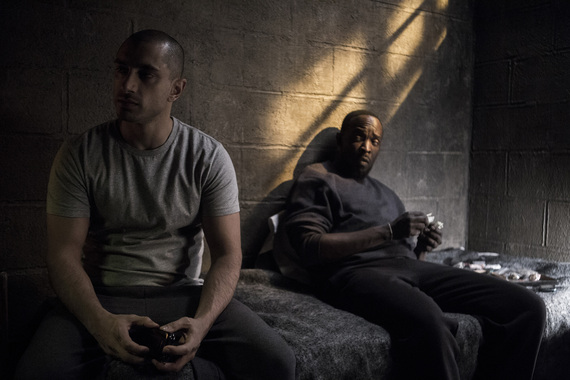 We have seen Naz transformed from a timid prison rookie, easy prey, to an inmate who has allied himself with the veteran Freddy (Michael Kenneth Williams) (above). Yes, that has disturbing character implications.
We've seen the devastating ripple effect on Nas's family, starting with the fact that because the cab was apparently involved with a crime, his father and family can't get it back and thus can't make a living.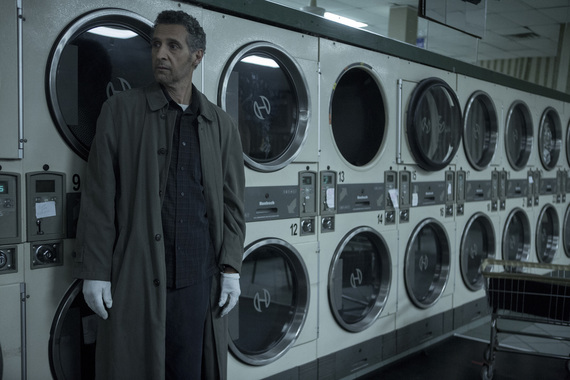 We've seen Stone's lonely life, with no self-pity, and we've seen hints that the case has stirred anti-Muslim prejudice in the city.
Interestingly, though, all this added detail has split fans of the show.
Some feel we've seen too many side issues that don't seem connected to the main plot thread, and that we've spent too much time watching, say, procedural routines at Rikers Island.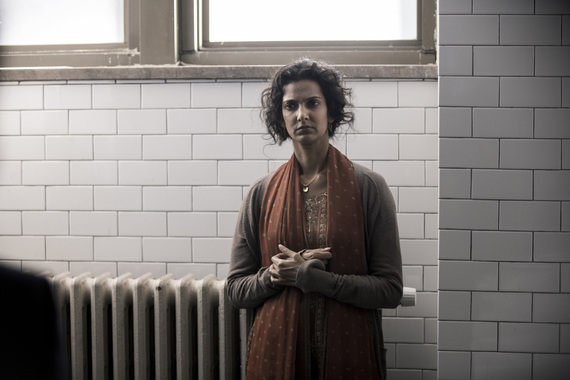 Others feel the show hasn't spent enough time developing characters like Kapoor or Nas's mother Safar (Poorna Jagannathan) (above), who is mortified, humiliated and struggling simply to keep functioning.
Then there is Andrea's stepfather Don Taylor (Paul Sparks), who has emerged as the most likely perp if Nas didn't do it. He was introduced late and with almost no background.
What fans in both camps probably agree is that they aren't sure what to make of the show's two most utterly bizarre subplots: the cat and the eczema.
The late Andrea had a cat, which she let outside before she and Nas got busy. Stone has adopted the cat, even though he's allergic to cats.
Stone also suffered, at the start of the show, from eczema so serious he couldn't wear shoes. We've watched him visit eczema doctors. We've taken trips to his eczema support group.
And where are either the cat or the eczema leading us? Excellent question. Presumably we will find out Sunday, because The Night Of was developed as a limited series, meaning that if it's not resolved Sunday, we will likely never know.
However it finishes, HBO is happy enough that it is reportedly considering a second season that would tackle a different case.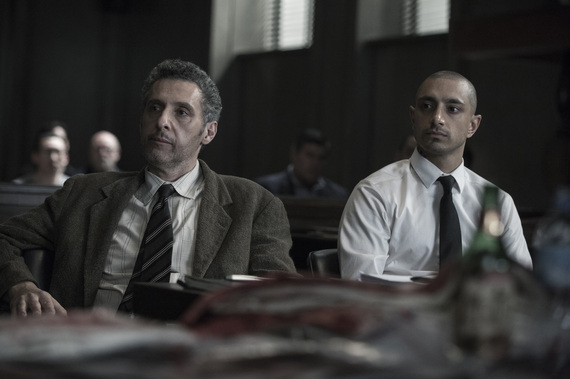 The Night Of isn't perfect and yes, it could have been told in four hours. But the extra time has rewarded us with plenty of good moments, thanks to the first-rate work of Turturro, Williams, Karan and others.
So for now, just get your bets down fast on the cat and the eczema.
REAL LIFE. REAL NEWS. REAL VOICES.
Help us tell more of the stories that matter from voices that too often remain unheard.