My day had already seen a heartening display of nonpartisan engagement. In the afternoon, a staunchly conservative former U.S. Senator, Jon Kyl (R-AZ), joined my class of mostly progressive undergraduate students. For about an hour, Kyl took everyone's questions without a single flinch. When I thanked him for the visit, students gave the Senator a rousing ovation. And after he left,  they had only one question for me: "Are we gonna do this again?!"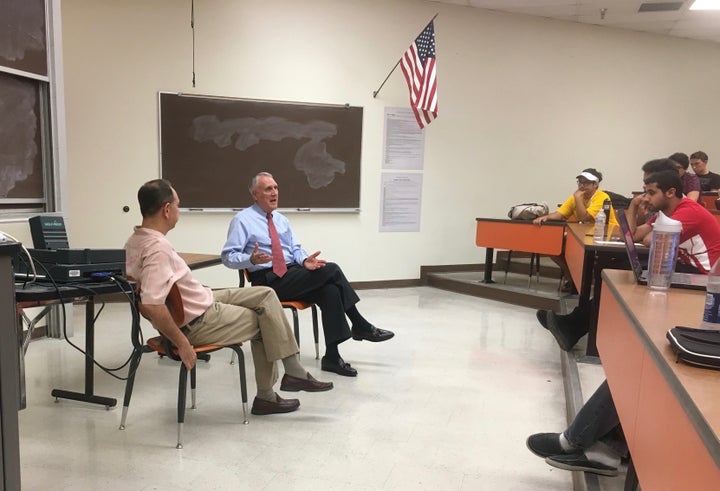 So my day was already made. But at the last minute, I'd bought a resale ticket to go see the U2 concert at Phoenix Stadium. Solo. Just me and whomever I might meet at the show. Last time I did that was Sinatra in '95. Aisle seat then. Aisle seat again. 
As it turned out, the couple seated next to me started mocking me as soon as they saw me squinting to find my row. We were laughing and talking during the break between Beck and Bono. We quickly learned we had very little in common in terms of our background. We'd both lived in one of the valleys in California for a stretch. We were fans of U2. We were white. 
Richard and Lisa were truckers, now mostly retired and living in Maricopa, Arizona. And after Richard found out I was a university adjunct teaching politics ― that's when it got interesting. 
When Richard said that the president is "just like you and me!" my head nearly exploded. "Richard, that clown ain't anything like me. Of this, I can assure you ― bulllieve me!" 
With each verbal punch and "counterpunch" about Hustler Don, we laughed even harder. And when it came to a couple of Richard's political ideas (within a discussion that HE had engaged me in), we actually agreed. 
I bought Richard and Lisa a couple of beers. U2 hit the stage and crushed it, as usual. Bono talked about the "Dreamers," made a little light-hearted fun of Don the Con, and included plenty of the band's usual, kumbaya visual-messaging in the background. He rocked it. Everyone did. Never have I experienced a U2 concert that didn't "go to 11."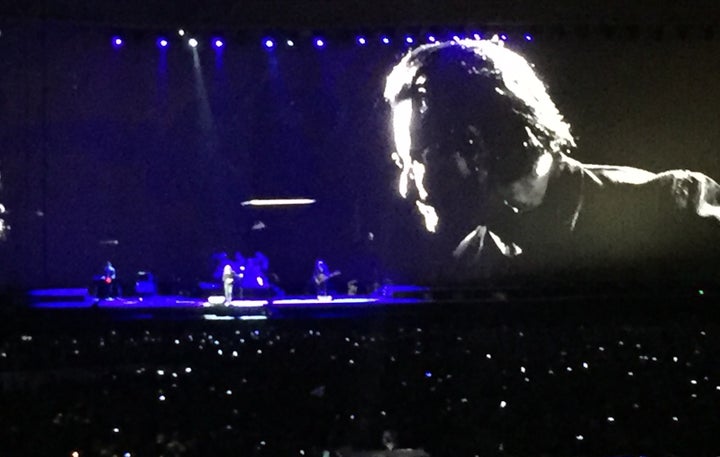 Toward the end of the show, when you could feel it was coming to a close, I was getting ready to make my dodge-the-traffic, pre-encore exit (this neurotic maneuver runs deep in my family). 
As they came back from a bathroom break. Richard (his nickname by now was "Martin Mull"), dropped his sweatshirt over my head as they entered the aisle. I laughed, pulled it off and shoved it toward Lisa. She said, "No, it's yours! Richard said we had to do it." 
These virtual strangers had gone and purchased me a Joshua Tree Tour sweatshirt at the concession. They took time out of the performance to buy a gift for some smart-ass professor with opposing political views ― and it cost plenty more than an overpriced beer.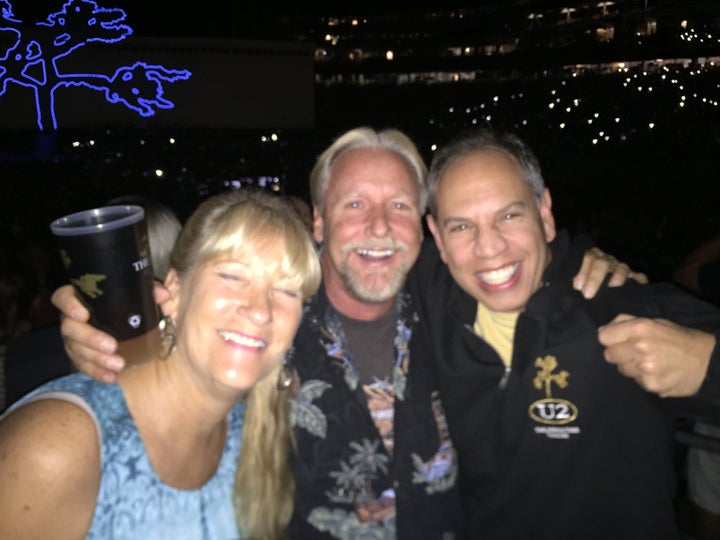 I try not to generalize about Trump voters. This can be challenging, especially at times when I feel myself viscerally reacting to the president's words and actions. But I try as best I can to consider their motivations and understand how they could forgive all of this man's disgusting transgressions ― even if they also buy into the rest of what I see as a transparently B.S. routine. We didn't fully get into all of that before the music started shaking Cards stadium. I do remember Richard saying that "Trump is not a politician like the rest of 'em" ― and my replying that he's a bigger politician than all of them (save for the part that with Trump, none of the desire comes from a place of public service).
Yet none of that really mattered. Sure, it was a concert. Sure we'd had a few pops before we met. So what. Ya gotta start somewhere with people. And meeting them where they are is often the best approach. Sometimes, it's the only approach. 
It's odd to say this about a random couple who supported someone for president whom I believe is a verifiable jackass, but I was completely touched by their generous gesture. 
I don't generally wear concert gear. But I'll definitely slide this handsome hoodie on once in a while. Richard and Lisa invited me to Maricopa to hang out. I don't generally get over to Maricopa much. But now I just might. 
Making a couple new pals at a rock show doesn't put a dent into the politically polarized United States of 2016. We're a country of 330 million people, and the divisions run deep. But it sure was a refreshing exhale from all of the tribal acrimony I've been witnessing and, yes, participating in since Nov. 8.
The ideas we believe in and the people we vote for are without question important reflections of who we are. But it's not all that we are. What I took away from this thoroughly fun night may have been a small thing, but it was real: It was nice to meet two nice people ― regardless of their politics. Full stop. Thank you, guys. 
Calling all HuffPost superfans!
Sign up for membership to become a founding member and help shape HuffPost's next chapter