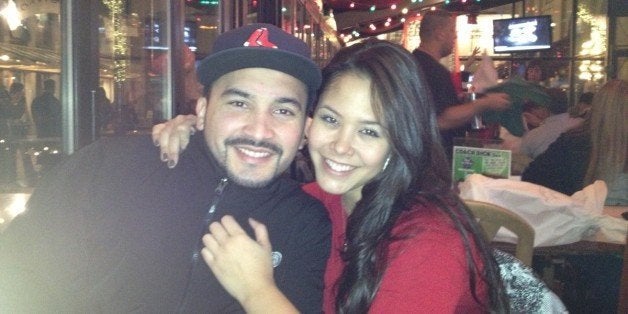 The night you first met your now-fiancé or spouse will go down as one of the most pivotal nights of your life -- even though you probably didn't realize it at the time! Maybe it was love at first sight for both of you, one of you or neither of you. Maybe you started out as co-workers or study buddies or two people who hated each other's guts. In any case, each of you probably has a different take on that very first encounter. For our The Night We Met series, we're asking engaged or married couples to each tell us their version of that fateful day or night. Have a good story to share? You can send it to weddings@huffingtonpost.com. Each partner should send us one paragraph telling the story from his/her perspective. Meet our latest couple below!
Carlos Cataque, 29, popped the question to his girlfriend Kristin Pallozzi, 27, at the National Arboretum in Washington D.C. in April 2013. He had scheduled a "date day" for the pair to go look at the beautiful flowers. After spending the day enjoying the outdoors and each other, Cataque asked another couple to take their picture. Little did Pallozzi know that the couple weren't strangers at all -- they were actually there to photograph and record Cataque's marriage proposal! As they posed for the picture, Cataque got down on one knee to pop the question. Now, the couple is set to tie the knot in June 2014 in Watertown, Mass. (they currently live in Arlington, Va. but Cataque is originally from Boston). Below is the story of their first in-person encounter.
We met online, like any well-adjusted person who doesn't have the time/desire to look for people in bars and clubs. AIN'T NOBODY GOT TIME FOR THAT! We met for the first time at a diner. I used a smooth line that went something like this, "Do you like food? Because I like food. And if you want, we could get food together?" Not an exact quote but something very similar. You all have my permission to use the line if you need it (hey, it worked for me!). Back to the story -- I walked in and she was already there, seated at a table. She looked up from her menu and smiled at me and I was hooked. We sat and talked for almost five hours. It was the easiest, most beautiful conversation I've ever had with a stranger. No forced talking to fill in the spaces, no effort needed, just ease.

The most memorable part of the conversation was when we talked about our idea of the perfect day. I wanted to know how well we matched so I asked her, "If money was no issue, there were no rules about weather or time, and anyone you wanted could be there, what would you do on your perfect day?" And we sat there and talked for a while, just constructing our own perfect days. The funny thing was that by the end of the conversation, we were no longer constructing separate perfect days -- we were constructing OUR perfect day together. We did everything and went everywhere! We met the president, led a parade held in our honor, spent time with our loved ones, laid on the beach, we laughed, we danced, we watched the snow fall in the street lights. But, basically, it was perfect.

Little did I know when I walked into the diner that night, I wasn't just meeting a BEAUTIFUL woman, I was meeting my future wife.
We met online. Seriously. Yes, we need our own OKCupid commercial.

The first thing he ever said to me was "Wow, you're pretty!" At first I thought, "Oh great, he's a flirt." Then I thought, "Maybe it was a genuine compliment, that's nice." And lastly I thought, "He thought I would be homely? How rude." The rest went on pretty much as he describes -- fantastic conversation over mediocre food. My face hurt from smiling, I couldn't stop talking and I felt more comfortable than I had ever been with anyone.

We started talking about what a perfect day would be to each of us. He went first, talking of bonfires and beaches with family and friends. I went second and just decided to invite myself to his perfect day (it sounded fun!). Then, we decided that we were going to make a perfect day together. It consisted of private islands, bonfires, a thunderstorm, a nap in a hammock, the invention of a teleporter (so we could do all these things in one day), the ability to never get tired, saving lives, accepting a few "keys to the city" for our good deeds and even an award from the president. Best part of our created perfect day? It didn't end until we wanted it to.

After our date, I called my mom to reassure her that Carlos was not, in fact, a serial killer. I told her, "Mom, I'm gonna marry that man!" It's fun to think about how that turned out to be true.
Click through the slideshow to see photos of the adorable couple!