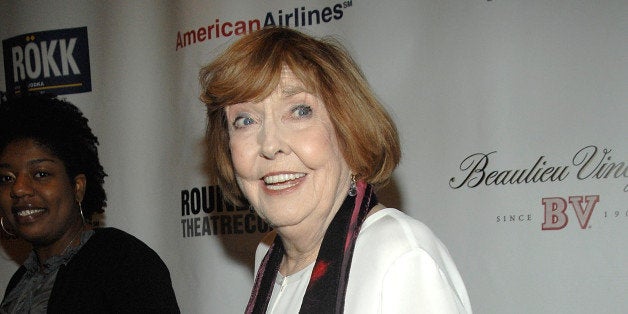 Sadly, it was reported today (May 24) that celebrated comedian and actress Anne Meara had passed away, at age 85. While this was a personally devastating day for the Stiller family, it was a poignantly nostalgic and melancholy day for those fans familiar with Anne's extraordinary career.
People--especially younger folks--may not be aware that, besides being the wife of the great Jerry Stiller and the mother of the multi-talented Ben Stiller, Anne was the brilliant "Meara" in "Stiller and Meara," the husband-wife duo that set a record of having appeared 36 times on the old Ed Sullivan television show. She was wonderfully witty, Jerry was profoundly droll, and as a consequence, "Stiller and Meara" quickly rose to the top of the heap.
On Dec. 10, 2005, my wife Marilyn and I were celebrating her birthday by attending a special comedy show at McCabe's Guitar Shop in Santa Monica, California. Two comedy greats--the legendary Mort Sahl and the bitterly satirical Dick Gregory--were appearing on the same bill.
McCabe's is a tiny venue, barely more than 120 seats. Literally, there wasn't a bad seat in the house, and, of course, the show was sold out. We arrived moments after the doors opened and took our seats in row 3. Marilyn and I were stunned at who was seated in the same row, directly next to us. It was Anne Meara and Jerry Stiller.
In the 10 or 12 minutes before the show began, the four of us began chatting. We couldn't help ourselves. We were setting next to two of our favorite people. When I told them it was Marilyn's birthday, Jerry instantly began crooning a couple of bars of "Happy Birthday" to her. The four of us also noted that this day, besides being my wife's birthday, was a somber occasion.
Two famous and accomplished Americans--Eugene McCarthy and Richard Pryor--had died earlier that same day, Dec. 10, 2005. The coincidence and confluence of events--meeting Anne and Jerry on my wife's actual birthday, seeing Mort and Dick Gregory perform together, and knowing that we had lost both Senator McCarthy and Richard Pryor--was eerie, almost freakish.
As it turned out, I had something "in common" with Stiller and Meara, tenuous as it was. I casually mentioned that I had interviewed Mort Sahl for the now-defunct New York Press (I was introduced to Mort by L.A. theatrical booking agent Jeanine Frank), and that I had seen Dick Gregory at the old Crescendo club in L.A. many years earlier, while I was till in high school.
When I mentioned that the singers Joe and Eddie had opened for Gregory that night, Anne perked up and said that she and Jerry had once played on the same bill with Joe and Eddie at Mr. Kelley's club in Chicago.
Anne couldn't have been sweeter or more generous. The last thing she (or Jerry, for that matter) wanted was to have a couple of fans pester them while they attended what was bound to be a memorable comedy show. But they were nothing short of gracious. My wife remembers it as her "favorite" birthday. Rest in peace, Anne.
David Macaray is a playwright and author. His newest book, "Nightshift: 270 Factory Stories," will be published in June.
REAL LIFE. REAL NEWS. REAL VOICES.
Help us tell more of the stories that matter from voices that too often remain unheard.