Marrakesh, one of Morocco's most memorable cities, sits on the far western edge of the Sahara desert and at the foothills of the Atlas Mountains. Spending a night in Marrakesh will produce experiences to be remembered long after you've arrived back home--here are top 3 suggestions for what to do when the sun goes down.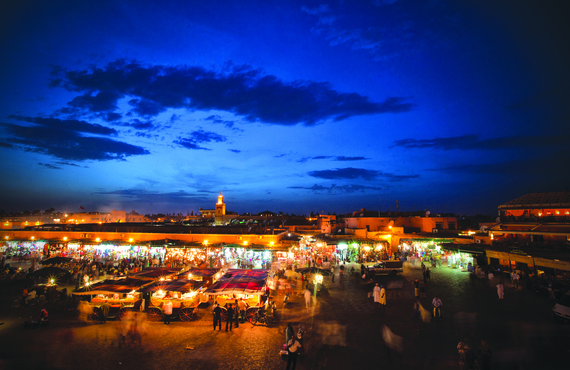 Try your luck at the Le Grand Casino
The Mamounia Hotel was one of Churchill's haunts during his many visits to Marrakesh. The adjacent casino here opens in the evening at 7:30 p.m. and is a great place for a late night snack or cocktail. For adrenaline-seeking night owls, the casino stays open until 6 a.m. If a casino visit isn't your thing, check out the grounds and gardens around the complex for a colorful walk through eight acres of orange blossoms and roses.
See Djema el-Fna after dark
Chances are you'll visit this bustling market square during the day, but the atmosphere and action change dramatically at night. Djema el-Fna translates to the "assembly of the dead," owing to the public executions that took place here nearly 1,000 years ago. Now, it's a bustling spectacle each night after sunset.
Considered by UNESCO to be a Masterpiece of World Heritage, the square is home to everything from snake charmers to water-sellers and sidewalk dentists during the day. Come dusk, the action livens up with musicians, acrobats and fire-breathers--creating a veritable circus-like atmosphere. Throw in some street food at next-to-nothing prices and you'll leave with the evening firmly embedded in memory.
Dine and dance at Le Comptoir
Le Comptoir has long been a nighttime hotspot when in Marrakesh. Part restaurant, part nightclub and lounge, the food here is a mix of French and Moroccan with some decidedly Asian influences. Belly dancing begins at 9:30pm and the action spreads to the different floors of this large Art Deco villa, with live music or DJs most nights.
Have you ever spent time in Marrakesh? What's your favorite thing to do at night?