After LACMA's sold out Dead Man's Ball on Saturday night, we may want to consider renaming Halloween after Tim Burton (Burtonween? Halloburton? That might scare people a bit too much). His influence was seen and felt everywhere, as a diverse crowd of partygoers paid homage to the king of underworld-inspired cinema with elaborate costumes including The Mad Hatter, Edward Scissorhands, The Corpse Bride and Jack Skellington. This year, LACMA's annual Muse Costume Ball gave Burton's character center stage for a festive night of music and art.

The event spanned several unique spaces within the museum, from an outdoor reception near LACMA's signature installation "Urban Light," a multi-room indoor space with a dance floor and of course, the Tim Burton exhibit itself, which was open all night in honor of its closing weekend. Walking through the exhibit, it felt as though Burton's eccentric characters had escaped from their eternal resting places (sketches, sculptures and films) for a night of revelry, transforming LACMA into the scene of a Burtonesque Night At The Museum.
The night also featured The Bumbys, an anonymous, masked couple that gave ghoulish guests a typewritten "fair and honest appraisal" of their appearance. A long line of costume-clad attendees excitedly awaited their judgment, which was contained in a short description (an original blend of intellect, wit and absurd pop culture references) and a numerical rating. In a night full of avant-garde entertainment, The Bumbys stood out for engaging the crowd, with everyone eagerly sharing their clever appraisals with each other. Other highlights included a rocking performance by She Wants Revenge, roving concerts by Killsonic (a 25-piece punk, jazz orchestra that dropped dead at the end of their show), DJ Beatlejuice (aka DJ Jeremiah Red) and several costume contests.
The drink of the night was "The Afterlife Elixer" (Kanon Organic Vodka, lemon verbena bitters, simple syrup, soda and mint), which definitely kept partiers rallying until the close of the Dead Man's Ball at 12:30 am. Although the event had light appetizers, guests also had the option of dining at LACMA's restaurant, Ray's and Stark Bar, which offered a Halloween-themed prix fixe menu that included Jack-O-Lantern Soup, Meat and Bones (hanger steak) and blood sausage.

Now in its eighth year, LACMA's Muse Costume Ball is known for drawing the best costumes in town. After this year's Burton-inspired spectacle, it'll be interesting to see how LACMA tops itself next year.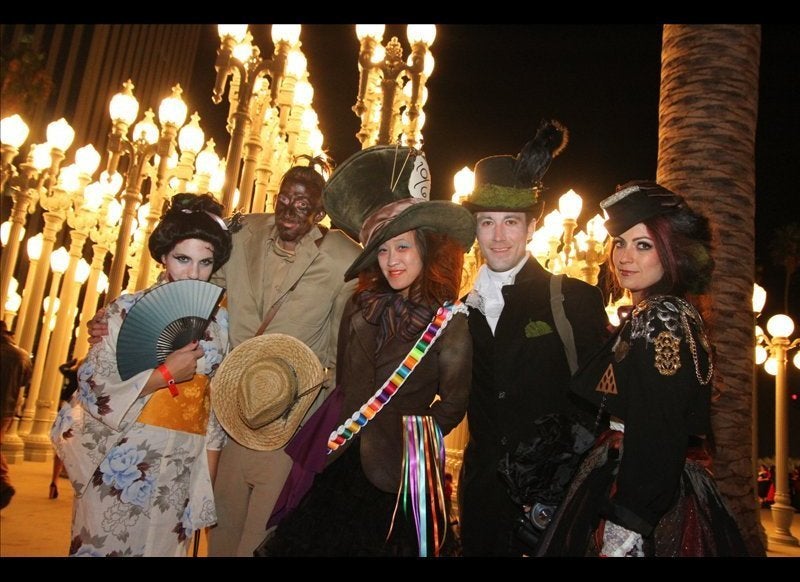 Related
Popular in the Community