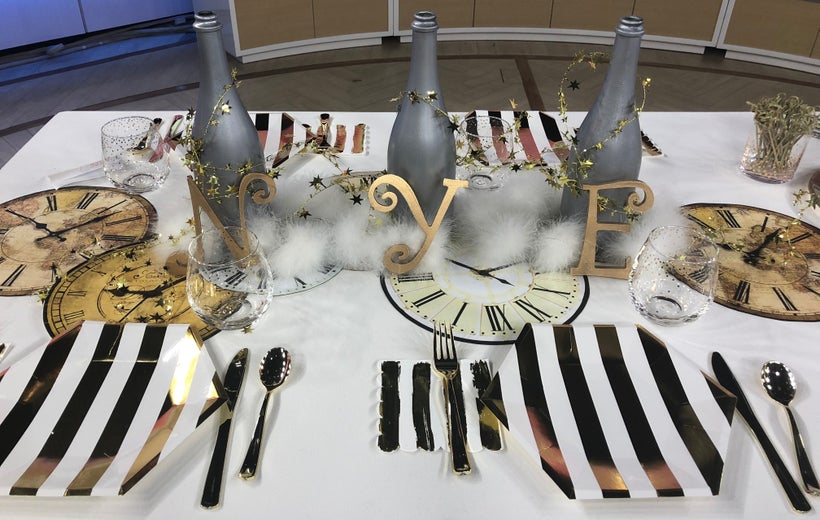 It's the end of one heck of a holiday season, my word! Yet there's one more big shebang of a party to throw together—and oh, what a year it has been. New Year's Eve is a themed party that centers on time as the main focus, while ironically squeezing us for it in the days that remain to put it together! Especially at a point when you may feel just a bit weary from other holiday festivities.
But here's one thing I've learned about entertaining: if I myself as a host am not having fun, what's the point?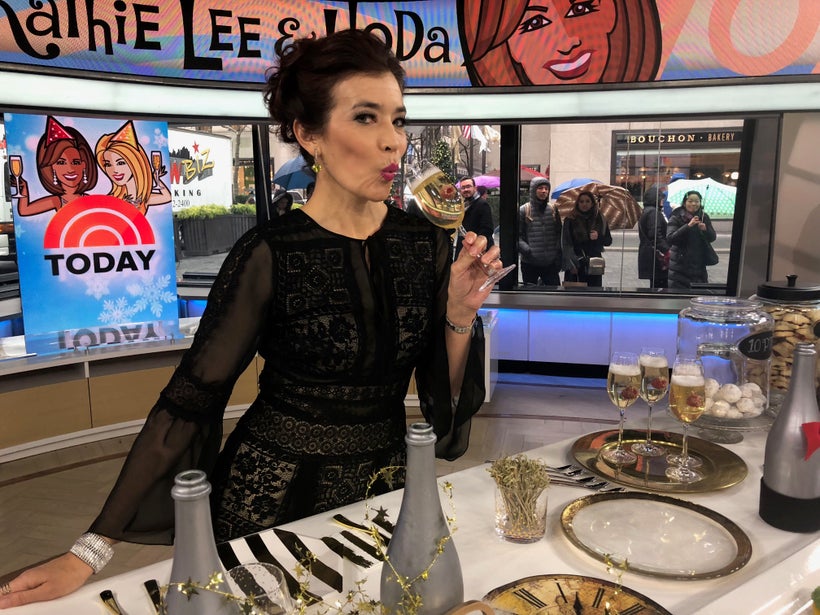 Here are ideas you can pull together, in most cases with items you may already own, and if not within easy reach. You may choose to grab one idea or maybe all—whatever is workable for your given vision and whatever time you have in mind to get your party going and flowing.
Then play some tunes, pop some bubbly and watch the ball drop in a sparkling array of light, and Happy New Year!
From the minute guests enter your party, take their coat and set the tone by getting their wish down for the New Year!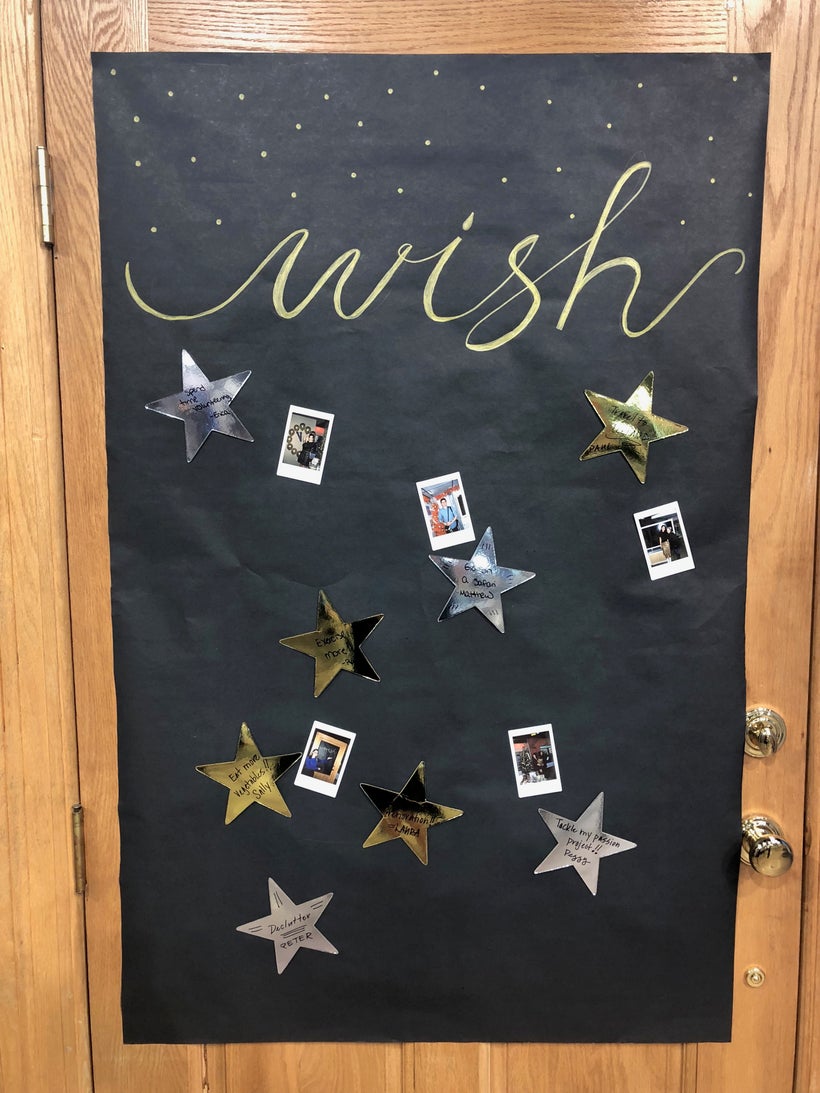 a) Here I took a piece of black poster paper (your children's butcher paper they paint on from their arts and crafts supplies will do) cut it to fit the door, wrote "wish" in simple calligraphy and affixed it to my door with non-damaging tape.
b) Have guests write a wish for 2018 on stars and affix it safely on the door.
d) Once the party is complete, move the entire poster paper to another door in your home or apartment and save it as a fun reminder of the amazing night. It makes for great reading where people are least expecting it...(bathroom)!
No party is complete without the proper New Year's Eve accessories to get you revved, and that includes headbands that celebrate champagne, fascinators with a touch of sparkle, sunglasses that pop and scintillating boas.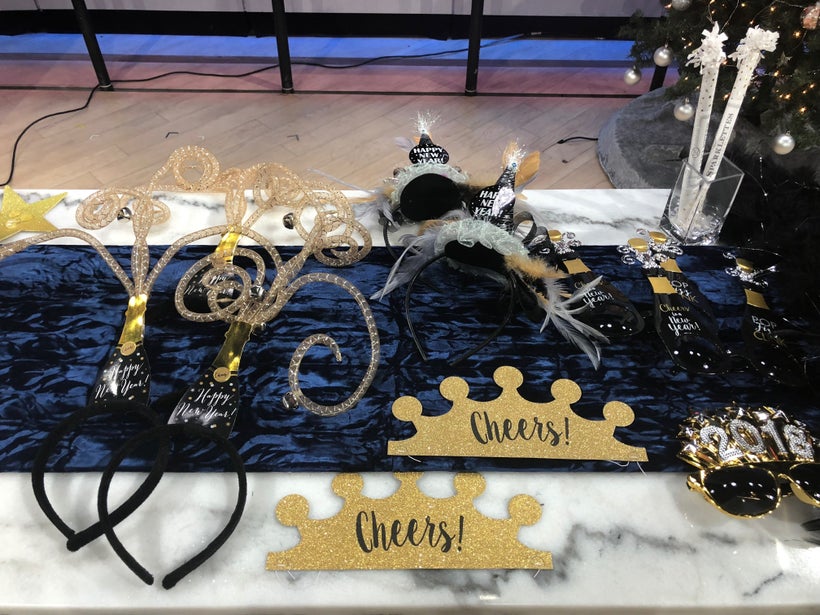 NYE Party Accessories from $3.99, partycity.com
If you celebrate Christmas and still have your tree up, here's a way to transition it for your evening party with adults.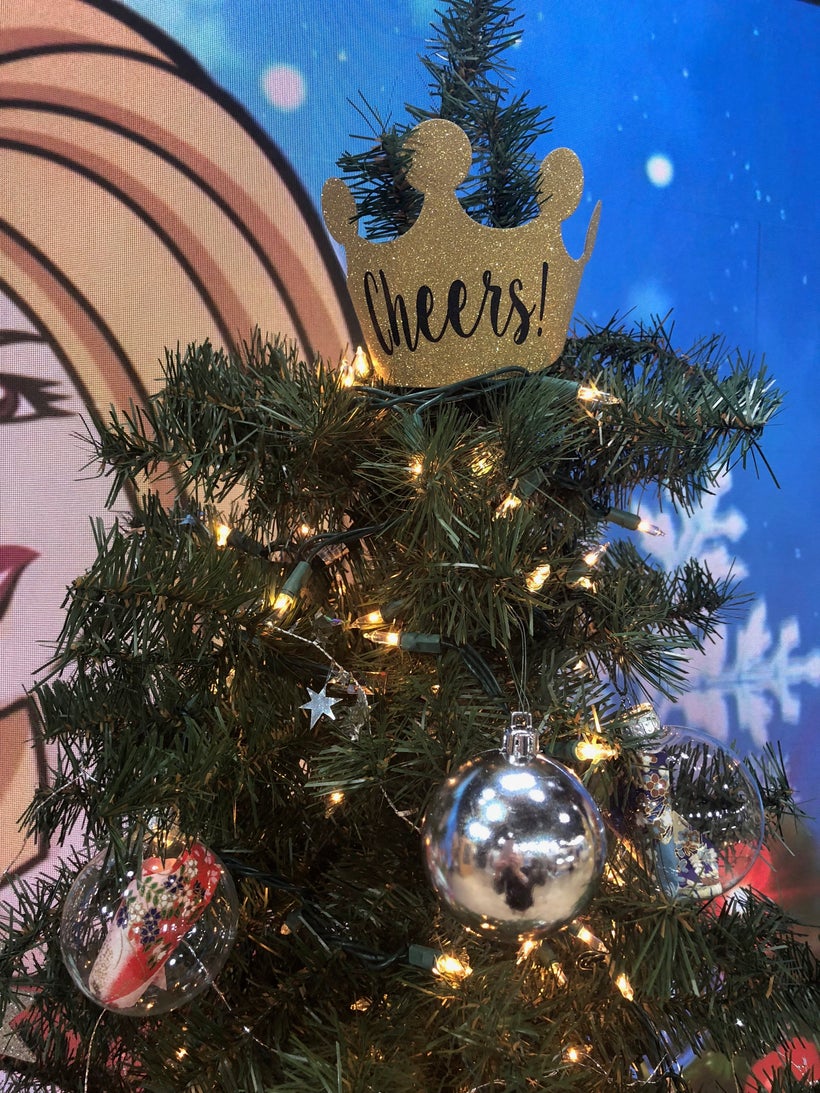 Prior to the fete, streamline your tree by removing a few ornaments and place an NYE crown or fascinator on top. Have guests fill out a personal and private New Year's resolution on a pretty piece of paper that can be easily folded—origami paper is a perfect choice--and tucked inside a clear ornament ball that you can get at a crafts store or even at your local drug store.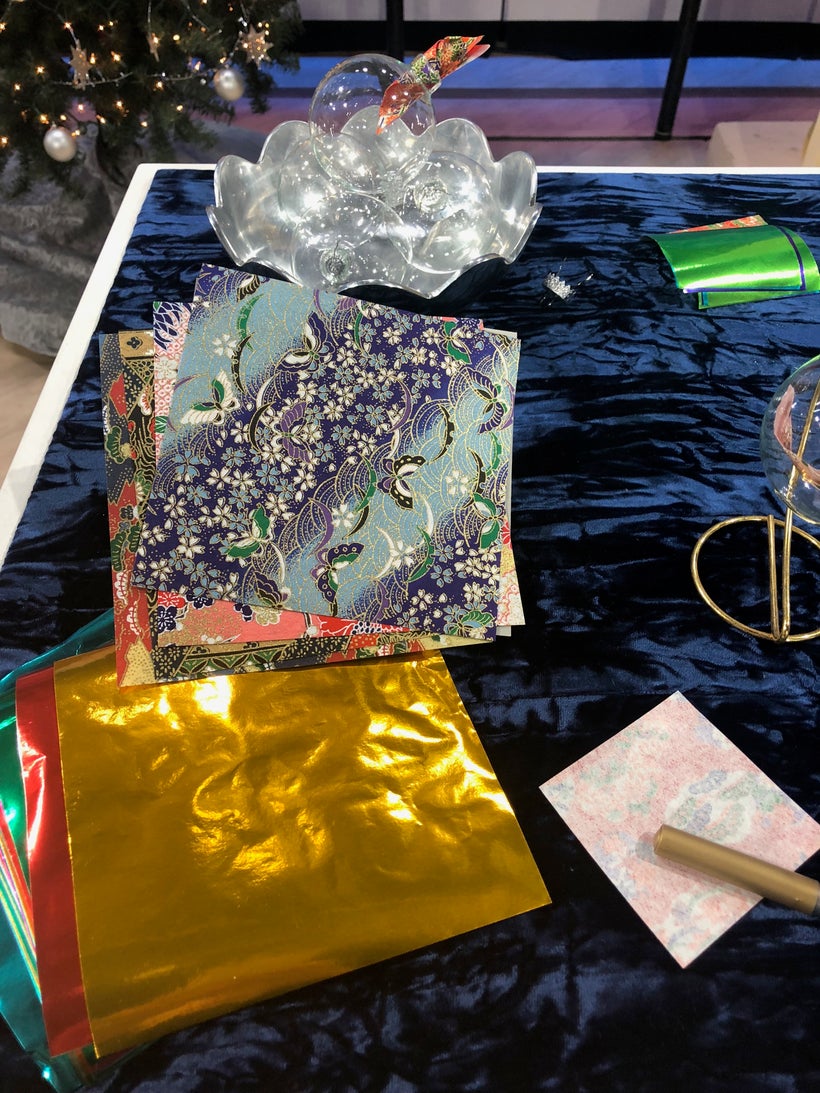 Have them write their name in a permanent marker on the outside. Save the balls until your next NYE party and see if their resolution was fulfilled!!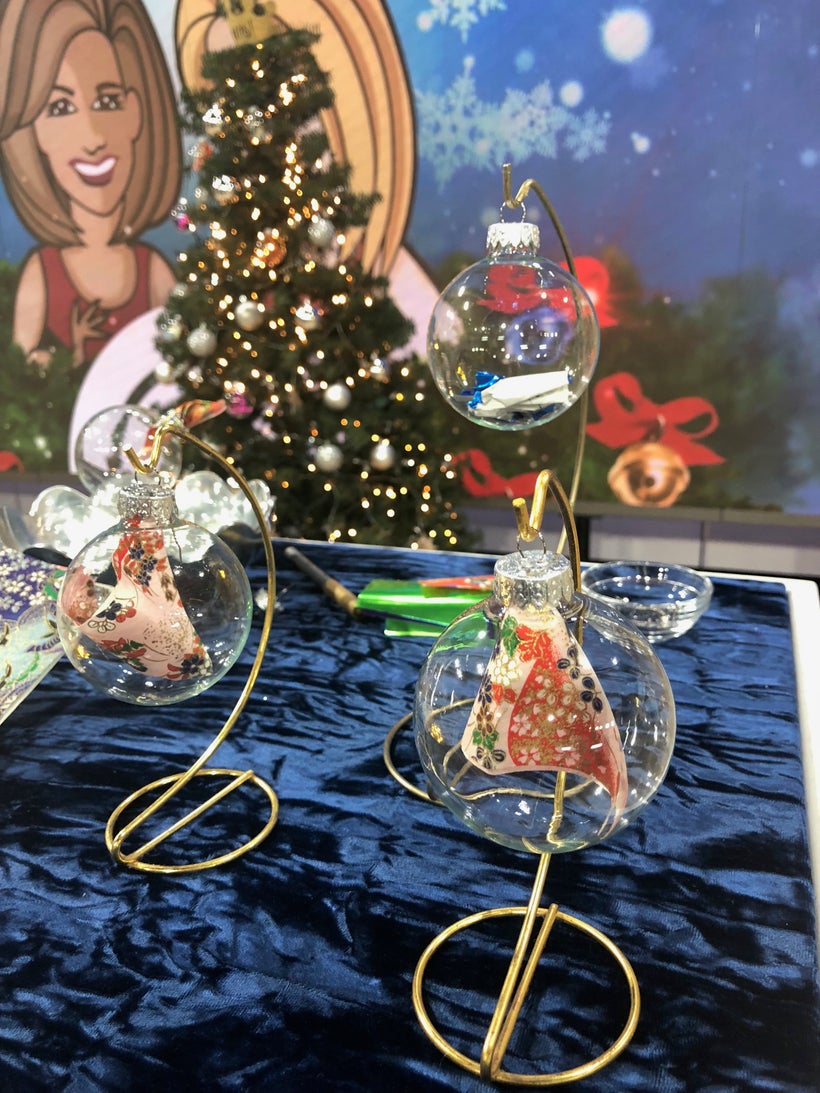 4. POPPIN' AROUND THE CLOCK GAME!
Here's an on-going party game that you can introduce when your guests need a lively interjection or a change in direction—to spice things up if there's a lull! (Thanks to my friend Erin for her early balloon idea that blew up!)
1. Stuff 12 gold balloons with confetti and each with a different 2017-themed question such as:
What was your favorite moment of 2017?
Who did you meet that most interested you in 2017?
What's your first "to do" in 2018?
2. Inflate each balloon to a uniform size. Mark each balloon from 1 to 12 (I used vinyl numbers which I happened to have in my poster-making supplies which were perfectly stretchy for this task, but you could use a black Sharpie and gently write the numbers directly on each balloon) and affix to the wall using non-damaging tape in a circle like a clock with number 12 at the top.
3. Cut out clock hands out of black poster paper (I additionally cut out a round circle to cover up the base of the hands) and add to the wall in the middle, marking your favorite hour and minute that's close to midnight.
4. Pop them throughout the night to stimulate Q&A among your guests!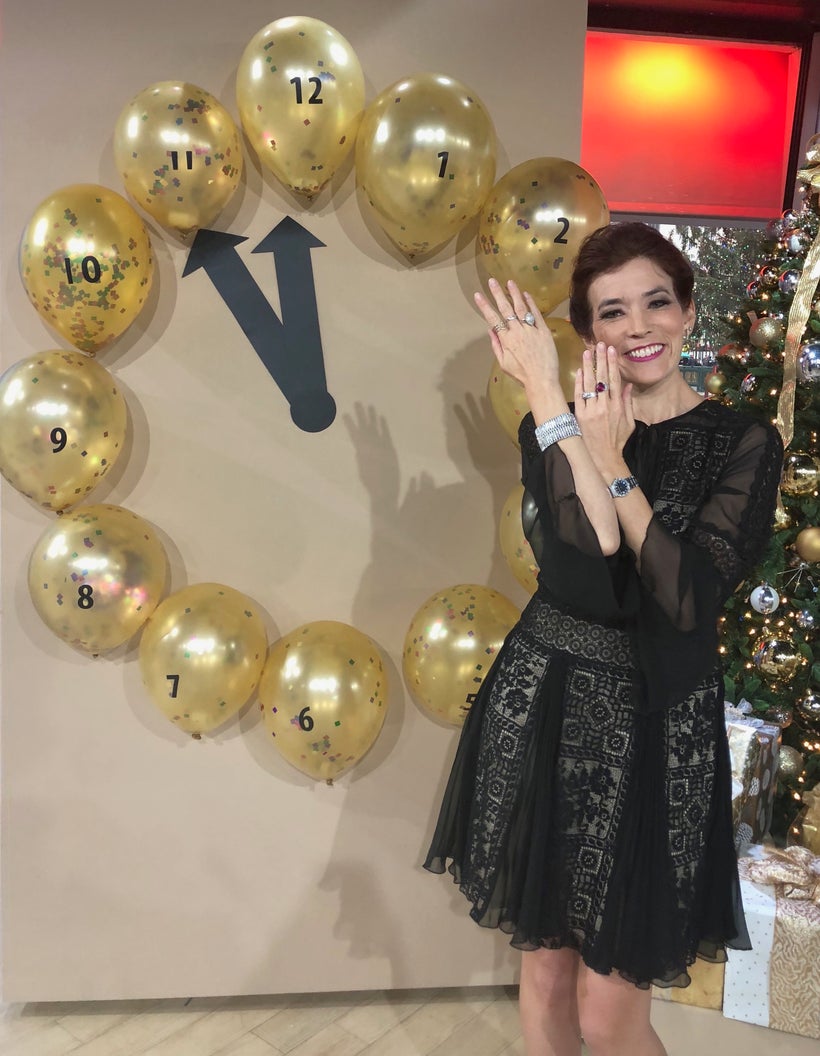 While the table is dramatically decorated, it's not meant for a formal sit-down supper. Guests are invited after dinner, and heavy appetizers and desserts are served buffet style so people can munch and walk or sit and bite: whatever they like!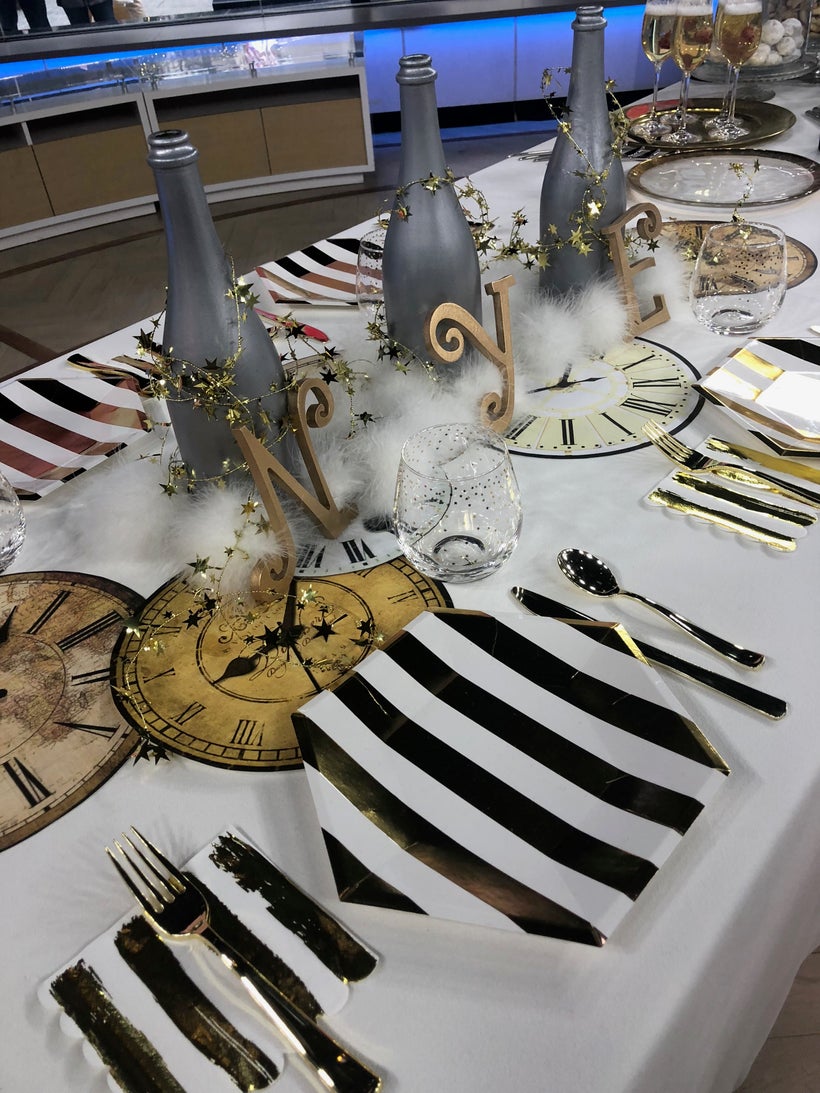 5. CLOCK RUNNER Accent the center of the table with a gorgeous paper clock runner, the original idea from Fabiana of Ciao Newport Beach Blog. Use copyright-free images of vintage clock faces, and print those in various sizes to dot down center.
6. GLITZY BOTTLES To add a decorative element, wash and dry recycled champagne bottles, spray paint silver and allow to dry.
a) To two of them, make red bow ties out of red felt* add three black rhinestone "buttons" from the sewing store using hot glue and a black felt cummerbund around the base, and you've got two dapper, tuxedoed bottles.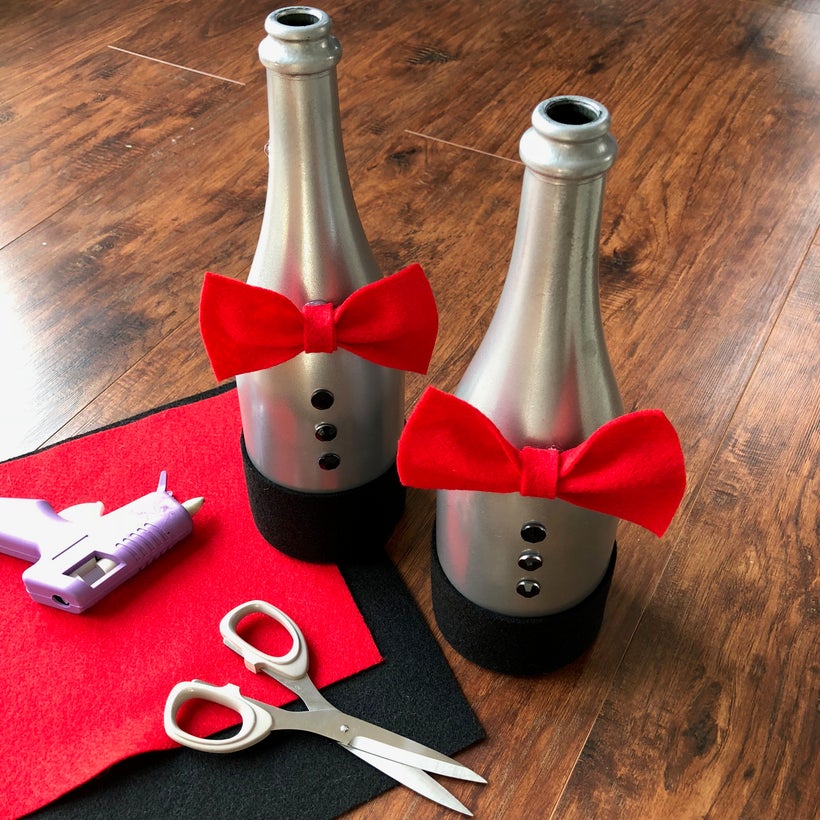 *How to make bow tie: make with a rectangle of red felt (2.5" x 4.5"), wrapped and gathered in the center with a narrow strip of felt (.5"x 3") and secured with hot glue.
b) To the remaining three silver bottles, intertwine gold star vines picked up at Michael's.
c) Spay paint in gold the letters "NYE" and stand up in front of the three silver bottles. I obviously did "NYE" for New Year's Eve, but you could choose to celebrate your city by doing ATL for Atlanta, SEA for Seattle, SFO for San Francisco, etc.: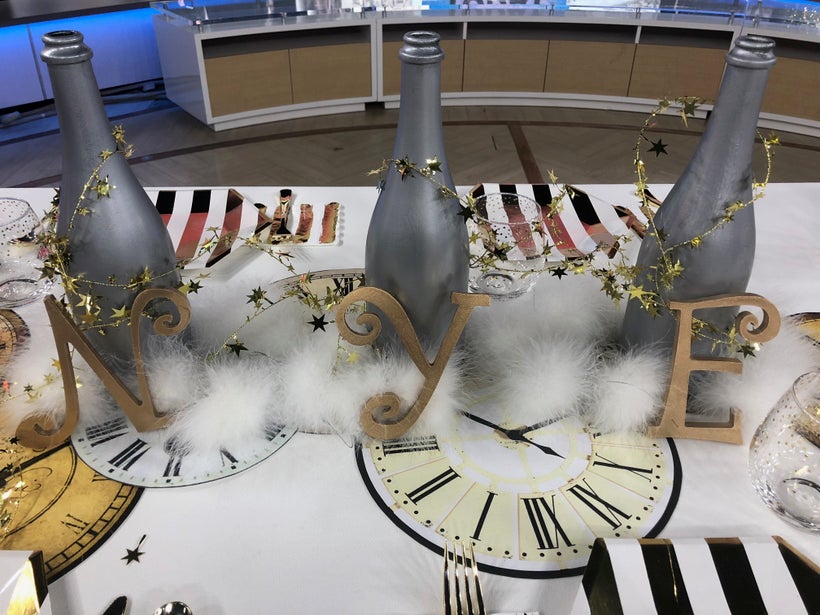 7. POM GARLANDS I adore incorporating a touch of fashion with the pom garlands that add visual texture to the table.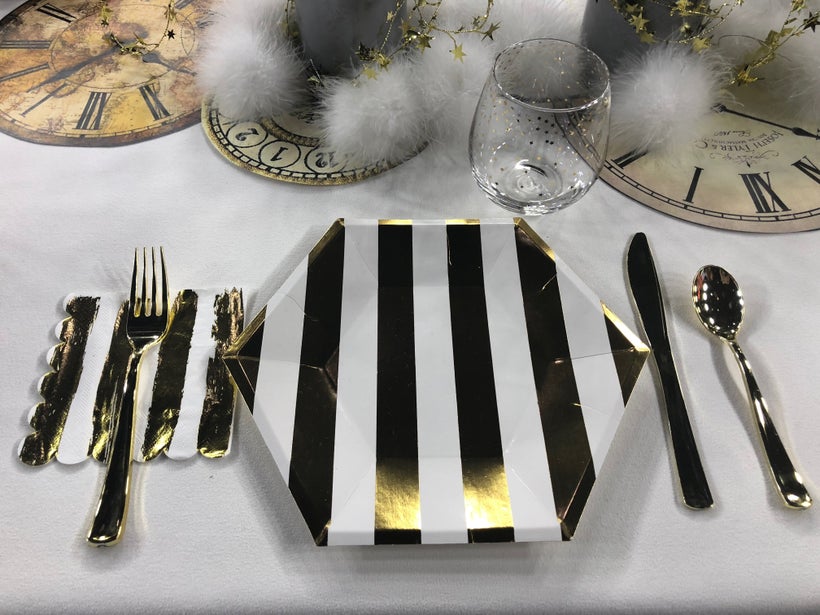 8. SET A CHILL PLACESETTING
The less cleanup you have as a host, the more fun you and your guests will have overall!
Use paper plates for easy clean up the morning after, but make it pretty. Gorgeous gilded paper plates (available in dinner and appetizer plates) and paper napkins from White Lilac are super stunning and affordable. Get sleek plastic gold silverware, which also minimizes cleanup.
Gilded paper products from $5, whitelilacinc.com
Use real glassware as people tend to drink throughout the night and paper cups won't last multiple refills. Glasses with a star or confetti design are particularly festive.
Starry Stemware Glasses, 4 pieces, $12.99, kohls.com
Start your party late after supper, but keep the food coming steadily. Small and bite-sized snacks are perfect so that guests are never hungry leading up to the countdown.
9. 2018 Veggie & Fruit Platter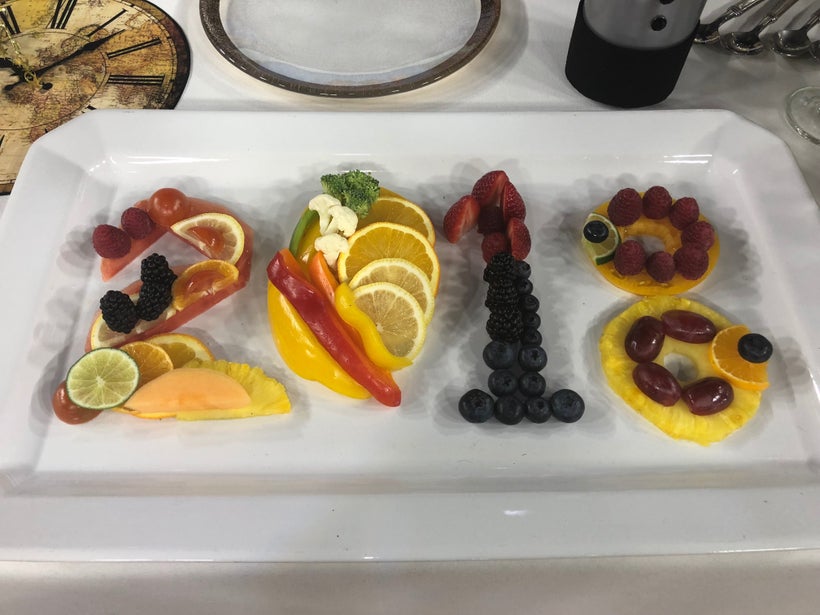 Cut out fruit and mold your vegetables, olives and crudités into the shape of the numerics of our New Year on a giant platter. I did this for a recent party? And it was devoured!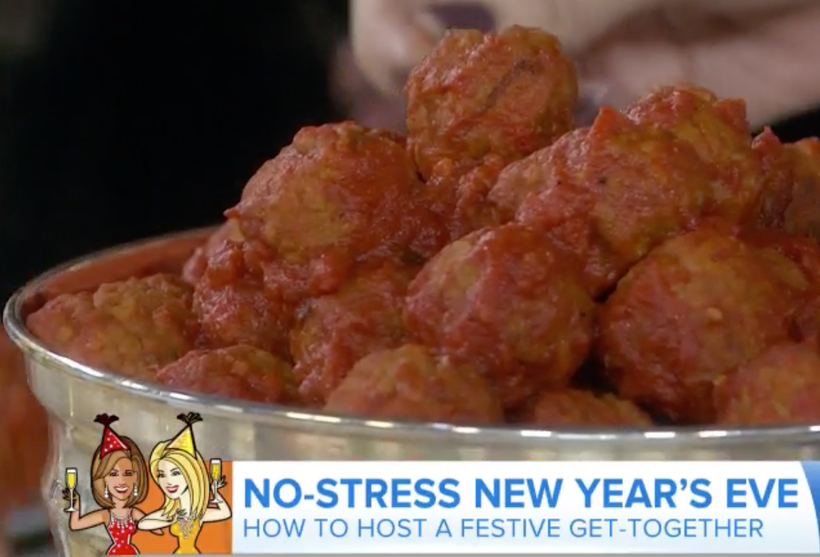 Poke your favorite meatball recipe with a toothpicks and they're ready to grab and go. When we hold one up, it's like a ball…ready to drop!
11. Champagne Jelly Flutes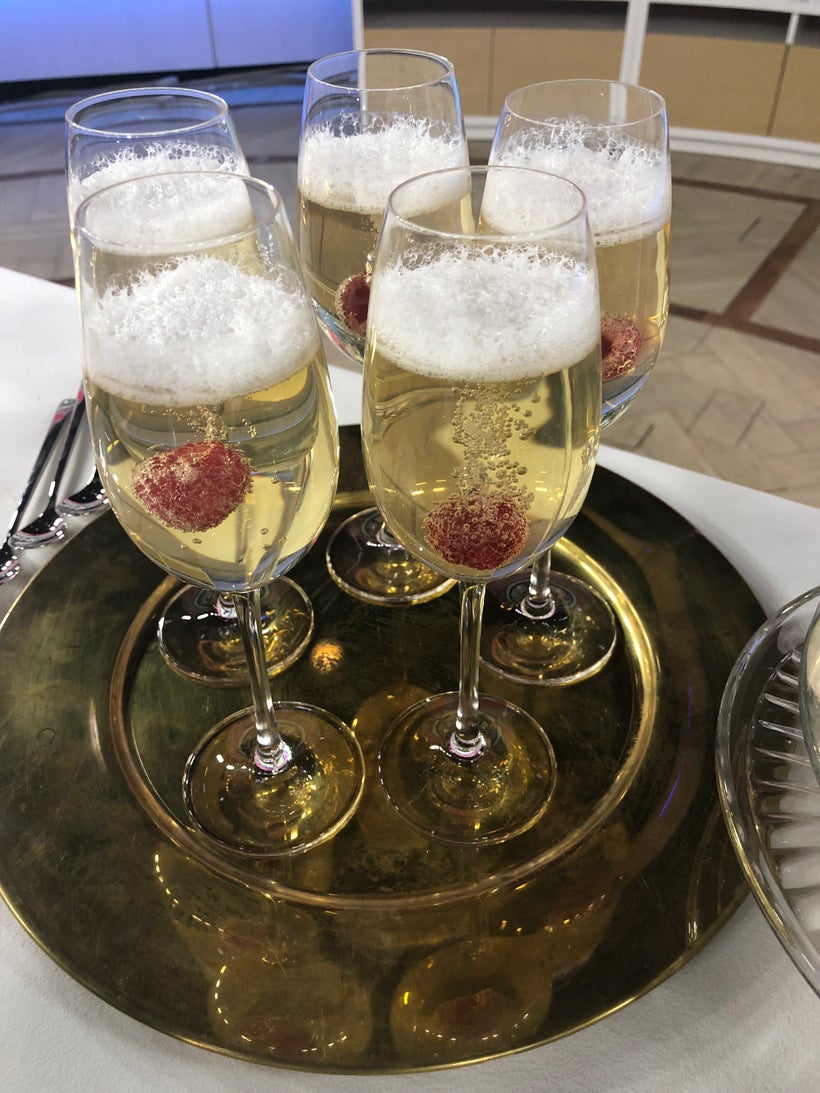 These delightfully entertaining drinks look like champagne, but don't let them fool you! They are jelly flutes made with prosecco, white grape juice, sugar, raspberries and a touch of gelatin. What a fun trick to roll out after guests have had a bit to drink!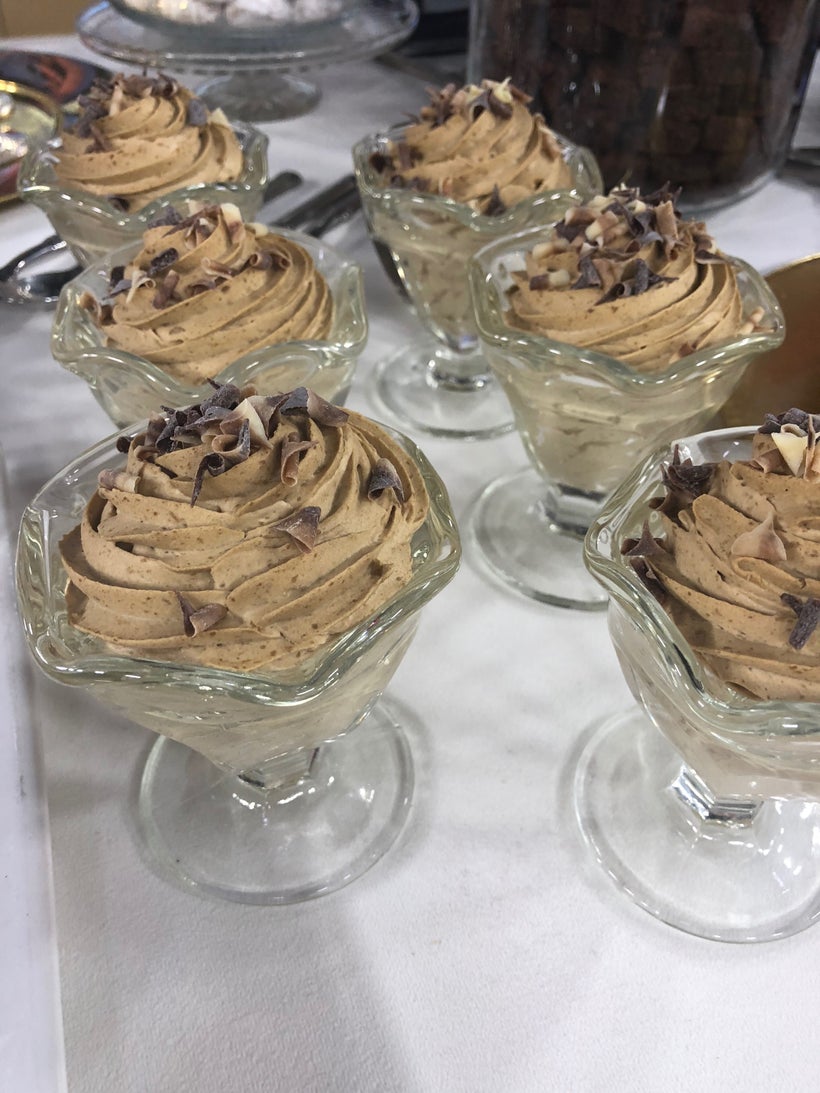 Any decadent coffee mousse—mine contains actual espresso--helps guests keep their eyes open until the ball drops.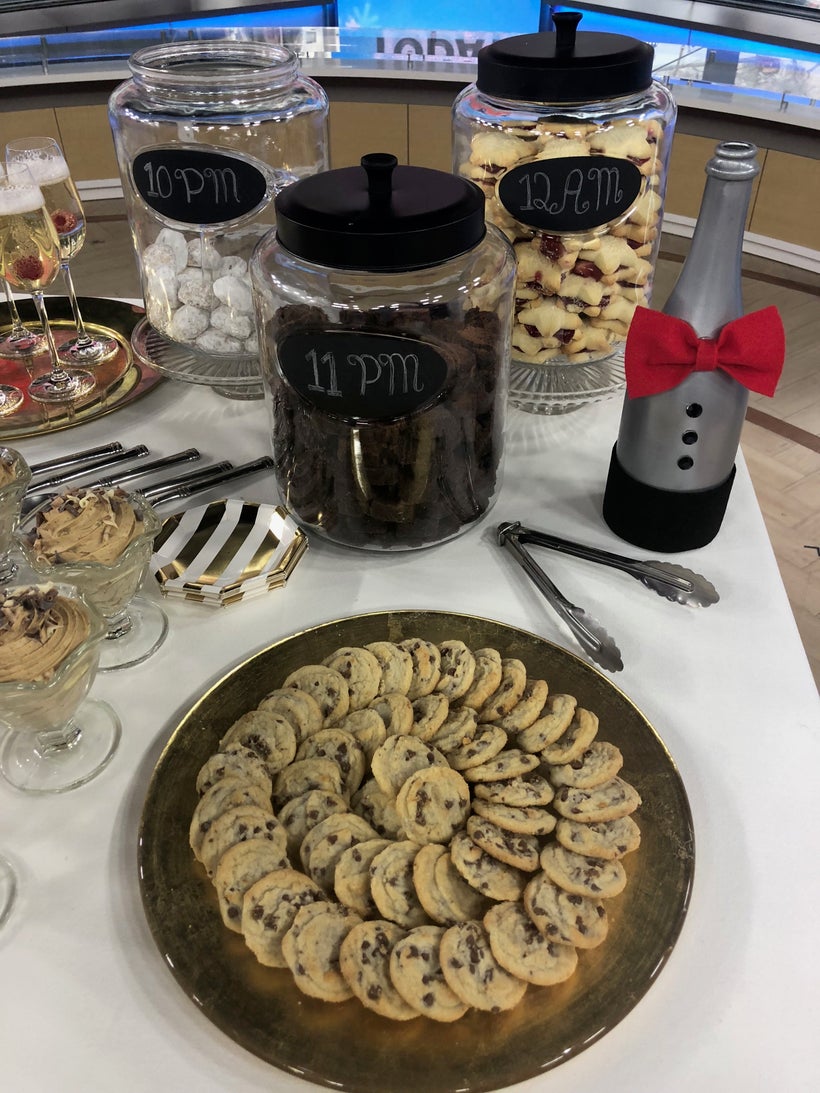 Reveal your favorite baked dessert every hour! Display the first hour on a plate. The others, in clear glass cookie jars with the hours clearly marked on them.
9 o'clock: mini chocolate chips cookies
10 o'clock: Italian wedding cookies
11 o'clock: bite-sized brownies
Midnight: star-shaped cookies
To see these easy DIY crafts and appetizers in action in time for your NYE party—like the popping of the balloons!—, check out my NBC Today show segment!
Calling all HuffPost superfans!
Sign up for membership to become a founding member and help shape HuffPost's next chapter
This post was published on the now-closed HuffPost Contributor platform. Contributors control their own work and posted freely to our site. If you need to flag this entry as abusive,
send us an email
.