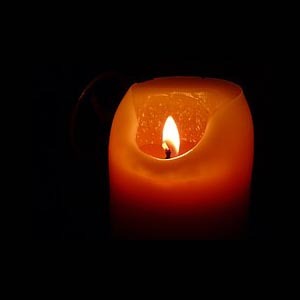 I am always attracted to the edge of the flame - the flickering boundary between the candle and darkness, where the fire seems to dim to a burnt orange. My eyes hover there, and it is in that place that I find the most meaning.
Chanukah, celebrated this past week, may be known as the Festival of Lights, but Christmas and Kwanzaa could also carry that label. Through its trappings and teachings, each holiday compels us to focus on light and warmth. The light of shared values, the warmth of family, and the brightness of hope and peace. We are told in the verses of our worship that, unlike so many candles, our holiday lights need not flicker and die in the space of a few hours, provided we make it a point to carry their light with us throughout the year to come.
I am writing this blog in a time of political uncertainty and societal unrest. The upcoming election and the gravity of world events seem to make our leaders incapable of giving more than lip service to the commonality of our purpose. It is, however, precisely this commonality that accounts for the readership of this blog and others like it.

The website of the advisory group, Vistage, features the statement: "wherever you see a business, someone once made a courageous decision." That statement resonates with me, and I have cited it in many times, in many conversations. I see each of those courageous decisions as a powerful choice to keep darkness at bay.
The foundation of entrepreneurship is courage. The choice to persevere in a labor reflective of one's passion, especially in uncertain times, is one that lives on the leading edge of the flame. Each choice, in its own powerful way, conveys hope.
The coming year will bring us large events to consider and experience. Some may cause us to doubt, fall back, and regroup. But in the midst of the tumult which will, no doubt, characterize parts of 2016, let us remember the brightness of this holiday season. Let us conspire together to embody the lights of our holidays, push back the darkness, and find within ourselves the courage to live the words we pray.
Happy Holidays from Eliot Wagonheim and Outlawyer.
REAL LIFE. REAL NEWS. REAL VOICES.
Help us tell more of the stories that matter from voices that too often remain unheard.