My mother was the only daughter in a family of four sons. While her brothers shared bedrooms and clothes, she was given a room of her own -- on the ground floor, her father used to joke, so that she could more easily elope.
Mom never did elope -- she was too devoted a daughter for that -- but she did marry a Catholic and move to Massachusetts while all of her brothers (well, save one who went missing, but that's another story) married and raised families in town.
As a kid, we'd drive the five hours South from West Newbury, MA, to Mom's hometown of Milford, PA, every Easter and Christmas, with a few summer nights by a campfire thrown in so Mom could show us what it was like camping with her brothers and her father, a former state trooper, hunter and fisherman. (Family lore has it he once bought my grandmother a portable ice fishing tent as an anniversary gift and was rebuffed so strongly, he stuck to jewelry for the next 50 years.)
With every visit, my cousins would be a little taller and have new dirty words to teach and feats to show off. We'd race to the the middle of the pond and back, elbows crashing together as we attempted a breast stroke, and play flashlight tag until my sister and I had to pile our things back into whatever iteration of Volvo Dad was driving at the time and drive away from what we saw as "Mom's family," a separate and clearly outlined world that existed solely on long weekends and holidays. In my child's imagination, they were all always there, leaning expectantly on Nana's fence, waiting for our car to turn in to the driveway.
It never occurred to me that my mother could be torn between the family she was raising and the family that raised her.
When I was in elementary school, Grandpa had a stroke that left him barely able to speak, and it's hard for me to remember the sound of his voice or strength in his body. So, Mom made a point of telling me stories about the man she grew up with, about how he parachuted out of a bombed-out plane at age 19 and survived to marry my grandmother; how he rescued my mom from a tree when her Easter dress got caught on a limb she had scrambled up in pursuit of her brothers; how he was a gifted artist. When we visited him, she would show me -- and Grandpa, leaning forward in the recliner he rarely left -- the drawings he'd made for her when she was a girl. Occasionally, she could even coax a few, shaky sketches out of him as she put her hand on his shoulder and waited for a recovery that never came.
But it wasn't a shaky drawing from my grandfather that broke me down, alone, in my apartment on a weeknight, over half a decade after his death. The homemade card that fell on my lap was written in pen carefully traced over with watercolor, and read:
It opens to a Valentine heart, pierced with an arrow:
The card had slipped from a bundle of letters from an adult Linda writing to her parents about daily life:
''Just got my pictures developed from when you were here last, so I thought I'd send them off to you. I though it was your turn to call me this weekend, but I'm probably wrong and you're miffed because I didn't call, so I'll probably call you before you receive this note. Love, Linda."

''Dear Mom and Dad, I thought you might like to see these pictures I just had developed. We've got to get you up again before the weather changes. Talk to you on Sunday..."
In between her letters are little notes from my sister and me to grandparents we saw only a few times a year; thank-you's for savings bonds and Christmas presents.
My grandfather saved every single one.
For my grandfather's funeral, held on a snowy day a few nights into the New Year, 2006, my mother wrote in his eulogy:
If the measure of a man is the number of academic degrees he has accrued, then my father would fall short. His wisdom and knowledge were gained from life experiences, especially those learned in the two years he spent in a Prisoner of War camp during World War II. It was there that his faith was tested and it was there that he learned not to fear death. His calm manner and unwavering faith have helped me accept his passing, as well as the passing of others.
My mother would call on her father's faith when she was diagnosed with Stage IV cancer in October 2006.
During the one and only conversation I had with my mother about the possibility that she could actually die from the cancer carving out her body, day by day (denial is a strong, strange thing), she pulled me close to her and reached for her bedside table to hand something to me. It was the pocket-sized prayer book her father had carried with him in Stalag 17 prison camp, the book that saw him turn 20, then 21, behind bars, that kept him going through a forced march through the Austrian Alps. The book that took her from chemo session to chemo session, that I had seen her read at night when the pain kept her up and she couldn't sleep and the light from her lamp stretched under her bedroom door and into the hallway.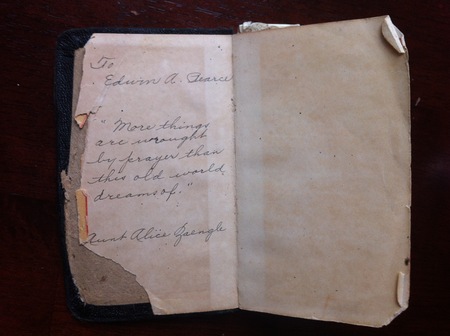 She had underlined a passage: "Fear thou not; for I am with thee: be not dismayed... I will strengthen thee."
As I sat next to her, fragile in her nightgown, she told me, "This was my father's, and it's given me a strength. If one day, you wake up and I'm not here, I want you to find strength in it, too."
I never got to ask her if she read that book to be closer to her father or to feel closer to God. We didn't talk about those things and back then, I wouldn't have known how to ask, anyway.
But what I realized when I saw that note from my young mother to her Daddy was that I had inherited her ability to love.
My mother passed away on October 29, 2009. As I held her simple message in my hands this week, I cried as I had never let myself before for the grandmother my children will never get to meet, for the parenting advice that will never cross my mother's lips, for the notes that will never come in the mail and the visits with grandchildren that will never take place.
But it also reminded me that I can show my future children my mother's pictures, her earnest, early cards and the amateur watercolors of midlife. I can produce time capsules of her beautiful, looping handwriting, talismans of her at 6 and 36, versions of a woman I never knew in my waking life, but see and know as my blood with each preserved word.
Best of all, I can show them the love she showed me, a love she learned from her father. And maybe, hopefully, that will be enough.
Calling all HuffPost superfans!
Sign up for membership to become a founding member and help shape HuffPost's next chapter