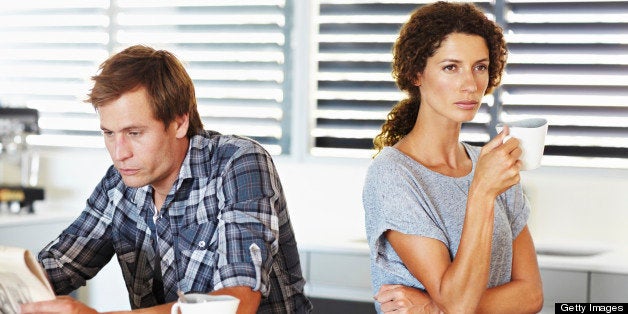 We have a great question today from Maureen:
Why do married men of 20 years suddenly leave their wives and immediately start dating other women?
My husband did this to me; he woke up one morning and said, 'I need to move on.'
Three weeks later, while still living in the basement of the family home with me and the kids, he started dating a woman that he's now married to.
Why does this happen? Shouldn't his new wife be very concerned? This leaves me very shaken even three years later, very scared to get involved with any man again. I know you always say don't worry about why. But I need to know or I'm going to go mad.
Here's the deal, Maureen:
Men don't just suddenly leave. A lot of men and a lot of women are poor communicators. A marriage for 20 years had warning signs probably for 10 years.
Marriages don't just end overnight. Nobody just wakes up, turns over and looks at their partner of 20 years and says, "Hey, this isn't working out for me. Last night was great, but you know what, I want to end this marriage today."
When a marriage ends, it's been ending for a long time, except one party always seems to be blind to all the warning signs.
If you're a woman that's had trouble processing your divorce, processing why your marriage ended, these are a couple of things that I'd like you to do to really start to understand.
One of the first things you need to do is really go back in time and take a look at the warning signs. They were there the whole time.
Think about maybe a vacation you took apart.
Think about how often he was working late.
Think about the lack of conversations; think about how you weren't intimate. So many things were going wrong in that relationship. A relationship never just ends; it ends slowly. It ends over time.
Think about the communication between the two of you. Were the talks deep? Did you talk about the relationship? Did you talk about things that would move the relationship forward?
A lot of men -- and a lot of women -- have trouble going deeper into what I would call the intimacy zone.
They tend to accept things the way that they are. They're afraid to voice their opinion; they're afraid to talk about things. And then all of a sudden the relationship seems to end out of nowhere.
This is the hardest thing for most people to understand: Don't take it personally. Yes, you were probably blind to all the warning signs. But then again, you probably chose to be blind because you didn't want to admit, deep down, that the relationship really was not as satisfying as you wanted it to be.
You probably weren't satisfied on so many levels as well. When this happens to a woman, a lot of times they will concentrate on the hurt. They'll concentrate on the why instead of really going deeper and thinking of themselves.
This relationship didn't really work for me. This was a relationship that did not satisfy me.
It's time for you to go inward; it's time to look and really pinpoint the reasons why the relationship ended.
It's never what it appears on the surface. Go deep inward and don't be afraid to move forward. The next relationship you've learned from so many things in this past relationship.
Keep the communication going.
Keep your feelings going.
And don't become so numb.
It's a beautiful thing when this happens, because it's a great life lesson. But there are plenty of amazing men out there that still want to meet you.
Popular in the Community