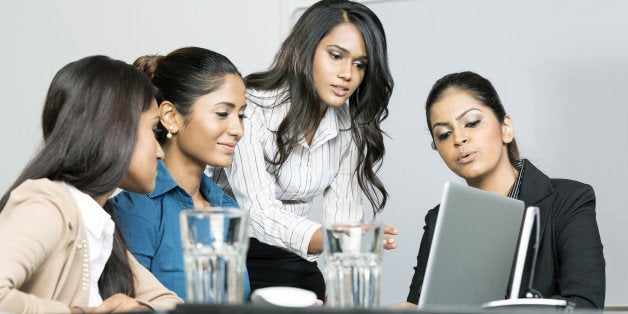 Opening a business online has never been easier than it is today -- yet this ease of access also makes it harder than ever to stand out from the crowd.
With so many "vanilla" online businesses, it is said that 9 out of 10 startups fail within the first 120 days.
While some wannabe online entrepreneurs may be lulled by the misconception that they will be able to stay in their pajamas all day, place a few advertisements on social media and watch the money roll in, this is certainly an anomaly rather than the norm. What is apparent is that many successful online entrepreneurs have a powerful personal brand, enabling them to capture and connect with their audience.
Building a personal brand depends on developing a relationship and trust with your followers. Defining what it is that makes you unique and being brave enough to show the real you. People do not want to do business with a computer; they want to connect with a real person -- with real stories. And make no mistake, stories create connections with the real you.
Incorporating stories into your business successfully is an art and two highly successful entrepreneurs who do this in their business are Pat Flynn and Lewis Howes.

Pat tells a story of how he went from being laid off at 9-5 job to earning more money and working less (with more flexible) hours -- which in the end allowed him to be home and spend time with his family. Pat is known and loved for his transparent leadership.

Lewis' story starts with his career as a professional athlete getting cut short when he injured himself playing football. Lewis says his life went from broken, broke and clueless on how to make money or get a career to becoming a New York times best seller and building up a multi-million dollar online media company.
Both of these men have popular podcasts and both of them use story in their business strategy.
Below is an interview with them on the topic of stories in their business.
KW: How did using your personal story help grow your business and brand?
PF: It helped me become more of a real person online. In this space, the more human you can become, the more a real connection can be made, and when you're building an audience, the trust you have with your audience is the most important asset you can earn.
LH: My personal story was all I had to begin with. I was a washed up athlete who had no credentials or experience off the field. I told my story over and over again as I made initial connections in the sports business world; it was the foundation of my brand and still is today. It's what people connect with because they can relate to it.
KW: How do you choose what stories to tell in your business?
PF: I choose to tell stories that always relate to some lesson or transformation I want my audience to have. Facts and teaching step-by-step alone can be boring, and it's hard to stand out of the crowd these days because a lot of people are sharing the same things as others. When a story is injected into it, it becomes unique to the person telling it, the readers (or listeners or viewers) become more engaged and ultimately are more likely to take action. I include stories as much as I can and simply pull from examples of my own experience to support and add a flavour to the lessons I'm teaching.
LH: I always know it's going to be a powerful story when I feel vulnerable telling it. That's a good indication to me that people will relate to what I'm saying. That said, I also choose stories that involve me learning an important lesson, with some humour and a lot of the values I live by (hard work, hustle, belief, mindset, etc.).
KW: In your opinion what is the key to a powerful story?
PF: Two things: an arc, and emotion.
An arc is a part of classic storytelling, where there is a sequence of events that take people through a journey. A linear story is boring, but ones full of ups and downs become more exciting and engaging to consume.
Emotion is important because it is through emotion we connect. Without emotion, even with an arc involved, the story just becomes bland and uninteresting, or worse, unbelievable.
LH: Vulnerability, every time. A story about a flawless hero is flashy, but no one relates to it. When I share my flaws, mistakes, failures, dark times, doubts, etc. people really start to relate and feel like they can trust me. That's the power of a good story.
KW: Of all your business mentors or inspirations, whose story do you most relate to and why?
PF: I'm most enthralled by Elon Musk. His biography was incredibly powerful, and to learn what this man has gone through to get to where he's at today, to change the world in the way that he has, it's humbling, but inspiring at the same time. He almost lost it all, a number of times, but the bigger the risk the bigger the reward. I look to him to help me think bigger, and have less limits to what I feel is possible.
LH: Wow, that's a hard one. I am so inspired by A players like The Rock and Gary Vaynerchuk,but I'm also different from them. I'd say Tony Robbins is one I have related to for years, since I first heard him speak as a teenager, because he struggled so much in the beginning but he didn't give up and he learned how to become the best through hard work and hustle.
KW: What is the best feedback you have had on your story?
PF: The best feedback I've heard about my story is that it's impactful. That's why I'm here, and why I do what I do, to make an impact. To resonate with those who hear my story so I can inspire them in some way. I've also heard that my story is inspiring, because it gives hope to those who may feel like they are lost, which is what I was when I was first let go, however inspiration is just the beginning - the burst of energy needed to begin thinking differently. It's impact, however, that gets people to start to take action on that inspiration.
LH: I have cried before over some of the emails I've received from podcast or book fans who tell me that hearing about my journey to self-compassion, business success, and perseverance inspired them to take on massive obstacles in their life. These stories come from people of all ages too. The ones that usually hit me the most are from young guys just out of high school who are taking on their life and career by creating their own opportunities because I know how much courage that takes.
To learn more about how to incorporate stories into your business, knowing what stories to tell and how to intrigue your audience check out Write Your Brand Story
REAL LIFE. REAL NEWS. REAL VOICES.
Help us tell more of the stories that matter from voices that too often remain unheard.