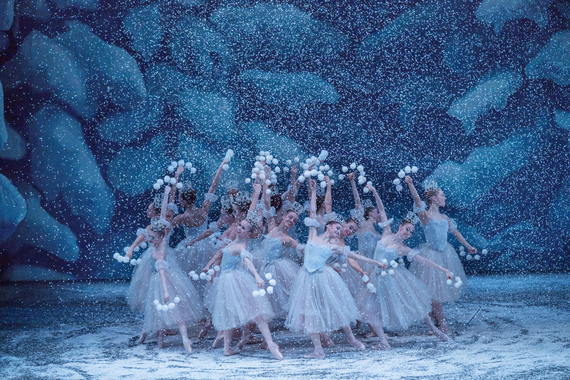 The Snow Scene in George Balanchine's The Nutcracker. Photo credit by Paul Kolnik.
For many, The Nutcracker is a holiday tradition, ushering in the season with growing trees, toy-sized battles, and sugarplum fairies tottering from one pointe shoe to the other. When I was a kid, the ballet marked the coming of Santa Clause as much as gingerbread houses or light displays, and came much earlier -- rehearsals began in September, and by November I was already eager to be onstage, bringing the magic to life. Now, I sit in the audience almost every year, hoping to relive some of the wonder I felt when I performed Clara myself.
And in one of the world's dance capitals -- New York City -- I have a lot of Nutcrackers to choose from, whether classic or quirky. Perhaps the two most recognized are Balanchine's rendition from 1954, performed by his own New York City Ballet, and Mark Morris' The Hard Nut. One is for Nutcracker purists, while the other caters to more whimsical theatergoers looking to laugh instead of reminisce. Both are warm, sweet, but not enough this holiday season.
The Nutcracker narrative stems from the work of E.T.A. Hoffmann, and both Balanchine and Morris take pages from the 19th-century story as well as Marius Petipa and Lev Ivanov's original choreography from an 1892 debut. They also share Pyotr Ilyich Tchaikovsky's masterful score, and have pulled together orchestras that play it beautifully. From the first note of the overture, listeners dive into a sensory experience that heightens the anticipation for a rising curtain and dancers poised behind it.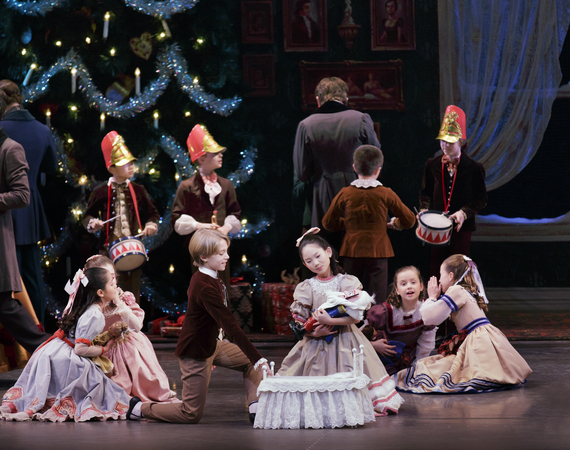 The Party Scene in George Balanchine's The Nutcracker. Photo credit by Paul Kolnik.

Unfortunately at the David H. Koch Theater, where New York City Ballet calls home, these dancers are mainly children, probably students at the School of American Ballet. Thus, Balanchine's version of The Nutcracker -- now a staple in the American dance repertory -- falls into the same trap as the 1892 premiere. Then, critics scorned the party scene and what followed for over-reliance on the cuteness of children; only in Act II did the real dancing come, and then often under the guise of gimmicks. I now say the same about Balanchine's immortalized ballet, which garners audiences for over a month of performances between Thanksgiving and the New Year. NYCB has, unquestionably, one of the most talented groups of dancers in the world. And yet for two hours, kids are placed center stage, and professionals who have trained their entire lives fill the background. When I attended, Harrison Ball -- who distinguished himself in The Blue of Distance at City Ballet's Fall Gala -- was a mouse engaged in amateur combat. Even more heartbreaking, another Harrison -- Harrison Coll -- portrayed a large woman, hoisted inside a moving skirt for comedic relief as Mother Ginger. Coll is perhaps the great young talent of NYCB, with extraordinary charisma and artistry. So to have the potential of seeing him dance wasted on a role like Mother Ginger proves devastating when you know his capacity.
What's more, when dancing did happen, it did not go smoothly. New York City Ballet has become a company of artists, which is a truly wonderful thing. But as they've developed as individuals, they've lost cohesion as an ensemble. While the snowflakes traveled across the floor, they looked in canon, never precisely together on the music. A dancer dropped her snow-laden prop, and the forest felt lazy, like it was melting in this year's unconventional New York heat.
Even the soloists lacked enthusiasm: Savannah Lowery seemed uncomfortable as Coffee, cringing in her two-piece costume; leaping through his hoop, Daniel Ulbricht's lines were unrefined; Lauren King wobbled out of pirouettes as the lead Marzipan Shepherdess; Megan Fairchild looked pretty but strained as Sugarplum, like she was having trouble readjusting to life off Broadway. There were exceptions, of course: Georgina Pazcoguin and Taylor Stanley let off some steam as Hot Chocolate, and Sterling Hyltin seemed like she would balance in perpetuity when she hung in an arabesque as Dewdrop. But as a company, there was nothing dazzling about New York City Ballet in a tale as old as time.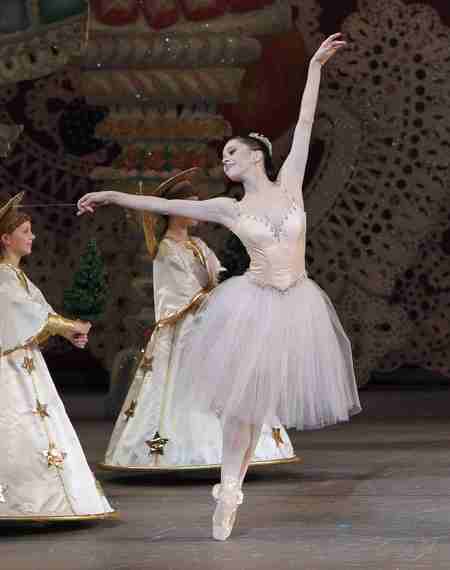 Megan Fairchild as the Sugarplum Fairy in George Balanchine's The Nutcracker. Photo credit by Paul Kolnik.
Morris' The Hard Nut at BAM deserves praise for avoiding Petipa, Ivanov, and Balanchine's dire mistake: Morris has not allowed any children to adulterate his universe, and the role of Marie is played by the always joyous and tasteful Lauren Grant, who just won a Bessie Award for her career with Mark Morris Dance Group. Perhaps because the production avoids the problem of adorability, it is able to provide more guffaws and fewer snoozes than a more traditional account. Morris is also still alive and thriving -- he recently set a new work on American Ballet Theatre for its 75th anniversary, and he performed as Dr. Stahlbaum and the King in The Hard Nut -- so the piece feels more fluid and adaptable, changing with the years. There is nothing sacred about The Hard Nut, nothing curate-able or archive-able, yet. As long as its choreographer is still kicking, it's a work in progress, and that makes it better.
Set in what seems to be a 1970s household, Morris' party scene includes dances like the hokey-pokey, the polka, and the bump. There's a lot of sexual innuendo, but it rarely feels lewd. The scenery is a dead-ringer for pop art, and the characters are all exaggerated satires of themselves. Warhol would be proud.
The battle scene features mechanical mice and G.I. Joe Soldiers who prove to be cowards, and snow is a slew of androgynous beings in crop tops and tutus. Then, Morris turns away from Petipa and toward Hoffmann's story, which reveals how the prince became a nutcracker. This fills the second act instead of a land of the sweets, and the divertissements morph into adventures around the world searching for the hard nut. Humor runs dry as Drosselmeier finds a bull and her fighter in Spain, a klutzy seductress for Arabian, and high-maintenance fashionistas in France. By the time the show ends, you are glad to go, even though the first half was worth seeing.
Morris has collected some good dancers -- Billy Smith as Drosselmeier has charm to spare, Lauren Grant is great, and newcomer Patrick Coker's training stands out, even in the corps. But for the most part, Morris' dancers aren't technicians, they're entertainers. And after two hours, no amount of entertainment can make up for the lack of basics like pointed feet or stretched knees when you're used to them.
However, perhaps the most unhinging element of both Balanchine and Morris' Nutcrackers, and Nutcrackers around the country, is their treatment of diversity. In the 1890s, orientalism was all the rage, and stereotypes got thrown around like fact. But that in the 21st century both the New York City Ballet and Mark Morris Dance Group whip out bobbing heads and squinty eyes for Chinese Tea is astounding. Furthermore, that Arabian Coffee must be uncomfortably seductive, even at a family show, unveils a disturbing reality about our fetishization of the Middle East. The funniest part is that if these were new productions unprotected by legacy, they would unquestionably cause a rebellion among people who don't believe in casual racism. But because The Nutcracker is canonical, we take it at face value. A predominately white audience watches a predominately white cast take on demeaning, harmful generalizations about the "other," laughing all the while.
This is the most off-putting realization that comes with attending The Nutcracker these days. We live in an hour of hate for difference, in a time when people want to destroy what they do not know. It's a time of fear and anger. A time when presidential candidates talk about building walls a mile high to keep immigrants out, when refugees are denied shelter because of their beliefs in a nation that's ostensibly based on freedom. At this moment, a cultural staple like The Nutcracker feels wrong because it comes at a rare instance of peace -- the holiday season -- that should be about acceptance and appreciation. Instead, it mocks others, bolstering a sentiment of superiority and dominance among white America despite its origins in Russia and Germany. And the last thing an American public needs to see right now is a production about foreign stereotypes.
The Nutcracker is a tradition, but maybe it's time to refine that tradition or find a new one. It's lost a lot of its magic, zapped up after so many decades, and it's contributing to the systemic racism that the arts need to be fighting. The Nutcracker is a ballet about war and exceptionalism. Where is our ballet about peace and equality?
Related
Popular in the Community