Everyone is fascinated by what goes on onstage during a ballet, but we wanted to know what happens backstage. How long does it take the ballerinas to do their makeup? What do they eat before a performance? Where are the costumes made? Is it anything like "Center Stage?"
Lucky for us, the New York City Ballet (NYCB) let us find out all we wanted to know. We got full backstage access as the dancers got ready for a matinée performance of the "The Nutcracker," and we were able to finally learn what really goes on behind the NYCB curtain.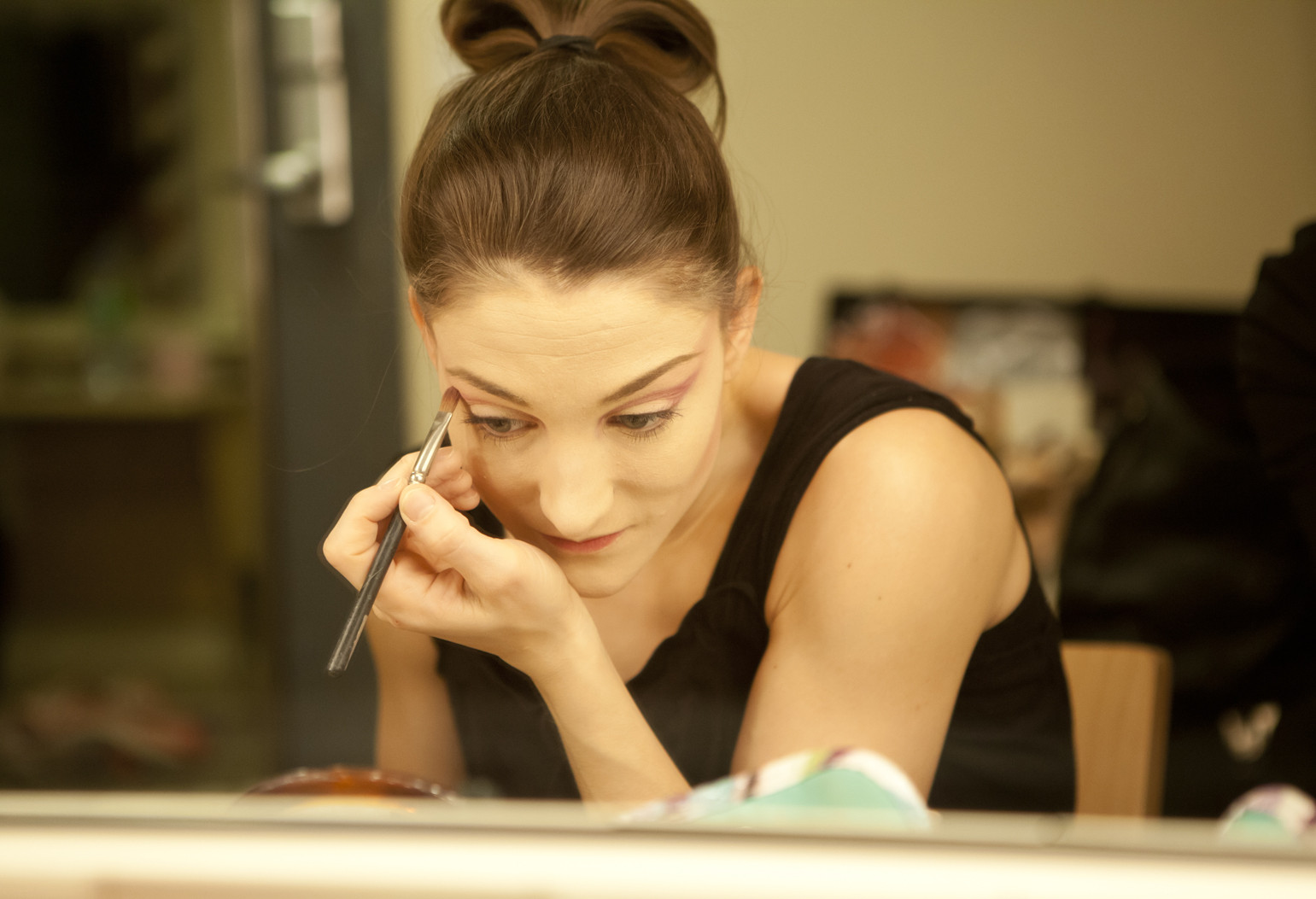 "I knew from a very young age that this is where I wanted to be," NYCB principal dancer Ashley Bouder told us while she expertly applied fake eyelashes. The Pennsylvania-born ballerina has been dancing for 24 years and has performed in ballets like "Swan Lake," "The Four Seasons" and "The Sleeping Beauty," just to name a few.
Today she will be dancing the part of "Dewdrop," one of the main roles in "The Nutcracker." And while you may think that a principal dancer at the New York City Ballet gets star treatment, Bouder is mostly left on her own when it comes to getting ready for the performance. Though there is always a hair and makeup team ready to help, especially for any dancers that are wearing special headpieces or require character makeup, most dancers prefer to just do it on their own.
And Bouder has it down to a science. "I can do a full face of makeup in 15 minutes," she told us nonchalantly. And she wasn't kidding. In the brief amount of time we sat with her she transformed herself from an ordinary New York City girl into a prima ballerina.
While Bouder is certainly dedicated to her job -- she rarely takes a break, flying to Italy to perform when the NYCB isn't in season -- she is also juggling school on the side. So when does she sleep? Yeah, we have no idea.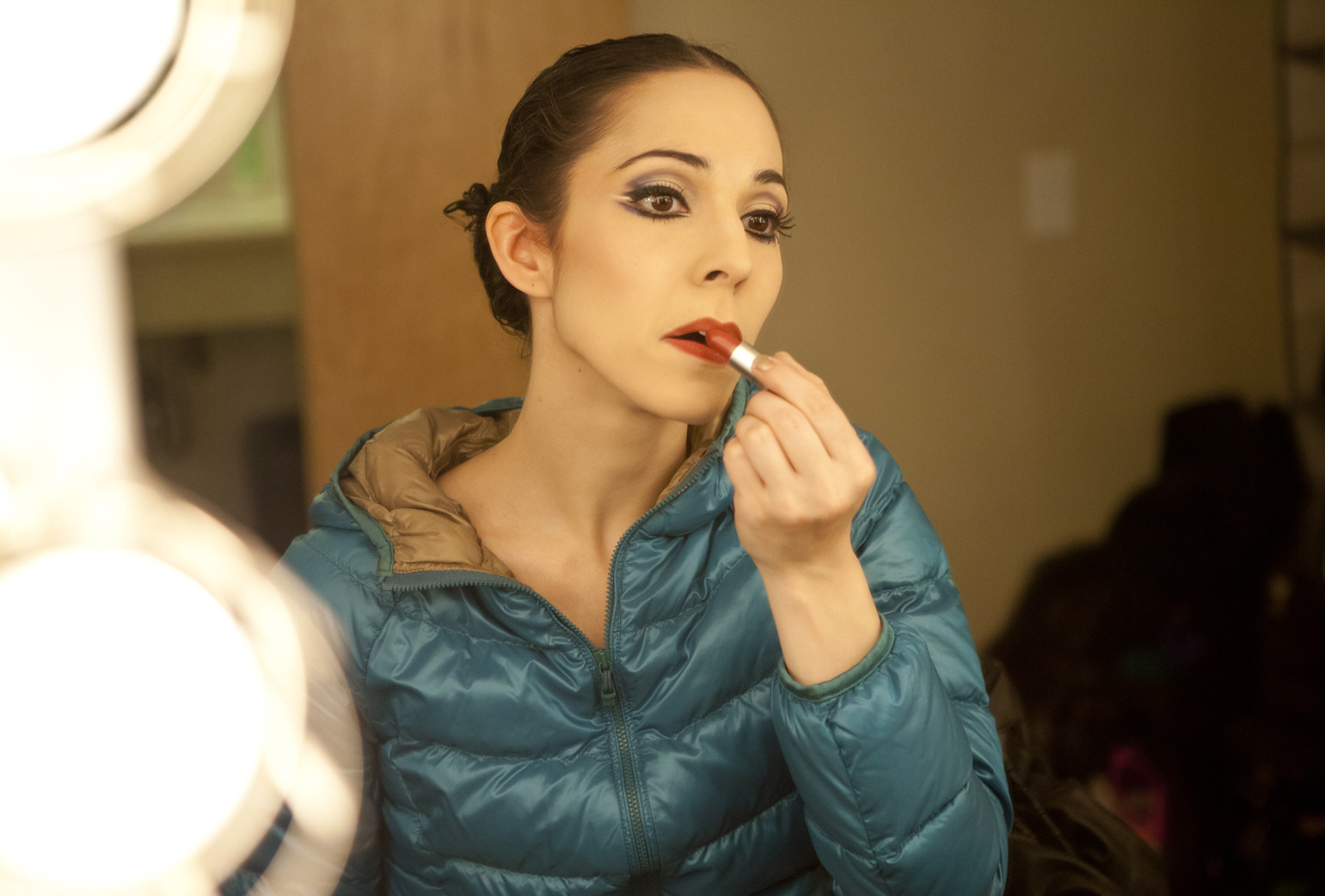 It seems as though Bouder was destined for the stage, but Ana Sophia Scheller, another NYCB principal dancer, didn't set out to become a ballerina.
"It's funny because when I was in school, after school, you could either do ballet or soccer. And my mom saw that I was bored so she put me in ballet when I was in first grade. So I started then. And then my mom asked me if I wanted to do it for real when I was nine and I said yes," the Argentinean dancer told us.
Scheller, known as the best "turner" in the company (as in, pirouette turner), is as charming as she is graceful. She gets excited when talking about future ballets she'd like to perform ("Swan Lake" tops her list), and she likes eating pizza right before she hits the stage, something other dancers might consider taboo. She loves doing elaborate makeup when she's off-duty and owns enough leotards to open up her own dance store.
But Scheller is also quick to acknowledge the not-so-glamorous side of ballet. "Recently I did 'Sugarplum' [a lead role in 'The Nutcracker'] and the guy's costume had buttons down the front, and we did a shoulder sit and when he put me down, the buttons caught on my tutu. So while I was dancing, he was ripping my costume, trying to get it untangled." We bet the audience didn't even notice.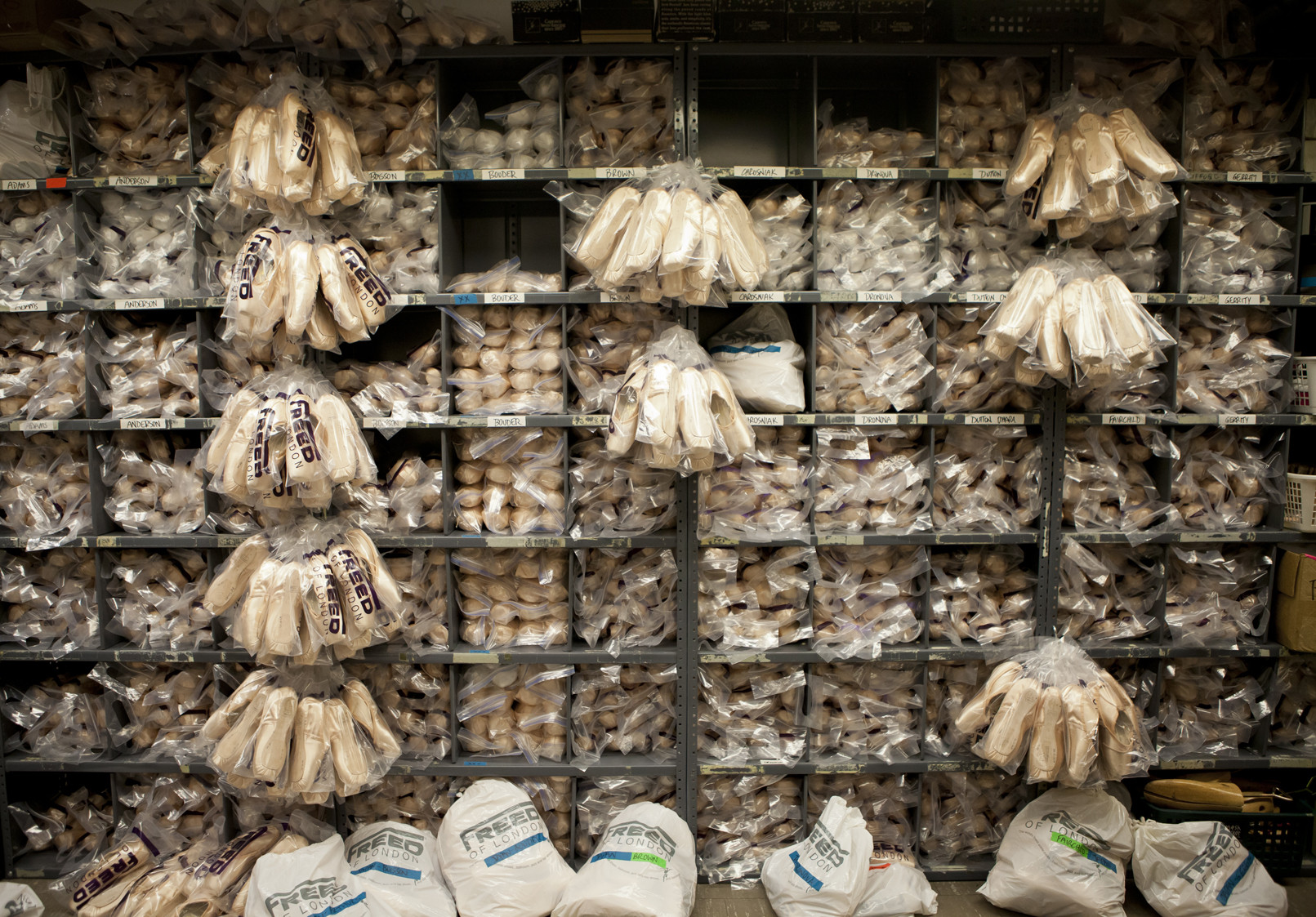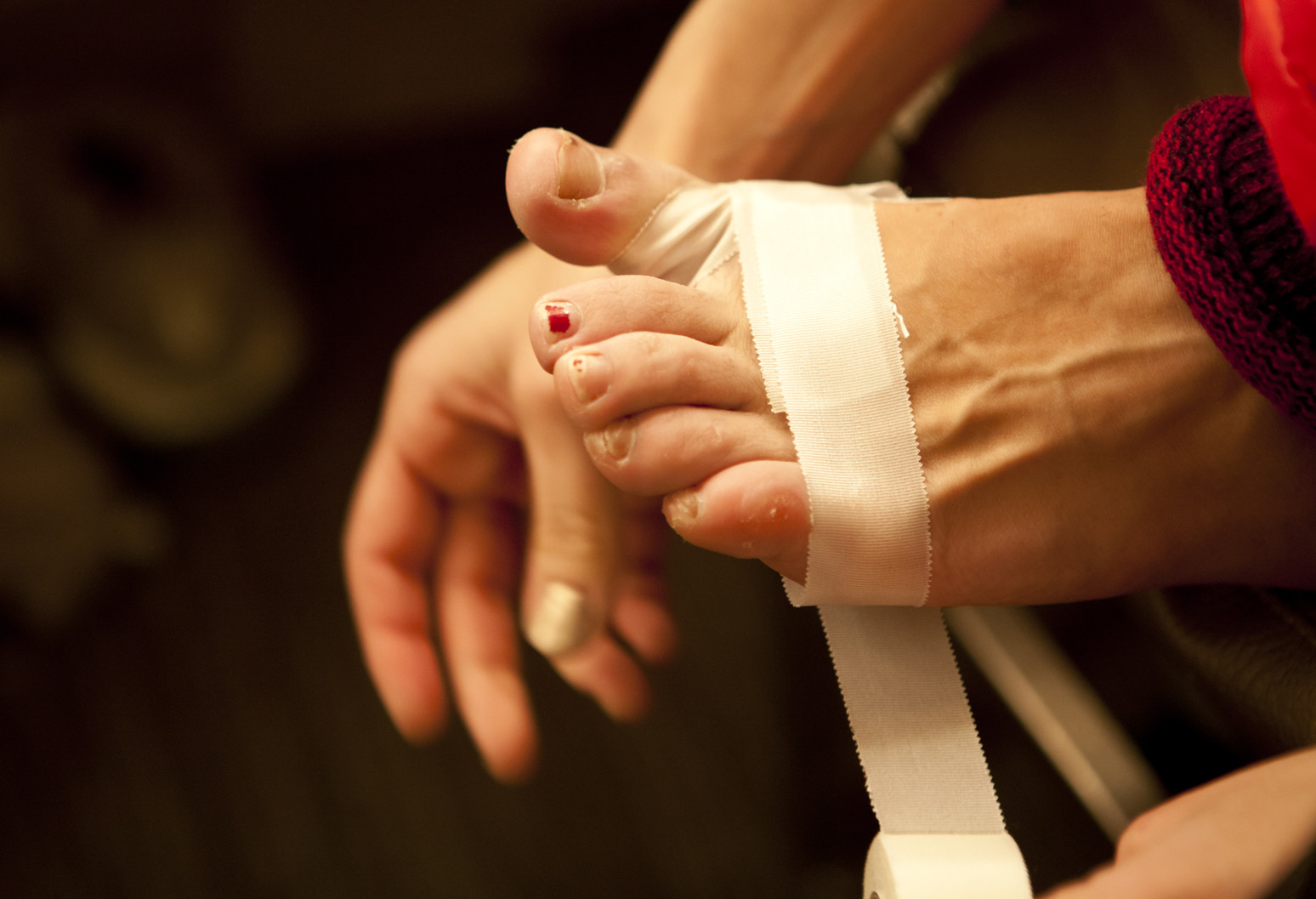 A dancer tapes her feet before putting on her pointe shoes
There were many fascinating rooms underneath the David H. Koch Theater where the NYCB performs, but the most interesting had to be the pointe shoe room. It's a small room filled with hundreds of pointe shoes for each female dancer in the company. Though it seemed a little excessive, many dancers go through at least one pair during a performance, if not two. To ensure that all dancers have enough shoes, the company orders about 8,500 pairs every year.
The shoes are handmade in London, and the dancers are able to pick who makes their toe boxes (the portion of the shoe that they stand on). The shoes are mostly made up of fabric, cardboard and glue, and they break down quite quickly once they get sweaty. But the pointe shoe's biggest weakness is also its biggest strength. Because of the natural paste used in the shoes, they are lightweight, mold to the foot and aren't too loud on stage.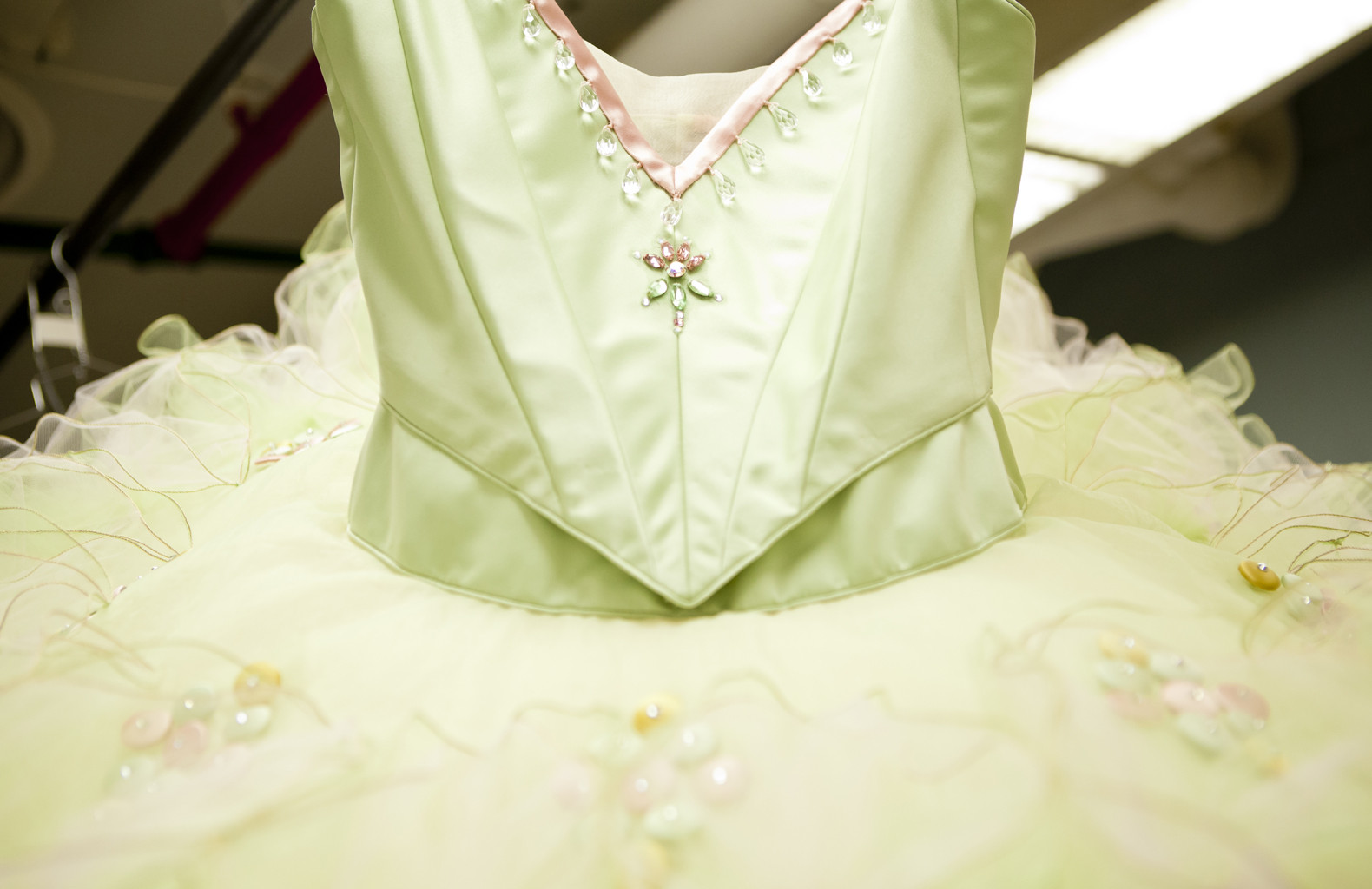 A tutu in "The Nutcracker"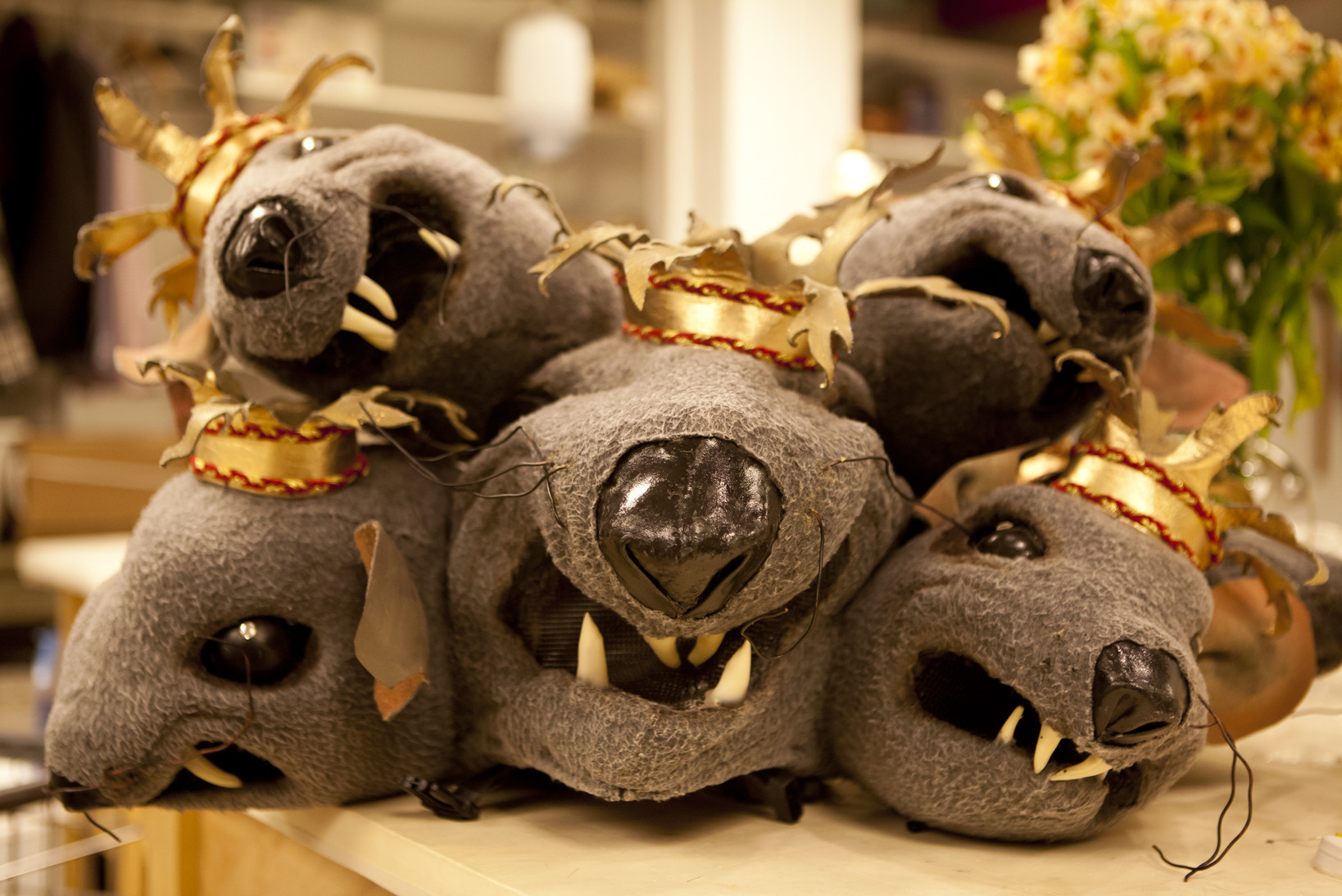 Mouseheads in "The Nutcracker"
On stage "The Nutcracker" costumes look beautiful. But when you see them up close, they've clearly been around the block (read: they look old). They don't get replaced very often; in fact, since "The Nutcracker" opened at the NYCB in the 1950s, they've only been replaced once.
Katharina Plumb, the manager of media relations at the NYCB, explained the process behind updating costumes. "The costumes in 'The Nutcracker' have designs that can't be changed. They were designed by Barbara Karinska, the goddess of ballet costumes, and you can't mess with her designs. And that even goes down to color and fabric. So a big part of our costume shop's challenge is finding the right fabrics, and some of these fabrics were used 60 years ago and they don't exist anymore, so they need to try and find another fabric that they can use that looks the same. Or if they can't find the color, they have to dye it. It's a whole process."
Between the costumes, the pointe shoes and the dancers' routines to get ready for a big show, the entire operation at the NYCB is a process. But once the lights go down and the dancers hit the stage, it just looks so damn effortless.
If you're interested in purchasing tickets to the NYCB's performance of "The Nutcracker," you can buy them here.
All photographs by Raydene Salinas/HPMG
More photos from behind the scenes at "The Nutcracker":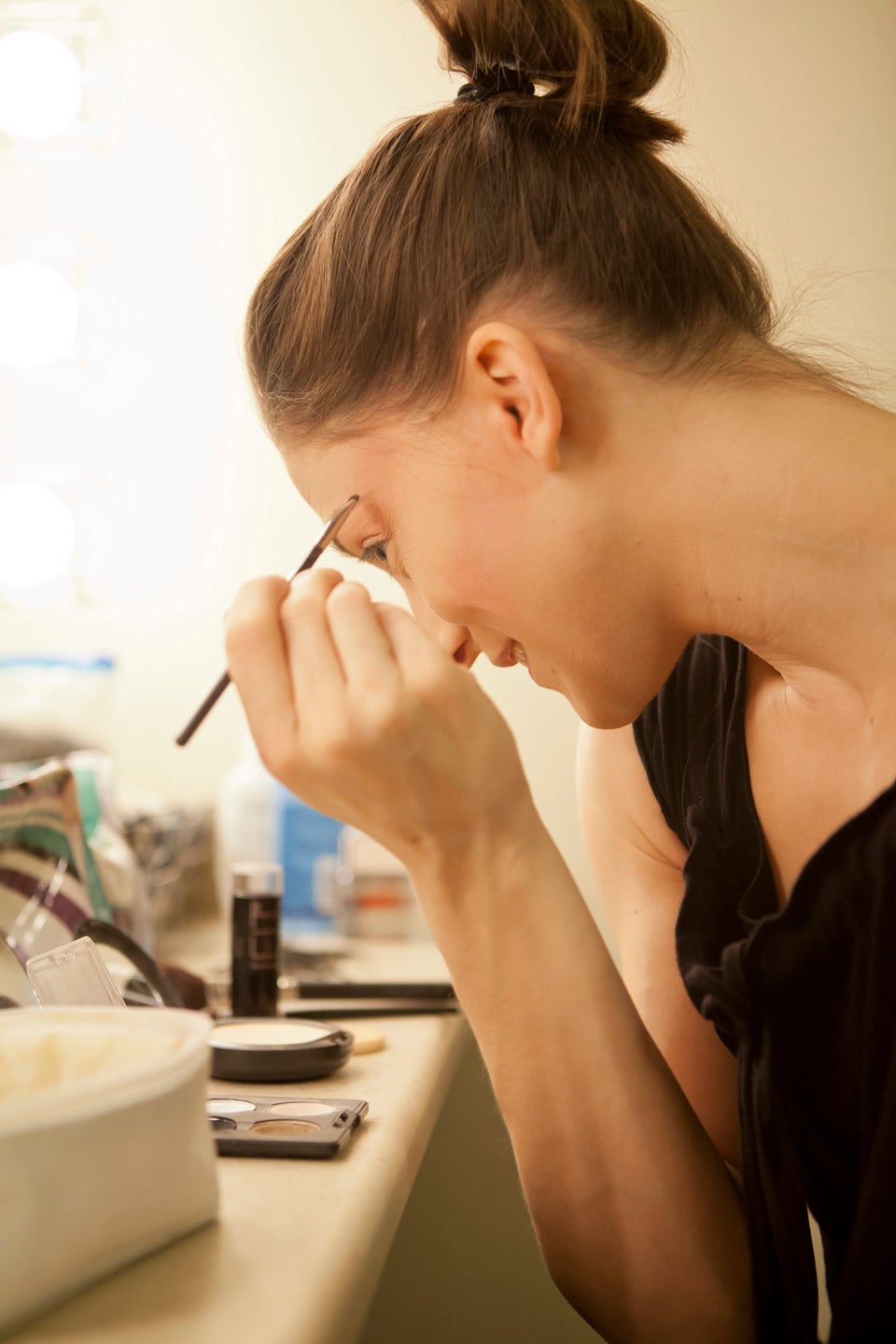 New York City Ballet
Related