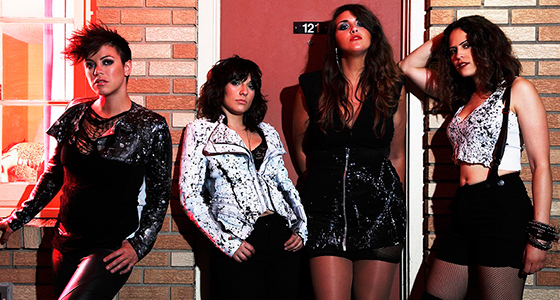 With over a decade in the music game, the four-piece all-girl band Hunter Valentine originally from Toronto is set to give it all a break after the release of their final EP The Pledge along with their current So Long For Now tour. Quickly embraced within the Toronto music community, Hunter Valentine was not content with the path that a lot of Canadian bands accept where getting noticed outside of the country seems impossible, and they were able to tour the world and cross off many bucket list items during the band's run.
Recently, I was able to chat with Hunter Valentine's drummer Laura Petracca about why the band is planning their upcoming hiatus and what they all plan to do, along with talking about how the band first started and how they were quickly accepted by the people in Toronto.
What was behind the decision to make these final farewell plans for the band?
What we were deciding on when we were making the EP was originally just to make an EP. We've been doing this for like 11 years right, me and Kiyomi [McClosky], so we decided we kind of want to take a bit of a breather. We did the EP and we're doing the tour, then I guess the idea is that we're just going to take on festivals here and there and other than that, like any good thing you want to give it a break and maybe come back to it in the future.
What are your plans with the time being away from this band?
Kiyomi's is going to be doing a solo project. The other girls are musicians at heart as well so their going to go off and do whatever it takes to continue touring with bands and playing. I'm actually the only one that's really going to do something different. I'm going to be focusing on food. I really haven't figured out what exactly I wanted to do, but its going to be food and music's my life so I'm sure there's going to be something musical I'll be doing as well.
I am. I'm trained in culinary arts and I've worked in many, many, many, many kitchens.
Looking back to when the band first started, what was the outlook about it?
My perspective was back when we first start playing the idea was we wanted to become huge rock stars (laughs). We wanted to be able to get our music out worldwide. We wanted to be able to travel everywhere. We wanted to play incredible venues and play with different bands and see different places. I feel like we've pretty much reached a lot of those goals. We played with Cyndi Lauper and Sum 41. We've played in theaters and amazing venues like the Greek Theater and Massey Hall in Toronto. We played in Japan. We've done a lot of cool stuff. I mean the goal was to pretty much get to what we did. The only thing that we maybe didn't knock off the list was the bagillion dollars! (laughs).
These days it's a bit hard for a band to be sustainable. You see a lot of bands that look like they might have it together financially, but no, they have to still tour 3/4th's of the year to pay their bills.
Yeah, exactly, even more so. Its tough because the industry has changed, so the only thing now its about is that touring is the game now, before it was record sales and bands didn't necessarily have to do as much touring. Now, touring is kind of where you make your money so when people buy the merch, they are actually supporting putting gas in the van and putting food in our mouth.
When the band was first coming up in Toronto, how did you fit into the scene?
That all-girl rock, pop, punk, that era kind of ended when we started doing it. It was going into the next phase in music. The road was already paved for us slightly. I feel like in Toronto when we first started playing, our bass player was a publicist, so we got recognized real quickly. Actually, in Toronto, we had some pretty instant success. We were getting covers of really popular papers in Toronto that bands that are REALLY famous haven't really gotten yet. We were sort of accepted and taken in by Toronto immediately. That was amazing to just have all these people believe in you so quickly. We felt as though we really came up in Toronto fairly quickly, so we toured with some pretty good bands all over Canada. After doing that for like five years, we decided that we want to keep going further beyond Canada. We moved to New York and made a partnership here, and we've been just out all over the United States. We been to Europe, been to Japan. Just ongoing, fruitful. It was amazing. It was a really hard road. I'm not going to lie. I feel like we made a lot of good steps from not just staying in Canada, but moving out and branching out and going out. There's some really BIG, BIG epic bands in Canada that just nobody knows about. I don't know why that happens.
Hunter Valentine's So Long For Now Tour rolls into The Pike Room at The Crofoot in Pontiac, Michigan on Monday, March 21st. For more information, visit huntervalentine.com.
Calling all HuffPost superfans!
Sign up for membership to become a founding member and help shape HuffPost's next chapter