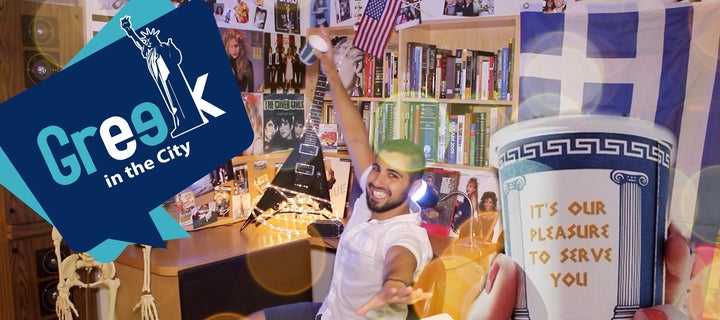 The Anthora cup is possibly one of the most iconic New York City staples along with the statue of liberty, bagels, and I love NY t-shirts. Designed by Leslie Buck in the 1960's for the Solo Cup Company, it was inspired by the Greek culture, depicting Greek columns, the words "We Are Happy to Serve You" resembling Ancient Greek letters, the Greek key lining the top and bottom and the colors blue and white in reflection of the Greek flag. The cup gained popularity in the 1970's thanks to Greek owned diners, numerous coffee carts and later became the standard coffee-cup-to-go throughout NYC.
The cup saw a steady growth between the 1970's and 1990's becoming the most successful cup in history. Production was halted on the cup by solo cup company in the early 2000's but has since been brought back to rave revues and excitement.
I love making videos about the Anthora coffee cup… I started on my YouTube channel Greek in the City searching for the iconic coffee cup in local shops in Astoria, Queens, one of the Greekest towns in America (or the world.)
Thank you so much for taking the time to read my blog and watch my videos I hope you enjoyed them. Please check me out on YouTube on the channel Greek in the City and don't forget to click that subscribe button.
Related
Popular in the Community