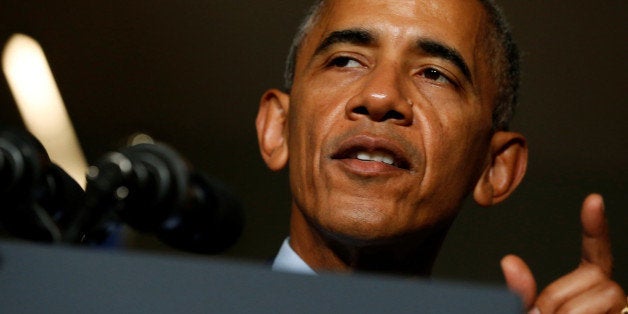 The myth is so much fun to retell that the reality has never been worth investigating. You have heard it many times before: The president appoints unqualified rich guys to ambassadorships simply because they raised a lot of money for the campaign, and then the fat cats proceed to hunt and wine and dine, making a mockery of U.S. foreign policy.
And Twitter is ablaze once again with such chatter, the result of a just Wikileaked DNC document reporting fundraising amounts attributed to several of President Obama's first term ambassadors.
But President Obama vowed not to follow that mold. And although few noticed and many proclaimed otherwise, he worked hard to keep his word. The results were stunning.

Of the 180-plus U.S. ambassadors around the world, roughly 140 are picked from the 7,500 career State Department officers who have no affiliation with the president and who serve set three-year terms no matter who occupies the White House. But for the 40 or so foreign countries where U.S. policy and politics matter most, each President sends a member of his team. In such countries, a career diplomat would have an impossible time--for example, first representing George Bush (publicly supporting Guantanamo and opposing climate talks) and then switching to represent Barack Obama (and reversing his or her position on Guantanamo and climate talks). And in those roughly 40 countries, the foreign governments value the relationship with an ambassador who has the panache of White House connections rather than the label of bureaucrat. Every such ambassador moreover already has the assistance at the embassy of dozens of career State Department officers. In such countries, a member of the sitting president's bench therefore offers greater upside in moving diplomatic interests forward.

After President Obama sent his first term team, the usual stories were told and retold from time to time about know-nothing rich guys, doing poorly. Yet, with the book having fully closed on the first term ambassadorial group, the reality proved even more interesting than the gossip.

First, the credentials and experience of Obama's political selections belied the empty champagne glass myth. One was a former lieutenant governor of Virginia who had lost the governorship by a hair and had been a finalist for deputy secretary of commerce. Another had served as general counsel and then chairman of the FCC. A third was a former principal deputy director of the Policy Planning Staff at the Department of State, deputy director of studies at the Council of Foreign Relations, and adviser to Newt Gingrich's Task Force on the United Nations. There was the six-term Congressman, who had headed a national security think tank; the chief domestic policy advisor to Vice President Gore; the chairman of the Corporation for National and Community Service under both Presidents Clinton and Bush; and the minority whip of the Georgia State Senate. Two were academics: one a theology professor from St. Johns University and the other a law school dean who had served in the Office of Legal Counsel for Presidents Reagan and Bush. One had been a leading Republican governor.
As to the eight private practice attorneys, three had graduated from Harvard Law School, one from Stanford, and three from Georgetown. Four had been partners at top Washington, D.C. firms, one at a leading Chicago firm, another had managed the premier technology law firm in California, and another had been Chairman of a prestigious Boston firm. Several had strong backgrounds in government. At least two were finalists for deputy secretary positions and virtually all had rejected top legal or policy jobs in the government.
Only a handful had previously dedicated their careers purely to business. Even among the business folks, the credentials and experience were top-notch. One had graduated from Harvard College and Wharton Business School, before heading Goldman Sach's operation in Germany, Austria, Switzerland and Central Europe. Another had spent his childhood abroad as a diplomat's son before graduating from Yale and Harvard Business School and working his way up to CEO of two family entertainment corporations. A third had graduated from Harvard Business School to lead one of the country's biggest food distributors. Another had graduated from Harvard and helped build a leading technology company. One had been vice chairman of Citigroup Global Investments. The list goes on.
Unlike their predecessors from prior administrations, at the time of their appointment, almost all still worked hard for a living. Many had school-age children. Almost all took huge pay cuts to serve.
Most of those chosen had been substantive members of the Obama first-term election team. They had worked policy, media, delegates and constituency groups; they had knocked on doors. Of course, like so many associated with the first Obama campaign, most had also been credited with raising money. But virtually none came from the ranks of leading, long-time Democratic fundraisers and bundlers. (To a large extent, such well-known bundlers had supported then Senator Clinton. And, in many respects, the first Obama campaign had only one real bundler: Barack Obama. Regardless of who collected the check, people usually contributed to that race for the opportunity to see the most exciting figure of American politics of our time, not to satisfy the demands of a supposed power broker who in turn yearned for a four year hunting trip to Europe. On the Obama campaign, no fundraiser held leverage over the candidate himself. )
The challenges faced by the Obama-selected ambassador corps were formidable. While President Obama is now popular in foreign capitals, the legacies of prior U.S. decision-making in Iraq, at Kyoto, and on Wall Street had left many allies with jaded views of the United States. Despite the popularity of the president, securing support for NATO's Afghanistan efforts, Iranian sanctions, and Guantanamo relocations were not popular asks. And no group of Ambassadors has had to face diplomatic challenges as daunting as the fallout over Wikileaks disclosures or security concerns following the attack on Benghazi.
Despite the challenges, the results have been impressive. Americans, long used to leaving their logo tee shirts and baseball caps home when they travelled abroad to avoid getting hassled, now can and do proudly display their Red Sox finest in foreign capitals. Trade relations have been growing. The U.S. Ambassador to Japan became a country-wide hero following Fukashima. Faced with difficult Wikileaks disclosures , the U.S. Ambassador in Germany won kudos from the government and citizens alike for his straight-forward handling of the problem. American embassies turned green, reaping admiration and appreciation throughout Europe. Tensions from the financial crisis were resolved and dissipated. Muslim outreach averted follow-on tragedies after the publicity surrounding "The Innocence of Muslims," with the U.S. Ambassadors in Spain and France, among others, garnering public recognition for their efforts until Congress stopped such efforts. And there is much, much more.
But myths die slowly. Especially in a world of Wikileaks and Twitter.
REAL LIFE. REAL NEWS. REAL VOICES.
Help us tell more of the stories that matter from voices that too often remain unheard.