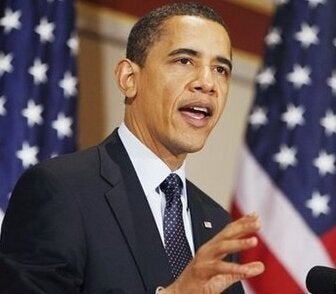 "What is required of us now is a new era of responsibility -- a recognition, on the part of every American, that we have duties to ourselves, our nation and the world, duties that we do not grudgingly accept but rather seize gladly, firm in the knowledge that there is nothing so satisfying to the spirit, so defining of our character than giving our all to a difficult task."
With these words, Barack Obama ushered in a new era of responsibility as the 44th President of the United States. Eschewing the path of least resistance, Obama asked the American people to join him in the task of rebuilding a country wracked by foreign wars and economic turmoil. Recognizing "the price and the promise of citizenship," Obama called upon his fellow Americans to come together to forge anew the destiny of a still young nation.
Nearly two years earlier, Obama had braved the frigid February air in Springfield to tell a small band of believers that "in the face of impossible odds, people who love their country can change it." "In the face of despair, you believe there can be hope," the lanky lawyer from Illinois declared. And he was right. Millions of Americans from all walks of life stopped listening to the pundits and started talking to their neighbors.
From Harrisburg to Hampton Roads, a generation of young people took to the streets and began to organize communities across this great land--house by house, neighbor by neighbor. We opened offices in traditionally red states and spread hope across party lines. Seizing gladly the opportunity to spark a revolution, we registered record numbers of voters, mobilized thousands of volunteers, and built a movement for change.
My new book, "The Obama Revolution," tells the story of Obama's historic presidential campaign from the ground up. As a former regional field director for Barack Obama and the Democratic Party in Virginia, I describe how that small band of believers spawned the most organized campaign in American history. "The Obama Revolution" is about the twenty-something field organizers who left their schools, their jobs, and their families to accomplish a difficult task.
Obama described his first foray into organizing as a "small disaster." After spending weeks working the phones, "only thirteen people showed up." My first event in Virginia, a two-day phone bank at the home of a Democratic activist in Mathews, was worse. Only four people showed up--and that included me and the host. My second event, a walking canvass, was more successful. Thirteen people showed up. And in spite of sweltering summer heat, all thirteen went out to knock on doors.
With every knock and every telephone call, volunteers and organizers recruited more and more Americans to the Obama campaign, swelling the rolls with voters white and black, Hispanic and Asian American, gay and straight. "All across America something is stirring," Obama said in Denver. In Mechanicsburg, a farmer signed up to volunteer. In Mathews, a man with a Confederate flag on his pickup truck put three Obama signs in his yard.
There may seem to be little in common between the young children who scampered after me in the housing projects on Allison Hill, eager for Obama stickers, and the Democrats in Westmoreland County who turned out in droves for rural action meetings. But below the surface, they all hope for a brighter future for their children and they share a belief that America can--and will--change.
I remember a child seeing me with my Obama shirt and clipboard, running into the house, and shouting to his mother, "Obama's at the door! Obama's at the door!"
The Obama Revolution is more than a revolution of policy proposals, campaign decisions, and lofty rhetoric. It is a revolution in the way we think about ourselves and act on our convictions. It is a revolution that draws on the dreams of a people chastened by slavery and segregation but buoyed by the knowledge that united we will succeed.
As AIG stumbles, the Dow reaches 12-year lows, and unemployment rates rise, Obama cannot overcome the nation's challenges alone. He needs a people guided by that "enduring spirit of an America that does not quit" to overcome the negativity of those who say it can't be done. Guided by the rhetoric of hope and the promise of change, our generation must again give our all to a difficult task.
Alan Kennedy-Shaffer is the author, most recently, of "The Obama Revolution."
Calling all HuffPost superfans!
Sign up for membership to become a founding member and help shape HuffPost's next chapter