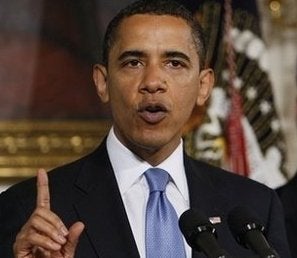 The reverberation of the Obama generation continues to shake up Latino politics. The newest embodiment of the political shake-up is the quiet, stately, determined, and uncannily smart Emanuel Pleitez. Pleitez is the 26-year-old financial professional, turned Obama activist, turned upstart candidate, that is making a major league play for the seat once held by Labor Secretary Hilda Solis. Upfront warning: don't let his age fool you -- Pleitez is formidable and is soon to be powerful whatever happens during next Tuesday's election.
I interviewed Pleitez about his race yesterday. Pleitez and I spoke about his incredibly gutsy campaign, which has already made a huge difference in the 32nd district. I also asked Pleitez if he was expecting that one of California's leading pols would try to damage his reputation through a highly personal campaign attack piece (the mailer has backfired on the Cedillo campaign).
The role of Pleitez in the outcome of the race to replace Solis cannot be underestimated, and six days before the election his candidacy cannot be completely written off. In the interview Pleitez confidently told me that the election is a three-way race between him and the noted front-runners. The only people that flatly tell me that a Pleitez upset is completely inconceivable are those that laughed a couple months ago at the idea that Pleitez would be a huge factor.
The election this coming Tuesday, May 19th can bring a huge political career setback or a plum seat to one of the Golden State's biggest political names, it can bring a plum seat or a continued respectable career to another, but to Pleitez it brings either a position as the youngest member of the Democratic congressional caucus or a respected position at the leadership forum of the vanguard in Latino politics. While there is now increased speculation and bet-hedging on what Tuesday will bring Pleitez has proven that if you play it right you really can't lose.
Tomorrow I will post an interview with State Senator Gil Cedillo another contender for the 32nd congressional district seat.
Listen to the Interview with Pleitez Here:
To contribute to the upstart campaign of Emanuel Pleitez, please visit his website.
Mario Solis-Marich is a talk show host that can be heard over the air AM 760 in Denver , KTLK AM 1150 in Los Angeles and worldwide at www.GoToMario.com.
Popular in the Community