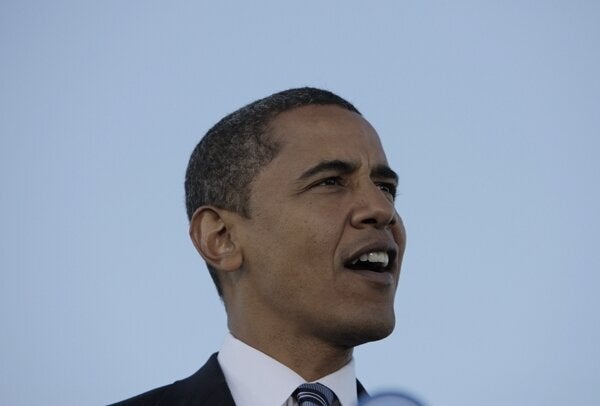 Forget the election. With November 4 just days away and Barack Obama positioned to become the nation's first African American president, the question has begun to turn to: Who gets what?
Does former South Dakota Senator and Majority Leader Tom Daschle have the inside track to become the White House chief of staff (COS), or maybe William Daley, Secretary of Commerce in the Clinton administration?
Obama campaign manager David Plouffe could seek the COS post himself, and he has a lot of chits outstanding. Sources say John Podesta, a former COS to President Clinton and head of Obama's transition team, has indicated he does not want to go back to the same job, but some think he could change his mind if pressed.
If Obama wants to pick a close personal friend and trusted adviser for the job, he may look to Valerie Jarrett, an African American mover-and-shaker in Chicago who, in 1991 while deputy chief of staff to Chicago Mayor Richard Daley, hired Michelle Robinson, Obama's wife-to-be.
The Chief of Staff choice may prove to be one of the most important Obama makes at a time when the country faces a severe economic crisis, and when newly enlarged Democratic majorities in the House and Senate will be pressing for approval of their special projects after eight years in the wilderness. President Clinton, who took office after 12 years of Republican administrations, picked a weak manager as his first chief of staff, Thomas F. "Mack" McLarty III, and many believe the choice contributed to Clinton's problematic first two years in office.
Senior campaign strategist and close adviser to Obama David Axelrod could, if he wants it, assume a parallel role in an Obama administration, but it is not clear that Axelrod wants to leave Chicago.
It's widely agreed that John Kerry would give up his Senate seat if offered Secretary of State, but does Obama want him? Kerry is keenly watching at least two potential competitors, Greg Craig, a top Obama foreign policy adviser, and Indiana Republican Senator Richard Lugar, who would bring bipartisanship to the Cabinet. Would Kerry take UN Ambassador? Richard Holbrooke is a possible, but not likely, choice at State, given the view inside the Obama camp that Holbrooke lost his shot in trying to persuade foreign policy types to sign up with Hillary instead of the Illinois Senator.
One source raised the question: "Is there a role for Tony Lake?" Lake put the Obama foreign policy team together but has said that his job ends on November 4, and that he wants nothing. Could Obama make him an offer --- like CIA director -- that he can't refuse? Lake was willing to take the job under Clinton, but withdrew in the face of Republican opposition in the Senate. Lake might also be tempted by the UN job, "although he has a second marriage and young kids."
Craig, Susan Rice, Samantha Power and a number of others are considered likely candidates for National Security Adviser. Craig and Rice have been speculated about for the UN.
Within days of winning, Obama is expected to announce his economic team. One theory is that he will try to calm the markets by appointing Larry Summers at Treasury, and Laura Tyson as his number two. Summers has a brilliant academic record and relevant experience, but he also has enemies, especially among women angered by his comments about female under-representation at the top levels of research science. Obama is known to be looking closely at Timothy F. Geithner, the respected president of the New York Fed, as another possibility for Treasury.
Obama has indicated that he will consider reappointing Henry Paulson at Treasury, but Paulson's performance has not been receiving high grades lately, diminishing this possibility.
The appointments Obama makes are not only the blood and guts of Washington gossip, but, more importantly, they are clear signals of the direction the new administration will take, reflecting the accuracy of the observation that "personnel is policy." For the Washington lobbying and special interest group community, appointments are crucial, determining success, access, and business.
A key test will be Secretary of Defense. Obama has indicated he is considering keeping Bush appointee Robert Gates. Such a move could signal that the new president wants Republican cover for a relatively quick troop withdrawal, or that he is acceding to pressure from generals on the ground to go slow on the promised pull-out. There are others on the Defense list, including Nebraska Republican Senator Chuck Hagel who would lend a bipartisan aura, and Thomas Pickering, a career foreign service officer who became Under Secretary of State for Political Affairs during the Clinton administration. Pickering, in the view of some Obama watchers, is a man of parts who, after making good money working for Boeing, could take over at the CIA, the National Security Agency, or become Director of National Intelligence.
Another man mentioned as a potential candidate in the Defense-National Security orbit is Richard Danzig, who served as Deputy Assistant Secretary of Defense for Manpower, Reserve Affairs and Logistics under President Carter, and as Secretary of the Navy under President Clinton. Danzig has also emerged more recently as a Middle East expert.
A 'Class A' Cabinet post, Attorney General, could go to Arizona Governor Janet Napolitano, or possibly to African American Obama adviser Eric Holder, or to Jamie Gorelick, considered a top-flight lawyer and a star at both the Pentagon and as Deputy Attorney General at Justice under Clinton. Massachusetts Governor Deval Patrick has been mentioned as a possible AG, although sources in the state say that he has told them he wants to complete a first term and run for a second. Other AG possibles include Alabama Congressman Artur Davis and Chicago US Attorney Patrick Fitzgerald, who prosecuted the Scooter Libby CIA leak probe.
There has been talk that Napolitano could be picked as Secretary of Homeland Security, as there has been that former Indiana Congressman Tim Roemer, who sponsored legislation creating the Department and who later served on the 9/11 Commission, is in the running. Roemer has also been discussed as a possible head of the CIA.
Two unanswered questions are: Would Obama offer a Cabinet post to Hillary and would she take it. Most odds makers indicate the answer in likely to be no to both.
If Daschle does not make the cut for COS, he could be offered Secretary of Health and Human Services (HHS), according to yet another source. Additional prospects for the HHS post are Connecticut Representative Rosa DeLauro and Howard Dean, who is a medical doctor as well as the current Democratic Party chairman.
Two high-ranking Democrats in the House, Norm Dicks of Washington and George Miller of California, could be in the running for Secretary of the Interior; Miller has also been mentioned as a possible Education Secretary. Another politician with a shot at Interior is Former Alaska Governor Tony Knowles.
The list of potential Education Secretaries includes Joel Klein, New York public schools Chancellor, and Stanford's Linda Darling-Hammond.
While not as important as Chief of Staff, the White House Counsel has in many administrations played a crucial role, especially in fights with Congress over executive branch testimony and over access to information. Top campaign finance expert, Robert Bauer, who is a key Obama advisor and a widely admired legal advisor, may have an inside track for this job if he wants it, but he has told associates that he plans to remain outside the administration while providing advice to the political wing of the operation.
California Republican Governor Arnold Schwarzenegger has not ruled out serving in a Democratic administration and is viewed as a possible Secretary of Energy or as the administrator of the Environmental Protection Agency. Another potential choice for Energy Secretary is Massachusetts Congressman Ed Markey, although if Kerry were to get State, Markey might fix his attention on an appointment to Kerry's Senate seat.
Cassandra Butts, "a pal of Obama's at Harvard," could be a candidate for Housing and Urban Development or for the Education Department. She may have to fight off competition from a powerful interest group, the US Conference of Mayors, however. At least three current and former chief executives of major cities have been mentioned for HUD, including the District of Columbia's Tony Williams, Detroit's Dennis Archer and Atlanta's Shirley Franklin.
There could be some intense competition for the Labor Secretary spot, with Service Employees Institutional Union (SEIU) president Andy Stern, former Democratic House Leader Dick Gephardt, and former House Democratic Whip David Bonior looking at the post.
Among those under consideration for Transportation are Minnesota Congressman James Oberstar, chairman of the Transportation & Infrastructure Committee, and Pennsylvania Governor Ed Rendell, a Hillary supporter in the primaries. Rendell has also been discussed as a possible Commerce Secretary, along with former Dallas Mayor Ron Kirk and Kansas Governor Kathleen Sebelius.
Montana Governor Brian Schweitzer has been mentioned for Agriculture, but sources say that coming to Washington could damage Schweitzer's appeal as a Western politician and his potential as a candidate for national office in the future. Former Iowa Governor Tom Vilsack, who also backed Hillary in his state's caucus, is another prospect for the post.
A choice that would probably win widespread support would be the selection of former Georgia Senator Max Cleland, who lost both legs and one arm in Vietnam, to run the Veterans Administration. Many Democrats remain deeply bitter over Cleland's defeat in his 2002 re-election bid at the hands of Saxby Chambliss who ran an ad showing Cleland's face morphing into Osama bin Laden.
The prospects after November 4 for all of these competitors remain highly uncertain. One of the most consistent qualities of the Obama operation is that key players hold their cards close to the vest. From all outward appearances, Obama intends to make his appointments quickly and has reportedly already started the vetting process on 700 possible candidates for jobs at all top levels. Facing two wars and the threat of a brutal recession, Obama will have little leisure time after election day, when he will have to negotiate the tricky two-and-a-half-month transition process during which he will be the president-elect with an adversary still holding the powers of office.
Calling all HuffPost superfans!
Sign up for membership to become a founding member and help shape HuffPost's next chapter