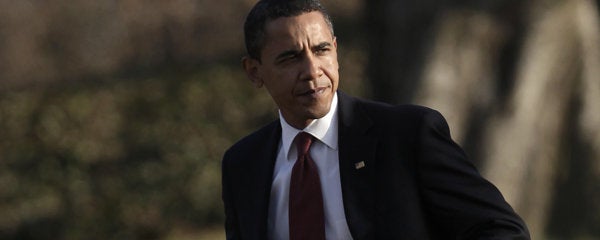 When House Republicans voted unanimously against President Obama's stimulus package, Democrats had their eyes on a select group: Obama's Republicans.
Thirty-seven House Republicans currently represent districts that voted for Obama in the 2008 election, and Democrats are watching closely to see whether they support the man their constituents put in the White House or stick with the GOP line.
"We are looking at exactly that list of people," said Rep. Chris Van Hollen (D-Md.), the chairman of the Democratic Congressional Campaign Committee.
The media, though, spends more time looking at the list of Democrats in districts carried by Bush in 2004, as The American Prospect's Tim Fernholzwrote Monday. Meanwhile, no attention is paid to the Republicans currently in the reverse position. (Fernholz posted the full list.)
Republicans in those districts say that they won't be toeing the president's, but rather exercising the independence that got them elected in the first place. Democrats hope voters see that independence as a rejection of the president -- and do the same thing to these folks that they did to Republicans who represented districts that voted for John F. Kerry in 2004: throw them out.
Following Kerry's defeat, there were 18 Republicans representing districts that had gone for the Democrat. Two years later, that number was down to 15. Then came 2008.
"There are about six of those left in the country," Van Hollen guessed. Six is correct, though one of them is Rep. Joseph Cao, a Louisiana Republican who upset indicted Democrat William Jefferson and stands little chance of winning reelection in the overwhelmingly Democratic district.
At the same time, there are far fewer Democrats in red districts, meaning a more united -- and liberal -- House caucus. In 2004, 41 Democrats represented districts that Bush carried. When Democrats took control of Congress in 2006, they lifted that number to 61. When the ground hued blue in 2008, that number fell to 47 -- not because there are fewer Democrats around, but because Obama carried so many more districts. Conservative Democrats like North Carolina's Heath Shuler, as a result, have less of a defense when they buck the president.
The whittling of the GOP has meant that the remaining members are further to the right and easier for leadership to hold together. Last Tuesday, every single one of them voted against Obama's stimulus plan.
That included Rep. Steven LaTourette (R-Ohio), who represents an Obama district.
"Well, I'm not really in an Obama district," LaTourette sought to clarify. "By definition, it's a swing district."
LaTourette's people backed Bush in 2004. "And it didn't go to Obama by much, 50.6 percent or some such," LaTourette said (but who's counting?).
The night before the stimulus vote, LaTourette was invited to the White House to share his concerns about the bill. He said he finds Obama "personable" and "funny" and said that when he spoke to House Republicans he answered questions easily and straight-forwardly that most people couldn't have handled.
LaTourette stuck close to the president, contrasting him with House Democrats. "If this was President Obama's bill," he said, "I'd vote for it in a heartbeat."
Republicans in Obama districts are also less likely to be led by right-wing talk radio. "I'm not a Rush Limbaugh listener," said LaTourette, calling himself unfamiliar with the host's hope that Obama will fail as president.
"Whether you're a Republican or a Democrat," he said, "Why would you want the president of the United States to fail?"
Charlie Dent is a Republican who represents a Pennsylvania district that went for Obama. "I think people in my district expect me to work with the president. It doesn't mean we have to agree all the time," said Dent. "I don't feel any extra pressure."
Dent said that while many of his constituents back Obama, that doesn't mean they support every one of his positions. "There will be times when we agree and times when we disagree, and when we do, I hope we do it very civilly and respectfully," he said.
Mike Castle, as Delaware's lone congressman, has a relationship with Vice President Joe Biden and knows Chief of Staff Rahm Emanuel from his days in the House. "I certainly will listen to them, though not necessarily vote with them," said Castle. "In the case of Obama, I find him to be very effective and very persuasive."
Still, he said, "I don't shift much because of who is president."
Calling all HuffPost superfans!
Sign up for membership to become a founding member and help shape HuffPost's next chapter