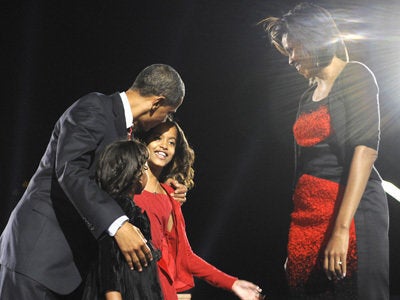 Among all the demands of interest groups placed upon the next president of the United States, the demand for a rescue puppy -- make that "a homeless animal'' -- in the new White House may stand out among the demands on the Top Dog..
President-elect Barack Obama, who had promised his two young daughters a puppy if the family won the White House, announced at his acceptance speech last night that he will be making good on that promise.
But that doesn't mean breeders should be sending their calling cards. Wayne Pacelle, president of The Humane Society of the United States, reminds the Obama family today that they previously have spoken of making that puppy a rescue puppy.
Now, that doesn't rule out AKC pedigrees -- many dogs of pure lineage end up at shelters. But it suggests that the first pooch may not look like Barney and Miss Beazley, the Bush family's little Scotties. Unless, of course, the local pound has a show-dog ready to go.