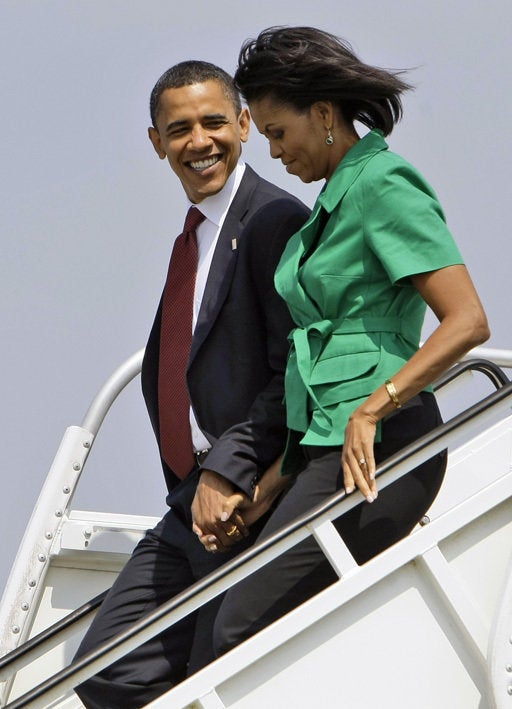 When the news broke that First Lady Michelle Obama was putting in a vegetable garden on the White House lawn in March, I couldn't help but wonder if it would be the most powerful "soft" policy position on food this presidency could take in the first 100 days. In just planting a garden, she not only might have begun to change our view of vegetables , while inspiring Americans to grow some of their own food and save a little money in this time of economic crisis, but she also might have gracefully encouraged us to diversify our diets -- the basis for good health, and by extension, a healthier agriculture system. For this alone, she gets an "A" on her contribution to the administration's agriculture policy in the first 100 days.
President Obama, on the other hand, entered his role with a stack of urgent crises on his desk. Food advocates couldn't help but have lowered expectations of how he would address the decline of farming and of rural populations; lobbyists working in the USDA, FDA and EPA; the quality of school lunch; the 36 million Americans suffering from hunger; energy independence beyond the empty promise of ethanol, and more. The real food lobby has gotten used to these vital issues taking a back seat, but that didn't mean they were going to stop asking our young, hip and multitasking president to change all that.
It seems, however, that President Obama and Secretary of Agriculture Tom Vilsack still view agriculture as separate from the problems we face in health care, environmental policy and energy policy. He has yet to show that he understands that in order to address food safety with lasting effect, his cabinet must address the underlying issues facing our food system first, including its reliance on oil and the unhealthy food it produces. I hate to do it, but I have to give the President a "C-" on his agriculture policy thus far, bringing the Obamas to a combined grade of "B-".
"It's time that our leaders engage in whole systems solutions for the problems facing not only our economy, but also agriculture," said David Murphy of Food Democracy Now!, a sustainable food advocacy group, when asked about the matter. "Failure to do so will only lead to an increase in the number and severity of future food safety outbreaks."
Back in March, it seemed as if Obama was prepared to change this status quo on food safety, with the announcement of a Food Safety Working Group (FSWG), following the recall of over 1500 products containing contaminated peanut butter, confirming what had been known for some time by those who study the food system: contamination in an industrial agriculture model can spread fast and far. Obama insisted with the introduction of the FSWG that he was going to take food safety seriously. But then the committee seemed to drop like a stone into the annals of policy making.
Why haven't we continued to hear more from the FSWG? Perhaps because Former Kansas Governor Kathleen Sebelius was held up in the Senate until yesterday , when she was finally confirmed as Secretary of the Department of Health and Human Services. Now that she is on board, there is again hope that food safety issues will be front and center -- if only because of the fear surrounding the swine flu -- and will hopefully get beyond the simplistic message that we can eat pork without worry.
"One place President Obama could start is to call for more regulation of Confined Animal Feeding Operations (CAFOs) to make sure that they operate in accordance with the clean air and clean water acts," Murphy said. "Another step would be to phase out the use of antibiotics in livestock that are important in the medical treatment of humans. The current swine flu pandemic should be a significant teachable moment for consumers, legislators and livestock producers. There are some things we can no longer afford to ignore. It's time to put people over profits."
Food safety requires manageable scale. And it requires honest, unbiased risk assessment. If a hog confinement operation was indeed the origin of the swine flu, we should not be afraid to consider the possibility that the way we are raising animals for meat in this country is dangerous and will never be safe.
Let that honest assessment begin today at 9:30 am, when 20 victims of foodborne illness, including surviving family members, will be in Washington, DC to share their stories and to call on Congress to pass food safety legislation. 76 million people get sick every year from food contamination, and 5,000 lose their lives. A band-aid will never solve this problem.
There is still hope that President Obama will recognize the power of local food economies of scale. With unemployment at 8.5% as of March and growing, its time for him and his cabinet to think seriously about the original green job: farming. He can begin by initiating a "farmer corps" program to incubate new farmers, similar to one recently implemented in Japan. Furthermore, instead of just talking about ending subsidies for industrial commodity farms, he should take action, minimizing payments and thereby incentivizing diversity in growing.
As the veil is lifted and consumers continue to learn through films like Food, Inc., Fresh and Meat the Truth about the impact of the food choices we make, the voices pushing Obama to deal with our unwieldy and outdated food system will only grow louder. I hope that following this, the President and his cabinet will address food as the serious and vital issue that it is, and that the President will deserve an "A" for his agriculture policy in the next 100 days.
Calling all HuffPost superfans!
Sign up for membership to become a founding member and help shape HuffPost's next chapter