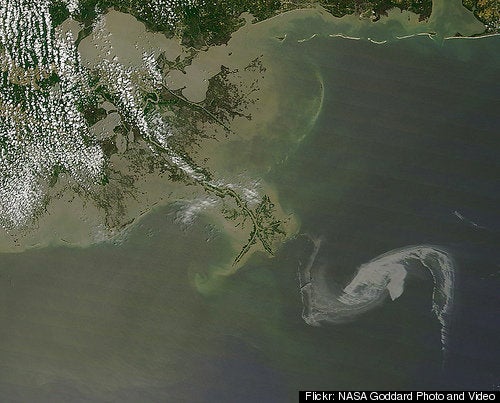 Oh, hey! Apparently, this massive oil spill in the Gulf Coast is now somehow "Obama's Katrina?" That's the tatty little bit of agitprop that Matt Drudge -- who I'm not entirely sure ever talked about "Bush's Katrina" -- is regurgitating into the mouths of pliable media organs. It all sort of makes sense, if your thinking is: "Gulf Coast" plus "bad thing happening" plus ("government response" minus "secret magic powers they are supposed to have over the elements") multiplied by "Whatever, it's a slow news day otherwise" equals "Katrina ZOMG!"
I'm watching a bunch of guys in hardhats on the teevee at this very moment working hard at managing the oil spill, and am reliably informed that the proper authorities have been busy trying to contain the damage. And, look, there's no doubt, in all the world, that TARFU in the Gulf of Mexico. And I think we can all remember that time when President Barack Obama said, "Despite the fact that I mocked and opposed offshore drilling as a candidate, let's ignore all that and drill the oceans, like crazy, for oil." And not long ago, Obama insisted that offshore drilling had become all kinds of safe, so what's to worry about.
So, yeah: oopsie-daisy! The unfolding calamity occurring today can, should and hopefully will drastically alter those aforementioned policy proposals, and they certainly make the White House look foolish for having gone all in on offshore drilling a month ago. But there are two major factors that prevent me from suggesting that what's going on is comparable to the Hurricane Katrina response: 1) I was alive during Hurricane Katrina and was paying attention to what was going on, and 2) I am, at this point, unwilling to do what is necessary to alter my knowledge of those events by battering my skull repeatedly with a ball peen hammer.
See, there are many ways in which the comparisons to Katrina just break down. And first and foremost among distinctions, as noted by Media Matters today, was the little fact that BP, in the wake of the explosion that started this whole disaster, vastly underestimated the magnitude of the problem they had on their hands, all while assuring everyone that they could handle it.
For days, as an oil spill spread in the Gulf of Mexico, BP assured the government the plume was manageable, not catastrophic. Federal authorities were content to let the company handle the mess while keeping an eye on the operation.

But then government scientists realized the leak was five times larger than they had been led to believe, and days of lulling statistics and reassuring words gave way Thursday to an all-hands-on-deck emergency response. Now questions are sure to be raised about a self-policing system that trusted a commercial operator to take care of its own mishap even as it grew into a menace imperiling Gulf Coast nature and livelihoods from Florida to Texas.

The pivot point had come Wednesday night, at a news conference at an oil research center in the tiny community of Robert, La. That's when the nation learned the earlier estimates were way off, and an additional leak had been found.

On Thursday, President Barack Obama set in motion a larger federal mobilization, pledging to deploy "every single available resource" to the area and ordering his disaster and environmental leaders to get down there in person. Only a few days after the Coast Guard assured the country there was "ample time" to protect the coast if oil came ashore, warnings from the government were newly alarming.
Contrast that, if you will, to the rather clear message that the NOAA was sending out in advance of Hurricane Katrina:
...EXTREMELY DANGEROUS HURRICANE KATRINA CONTINUES TO APPROACH THE MISSISSIPPI RIVER DELTA...

...DEVASTATING DAMAGE EXPECTED...

MOST OF THE AREA WILL BE UNINHABITABLE FOR WEEKS...PERHAPS LONGER. AT LEAST ONE HALF OF WELL CONSTRUCTED HOMES WILL HAVE ROOF AND WALL FAILURE. ALL GABLED ROOFS WILL FAIL...LEAVING THOSE HOMES SEVERELY DAMAGED OR DESTROYED.

THE MAJORITY OF INDUSTRIAL BUILDINGS WILL BECOME NON FUNCTIONAL. PARTIAL TO COMPLETE WALL AND ROOF FAILURE IS EXPECTED. ALL WOOD FRAMED LOW RISING APARTMENT BUILDINGS WILL BE DESTROYED. CONCRETE BLOCK LOW RISE APARTMENTS WILL SUSTAIN MAJOR DAMAGE...INCLUDING SOME WALL AND ROOF FAILURE.
And on and on it goes, warning of collapsing buildings and airborne debris and "water shortages" that "will make human suffering by modern standards." In short, the relevant authority in charge of assessing what was going wrong wasn't stupidly shining everybody on.
That first quote, by the way, is from the AP, and it contains in its reporting a rather startling and obvious contrast to the Katrina response, namely that whole part where there was a "federal mobilization" and a pledge to "deploy 'every single available resource'" and the ordering of officials to get their asses down to the region "in person." (Which is, at this very minute happening!)
ThinkProgress, very conscientiously, wrote all of this down, on the Internet, precisely so people wouldn't make these sorts of dumb-assed comparisons to the current disaster response. It would be a pretty handy tool for the media to use if they'd like to gain a little perspective. But then, I sort of thought that being alive in 2005 and in possession of fully functioning cognitive abilities would have been sufficient.
Popular in the Community