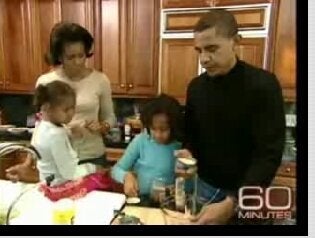 Early into the Obama candidacy, 60 Minutes' Steve Kroft paid a visit to the family's Chicago home and was privy to some tuna salad-making (recipe below) in the kitchen. The conversation turned to other things the then-senator cooks well (Malia: "Chili and that's it"), and Obama defended himself: "The truth is, before I met Michelle I did quite a bit of cooking. I had an Indian roommate for a while, so I learned how to make Indian food. I grew up in Hawaii where there's a lot of Asian influence, so I learned how to cook Chinese food...also, the stuff I make is a little too spicy for these guys." When Obama asks his daughters what kind of food they like, they deliver a unanimous and resounding reply: "Cheese." "So," Obama continues, "it's not as if we've got real sophisticated palates in this household." Scroll down to see the video.
From what we can decipher, Obama's tuna salad recipe is as follows:
President Obama's Tuna Salad -Tuna -Grey Poupon mustard -Mayonnaise -Chopped gherkins
Or click here to watch the Obamas talk about decorating the White House and each other's pet peeves.