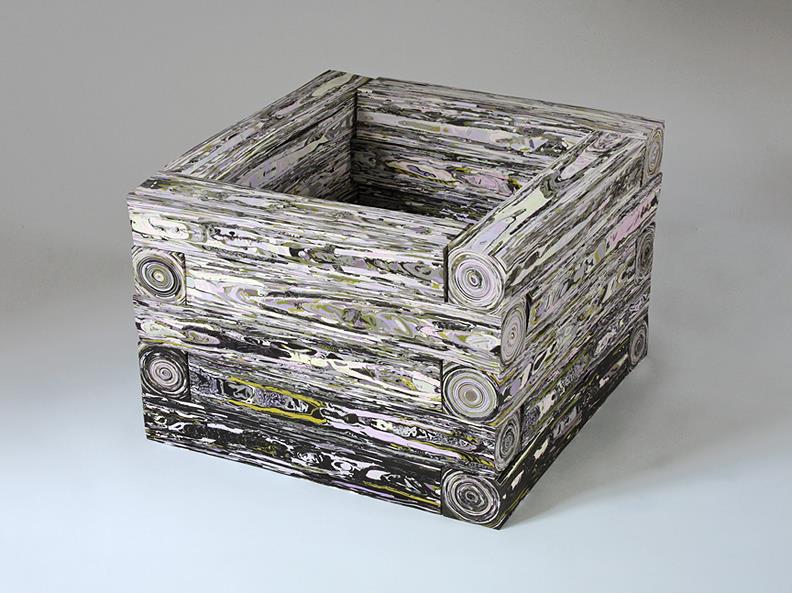 Margie Livingston: Objectified | Livingston is first and foremost a painter. Her desire to liberate painting from illusion and free herself from the limitations of traditional painting pushed her to articulate and embrace an entirely new approach to making work. Employing strategies and methods associated with the construction and carpentry trade, she builds three-dimensional paint objects that are made entirely out of acrylic paint, allowing her to directly translate the phenomena of space, light, color and gravity upon these hybrid structures. Solid blocks and logs of paint and sheets of paint reconstituted into "wood" products, such as waferboard and paneling, investigate the properties of paint pushed into three-dimensions.
Inevitably layered with personal history, Livingston's work also has art-historical connections. In the case of the paint objects - simulacra of building products that experiment with paint's materiality, render the conventions of minimalism in three-dimensional painted form, push paint into the domain of sculpture, nod to the ready-made, and use non-mimetic color to highlight their own artificiality - the obvious links are not just with Frank Stella's paintings but also with the work of Jackson Pollock, Donald Judd, Carl Andre, and Lynda Benglis.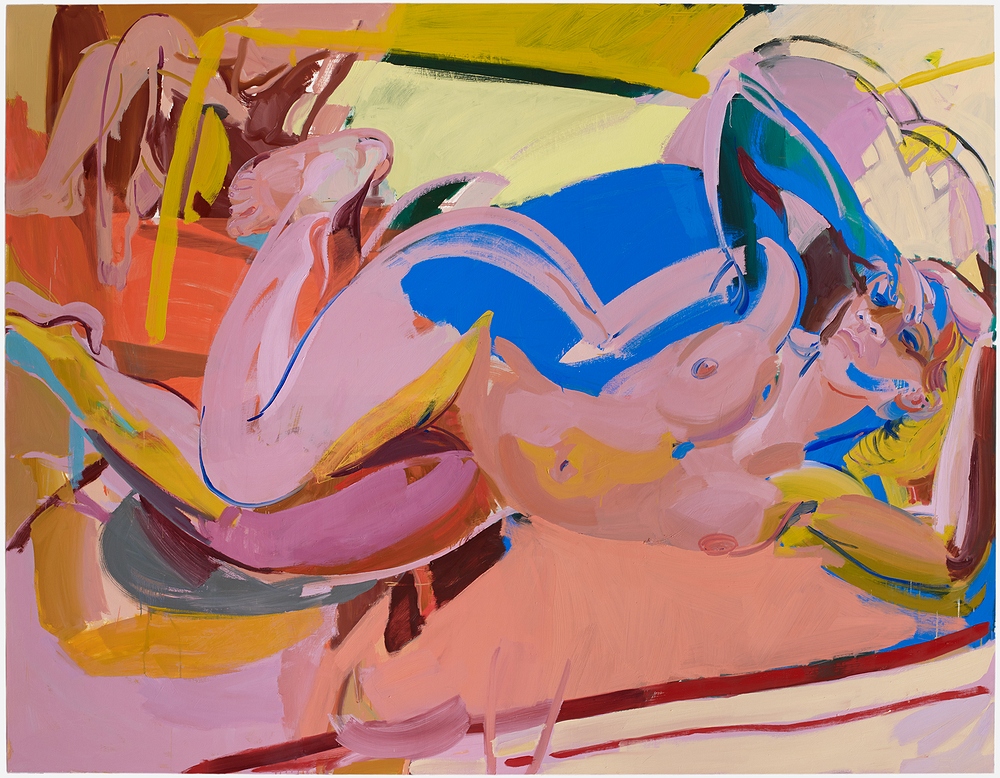 Sarah Awad: The Women | An exhibition of large-scale female nudes and landscape-based abstractions that embrace the inherent myths and mysteries of form. In these new paintings, Awad reconsiders the precepts of 1980s neo-expressionism and confronts our nostalgia for European glamour. The artist reawakens our detached assumptions about the transcendent purity of minimalism and -- in what becomes a return of 'The Return of the Figure' -- continues a contemporary conversation with the work of Cecily Brown, Marlene Dumas, and John Currin. The monumental paintings in The Women frequently present an illusory female nude - often in outline - which emerges then recedes from an abstract ground. With both the nudes and several intimate landscapes, the artist employs an expressive palette and the power of scale to convey an unsentimental but fauvist sensuousness.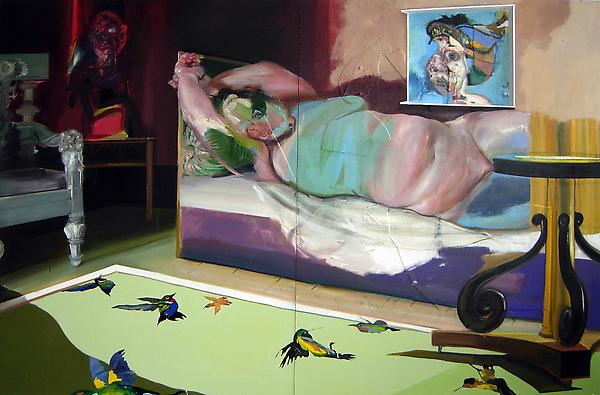 Natalie Frank: The Scene of a Disappearance | In her first solo exhibition on the West Coast, Frank pictures people in various states of disintegration. Intimate portraits, surreal scenes, and large-scale constructed narratives poke at what it means to be human: the absurdity, desire, violence, and loss or claim of self. The artist turns to collage for the first time in both the drawings and paintings; using scraps of canvas or paper to disrupt the surface of the image. By juxtaposing bits of figuration into surreal settings, with abstract swaths of paint, and constructed three-dimensional elements, Natalie Frank slyly teases the viewer with the body's presence as it flickers in and out of view.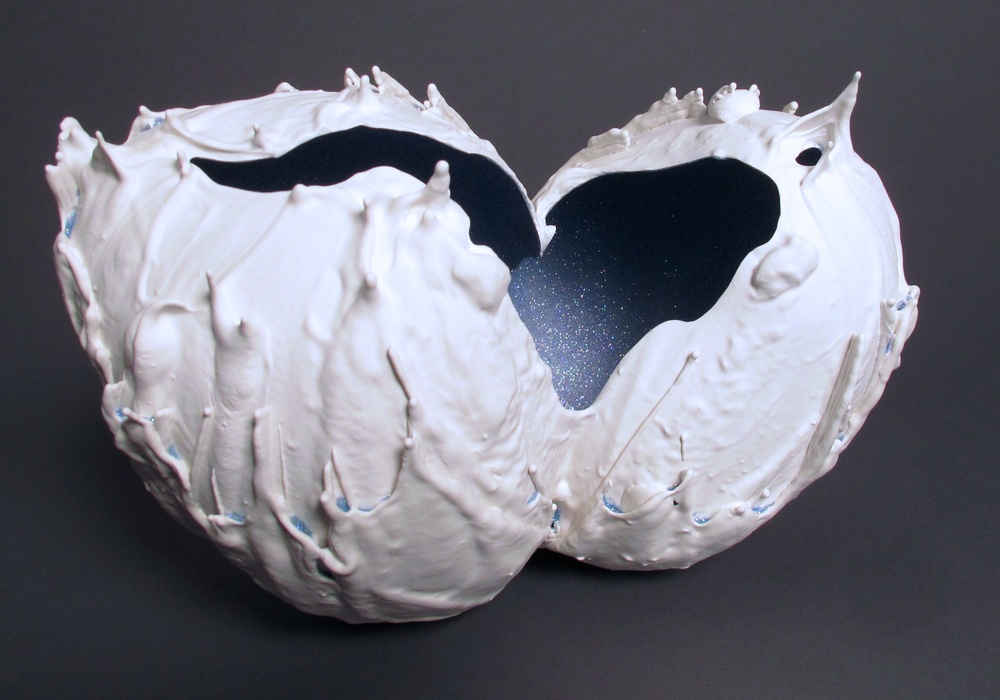 Mitra Fabian: Stratagems | Speaking to her continual theme of human activity and its often-complicated relationship to the natural world, this collection of sculpture and drawings depicts organic forms juxtaposed with angular structures. The process and media of the new work mark a shift from Fabian's previous use of re-purposed manufactured materials, but the beguiling effect it has upon the viewer strikes an even deeper chord.
In the sculptural work, naturalistic forms are made of hydro-stone and glitter. They are at once beautiful and disorienting, exhibiting seductive, colorful interiors, but with clinically white, living textures on the outside. These mysterious figures perch upon or hang from wooden structures, allegories of architecture and industry. The contrast between materials and the contradiction of forms are meant to be unsettling and make the viewer question the logic of these relationships. The contradictions within these sculptures may at first seem absurd, but they are responses to such images we accept as normal: carbon copy tract houses that pop up on rolling hillsides, swallows' nests attached to the undersides of bridges, cargo containers transporting foods around the world, or even a river basin paved over with concrete.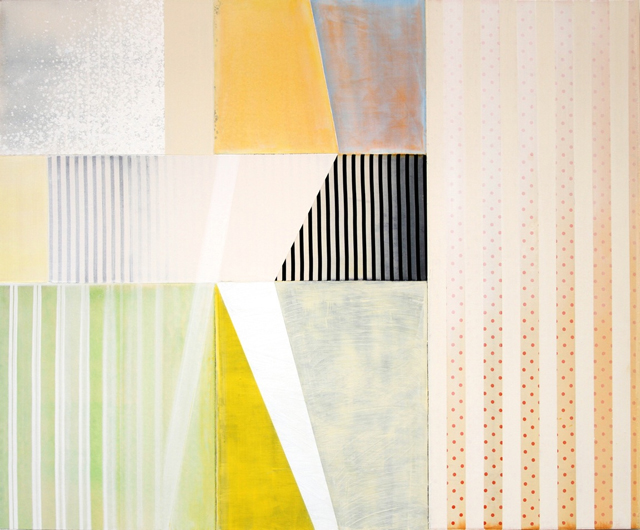 Ned Evans: New Paintings and Resin Reliefs | The multi-layered compositions of tilted bars and stripes in colorfully orchestrated cubistic spaces that have characterized Ned Evans' recent paintings have been distilled in his latest work into more minimal equations. As a result of this reductive approach, many of the new paintings dissect the playing field into opposing areas of pattern and vacant space. Other times, it appears as if two, three or four paintings were tightly abutted into harmonious geometric collages. This compartmentalization demonstrates the power of dichotomy, whereby sensations are intensified if juxtaposed with their opposites or complements. As Evans suggests, the new work is also influenced by the Gee's Bend quilt-makers, whose irregular and improvisational quilts have been compared to Modernist Abstraction. In fact, Evans often begins his compositions with large geometric swaths of cotton ticking, whose muted blue or gray stripes serve as a foundation from which to build upon.
In an adjoining space, Evans will debut his brilliantly colored resin wall reliefs. A native of Southern California, Evans is a life-long surfer and, like fellow artist Peter Alexander, he associates time spent in the water with his interest in the fluid and translucent properties of poured resin sculpture.
For the most comprehensive calendar of art events throughout Los Angeles go to Artweek.LA.
Calling all HuffPost superfans!
Sign up for membership to become a founding member and help shape HuffPost's next chapter