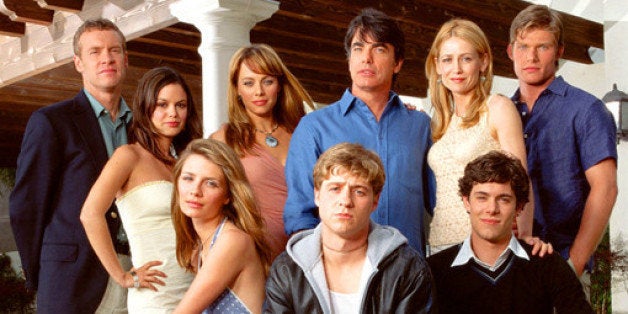 In honor of Memorial Day weekend, The Huffington Post spoke to Chris Carmack (who played Luke Ward) about his time on the series and what he remembers from the somewhat "scary" experience of sudden stardom.
Here are five things you may not know about "The O.C.," according to the fictional captain of the water polo team himself:
1. Carmack knew his infamous line would live on forever. And ever.
Carmack said one of the show's most iconic lines -- "Welcome to the O.C., bitch!" -- in the pilot episode, and he had a feeling it would haunt him for the rest of his life.
Although he doesn't remember how many takes it took to nail the scene, the actor surely remembers shooting it.
"I do remember the punch and the 'Welcome to the O.C., bitch' and the flick of the shirt and walking away," he told HuffPost. "The line was so good, that I had a hunch it might live on. Actually my dad texted me a picture the other day, he goes, 'I found your shirt.' It was a picture of him wearing a shirt that said, 'Welcome to The O.C., bitch!'" he added, laughing.
2. The cast froze their butts off during those nighttime beach shoots, because Southern California beaches are NOT warm at night.
"I love how Hollywood still wants to perpetuate the myth that beaches in Southern California are warm at night," Carmack said. "They got everyone out in bikinis and shorts and open shirts and it's probably 45 degrees on the beach, and everyone is freezing!"
And back to that "Welcome to the O.C." scene real quick, Carmack said "it was a brutally cold night" on set.
3. Carmack and some crew members were in a Blues band, and they practiced in Jimmy Cooper's apartment.
During his time as a cast member on "The O.C.," Carmack took up guitar and used to play with a handful of crew members while he had downtime.
"Back when I was just learning Blues guitar, me and some of the other grips had a band that we played with at lunch in Jimmy's apartment, because Jimmy (Tate Donovan) and Mrs. Cooper (Melinda Clarke) had split up, so Jimmy had an apartment," he admitted. "We called [the band] Jimmy's Apartment."
And believe it or not, Carmack reached out to some of those grips when he started playing professionally. "I actually later went on to play in a Blues band in LA and I contacted a couple of those guys and they played drums and sax in my Blues band."
4. Carmack and the rest of the cast had no idea what they were getting into when they signed on for the show.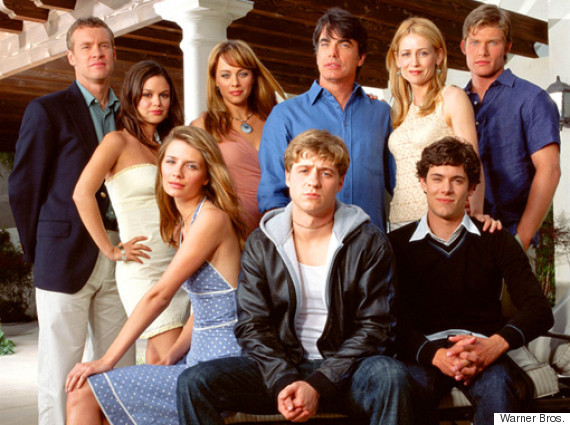 Yes "The O.C." was about teens growing up in Southern California (sounds like an instant hit to us!), but Carmack said he really had no clue it would blow up the way it did.
"I can speak for myself, I cant speak for other young people on the show, that I had no idea what was going on," he explained. "I had no idea what the job was, I had no idea that the job would end, I had no idea about any of it. All I knew was, each day, I had to go into work and attempt to do my best with the acting training that I learned."
Carmack recalled one of the first times he realized the show was a success.
"I lived in a little shack in Santa Monica and I was working on 'The O.C.' and when it started airing, I took my laundry down to the laundromat like I always had, and so many people along the two blocks I walked and in the laundromat stopped me and asked me for photographs," he told HuffPost. "And this was before it ever happened to me, so I had no idea what was happening and I was freaked out, so I took my dirty laundry and I went home. I didn't achieve my goal that day and I've been adjusting ever since. I'm much better with it now, but I really do mourn the absence of a certain anonymity when it comes to meeting people and learning about them and them learning about me."
"I'm somebody who values anonymity -- not just in terms of not wanting people to recognize me or wanting my privacy, but I value anonymity in conversation," Carmack said, discussing being catapulted to fame following the release of the show in August 2003. "That anonymity was largely taken away from me, permanently. It's something I mourn, and it happened overnight."
5. Sorry, but the cast doesn't necessarily stay in touch.
Although Ben McKenzie (Ryan Atwood) and Adam Brody (Seth Cohen) "stay in touch," according to McKenzie, Carmack told HuffPost that he never sees or hears from any members of the cast. After his character was written off the show in 2004, Carmack just assumed he would run into everyone, but that wasn't the case.
"I didn't even really stay in touch with anybody from the show or the cast, because I had this perception that I was just going to see them all the time," he said. "I was from small town Maryland, and I had been in LA for a year and a half, so I guess I should have had more of a perception of how LA worked and its size, but I literally just thought I was going to see these people all the time, and then my character is written off the show and I never saw any of them again!"
Well, he has seen one cast mate a few times. "I ran into Ben McKenzie a couple of times on the streets of LA and we hung out one time, and that's it."
Guess small-screen friendships don't always translate into real-life ...
Before You Go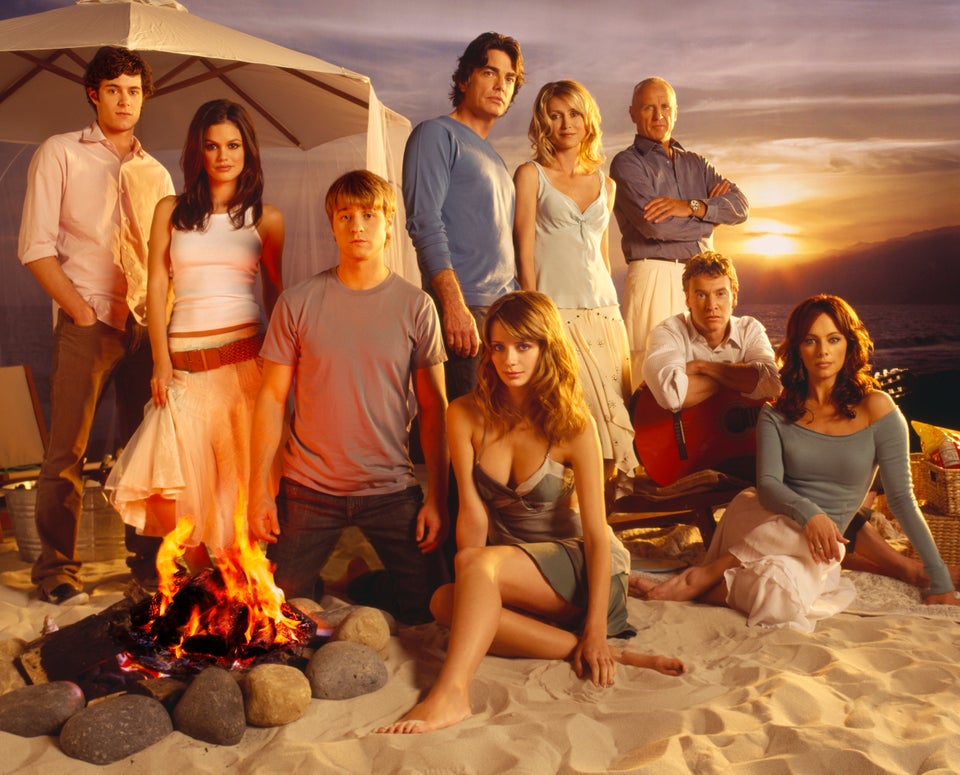 "The O.C."
Popular in the Community